Rumors have begun to swirl amid the New England Patriots' 1-5 start that head coach Bill Belichick could be coming to the end of his time with the franchise.
We explore Thursday's latest indication that could be the case, along with a few candidates who could take over for New England.
From the current NFL standings to team depth charts to coverage of every game in the 18-week NFL schedule, we have all the news from around the league to keep you up to speed!
Rumors Swirl of Potential Bill Belichick Firing
Although there have long been rumblings that the Patriots could soon move on from Belichick, comments made by national NFL reporter Albert Breer on Thursday's edition of "The Herd" gave the speculation more teeth.
In an interview with Colin Cowherd on the pundit's daily sports talk show, Breer said New England owner Robert Kraft has already had discussions about potentially moving on from Belichick dating back to January of this year.
Breer further stated that Kraft has heard fans' recent criticism of Belichick and is cognizant of his franchise's diminished status in the league of late.
Could the #Patriots move on from Bill Belichick after this season? 🤔 @AlbertBreer on @TheHerd:

"These discussions have taken place… Robert [Kraft] hears the criticism, he hears the anger…" 👀 #NFL coaches on the hot seat heading into Week 7: pic.twitter.com/3UNNb1xknp

— Pro Football Network (@PFN365) October 19, 2023
Belichick is widely regarded as one of the greatest coaches ever, given his record six Super Bowl wins with New England. The Patriots have taken a decided downturn since going 12-4 in 2019, though, finishing no better than 10-7 since and seeing that trend continue with a rough start to 2023.
All of that could make it the right time for New England to move on from the legendary head coach.
Potential Replacements for Belichick
Jerod Mayo, New England Patriots
If the Patriots do decide to move on from Belichick, as has long been rumored, Mayo is at the top of the list in terms of likely candidates.
Mayo has been New England's inside linebackers coach since 2019 and was described by Breer as the team's de facto defensive coordinator despite the fact that they have not officially named a defensive coordinator since 2017.
The longtime Patriots linebacker was a two-time Pro Bowler and a key part of the team that won Super Bowl 49.
Mayo has long been rumored to be New England's coach-in-waiting to replace Belichick when his time came to an end. Those rumors intensified after Mayo reportedly turned down a chance to interview for the Carolina Panthers head coaching job in January.
Breer said Thursday that the Patriots "got [Mayo] to turn down an interview with the Panthers" as discussions mounted about the franchise's plans post-Belichick. Those plans could include hiring a general manager to work alongside a new head coach and go away from the current system of Belichick handling both roles.
MORE: New England Patriots Depth Chart
A lack of head coaching experience could be a drawback of going with Mayo, as his only coaching experience has come with New England. Still, his knowledge of the organization and experience under Belichick certainly have value.
If the Patriots do ultimately decide to move on from Belichick, it appears as if Mayo would at least garner strong consideration for the gig.
Mike Vrabel, Tennessee Titans
If the Patriots decide to explore outside options, Vrabel is one coach who could make some sense, given his ties to the franchise and the Titans' struggles this season.
Vrabel saw his playing career take off in New England and helped win three Super Bowls as a crucial part of the defense. He has since worked his way up the coaching ranks before taking over as the Titans head coach before the 2018 season and sports a record of 50-38 in the position through six games this fall.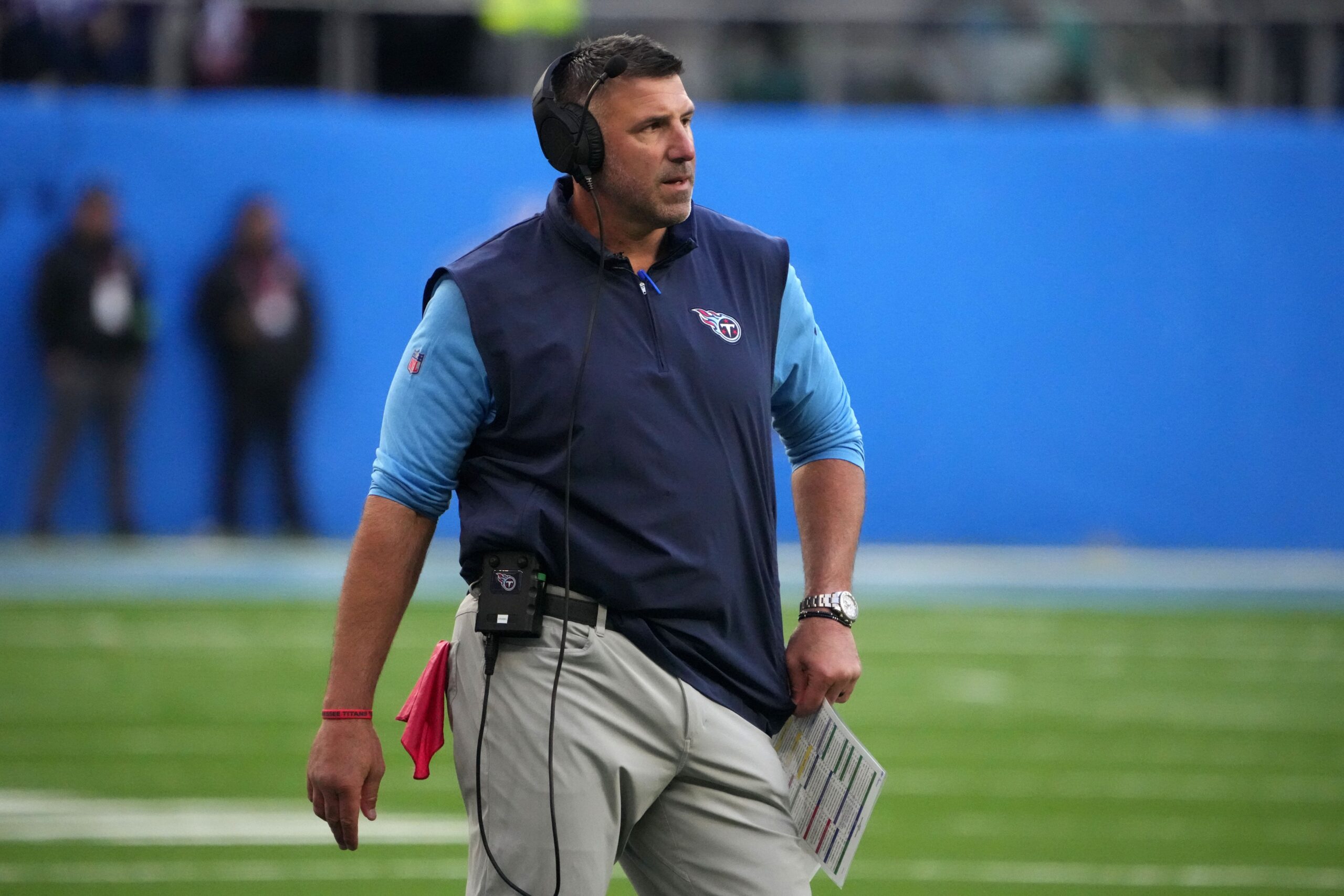 Things have begun to trend downward in Tennessee this season after winning back-to-back AFC South titles in 2020 and 2021. The Titans went 7-10 last year on their way to missing the playoffs and have gotten out to a slow 2-4 start in 2023.
The franchise could soon start offloading players ahead of the trade deadline and might opt for a different head coach to lead its next chapter.
If either Vrabel or Tennessee decides the writing is on the wall, he could certainly garner consideration to take over in New England.
Eric Bieniemy, Washington Commanders
Bieniemy has often come up in connection with head coaching jobs in recent years and could be among potential candidates considered by the Patriots.
The longtime NFL assistant coach has yet to take on a head gig anywhere despite interviewing for several in recent years.
Bieniemy has extensive experience in the NFL ranks dating back to 2005 when he was hired as the Minnesota Vikings running backs coach. He was elevated to assistant head coach in 2010, then returned to the NFL in 2013 as the Kansas City Chiefs running backs coach in 2013.
After being promoted to Kansas City's offensive coordinator role in 2018 under head coach Andy Reid, he helped the Chiefs win Super Bowls 54 and 57 behind prolific offenses.
Bieniemy then signed a two-year contract this offseason to be the Commanders offensive coordinator under Ron Rivera. Given Washington's inconsistency amid a 3-3 start, it's conceivable that Rivera and his staff could be let go if the season takes a turn for the worse.
Even if that's not the case, Bieniemy would certainly be an intriguing candidate for New England to potentially consider.
Lincoln Riley, USC
The Patriots could also turn to the collegiate ranks for options, where some intriguing candidates appear as if they would at least potentially be interested.
Riley could make some sense, with his strong track record as head coach at Oklahoma and now USC. The former Sooners coach led the program to three College Football Playoff appearances and four straight Big 12 Conference Championships from 2017-2020.
MORE: Week 7 NFL Power Rankings
Rumors have swirled that Riley might be interested in a move up to the NFL next season, particularly if he is able to follow QB Caleb Williams.
While it's unclear how serious Riley's interest is, New England could certainly be in line for a high draft pick and a chance to draft Williams due to its early struggles this season.
All of those factors make this likely long shot at least worth a modicum of consideration.
Jim Harbaugh, Michigan
Elsewhere in the collegiate ranks, speculation has risen ever since Harbaugh's suspension earlier this season that he might want to make a return to the NFL.
The longtime coach last held a professional role in 2014 as the San Francisco 49ers head coach. He also has previous NFL coaching experience as a quarterbacks coach for the then-Oakland Raiders.
Rumors of Harbaugh's possible NFL interest have only intensified after the Big 10 Conference released a statement today that the NCAA is "investigating allegations of sign stealing" involving the Michigan football program.
If such allegations are ultimately proven true, they could spell the end of Harbaugh's time leading the Wolverines after taking over the program in 2015.
Given his previous track record of success, Harbaugh would certainly be an intriguing option for the Patriots to consider if he does become available and desires a return to the professional ranks.