The NFL is a passing league. Quarterbacks take up the most financial pie, followed by pass rushers and pass catchers. Offensive tackle follows closely behind. Coaches can wax poetic all they want about the importance of an effective run game, but the aerial attack is king.
The best wide receivers in the NFL are like Tom Segura's comedy special. They're ball hogs. Despite commanding extra defensive attention, the best WRs in the league maintain ridiculous production levels.
They are three-level threats who beat press, separate at will, and reel in nearly every off-target pass thrown their way.
And while production alone is not the be-all, end-all of WR evolution, it's nice when production and tape meet — as it does with the best wide receivers in the NFL today.
Note: In-season rankings are fluid. Think of it as a power ranking instead of a pure talent-based ranking. What have you done for me lately?
From the current NFL standings to team depth charts to coverage of every game in the 18-week NFL schedule, we have all the news from around the league to keep you up to speed!
Who's the Best Wide Receiver in the NFL?
When Tyreek Hill moved to South Beach, the question was who would lose out on more production between him and Patrick Mahomes. It turns out that neither struggled, as each is independently talented enough to take over games.
Although his post-catch shenanigans have slowed down over the years, Hill has become a far greater traditional receiver over that time. Because of his stature and the perception surrounding him, he'll likely always be underrated as a route runner.
Check out other top positional rankings: QB | TE | RB | OT | G | DT | EDGE | LB | CB | S | K
But incredibly, his ability to climb the ladder and make plays above the rim despite his diminutive stature has become his trump card.
Like a praying mantis climbing a stalk, Hill practically climbs defenders as he outstretches his arms to make acrobatic leaps. He also possesses an outstanding feel for finding space and helping his QB when a play breaks down.
Hill's 163-yard performance against the Carolina Panthers further cemented him to the top of the league's receiving yards through six games.
Wide Receiver Rankings | 2-32
2) Justin Jefferson, Minnesota Vikings
Justin Jefferson is arguably the only one in the league without a glaring weakness. The league is inundated with ridiculous receiving talent. But after combing through every traditional stat and advanced metric along with film study, it's clear that the two have separated.
Every big-time receiver has a trump card, and Jefferson is no exception. He possesses truly special flexibility and fluidity, pairing that with great explosive potential and innate route-running ability.
Jefferson is about as slippery as any receiver we've seen over the past decade. But he also has high-quality hands that consistently produce spectacular catches — including the 2022 Catch of the Year — to go with his fantastic sideline control.
But a stint on IR combined with Hill's outrageous production has Jefferson slipping to the second spot in the WR rankings.
3) Stefon Diggs, Buffalo Bills
If Jefferson is a Porsche 911 GT2 RS MR going around the Nürburgring, Stefon Diggs is a Porsche 911 GT3 RS. They're only separated by fractions of explosive athleticism.
The Buffalo Bills receiver may be an even more gifted route runner than Jefferson, but he's more of an abstract artist than a portraitist — he'll freestyle more.
That works for Josh Allen, who is no stranger to creating outside of structure. The two have worked incredibly well with one another, even if there have been some tense moments. Before the start of the 2023 season, only Davante Adams (498) had more targets than Diggs since 2020.
4) Davante Adams, Las Vegas Raiders
Touchdowns are often random … unless you're Adams. He's only failed to eclipse 10 touchdowns one time since 2016. It all comes down to his ability to win immediately upon the snap of the ball. Adams' release repertoire is unrivaled, and it allows him to win in confined spaces with ease.
5) A.J. Brown, Philadelphia Eagles
A.J. Brown is from another generation. He's a big, physical bruiser who resembles a tall running back more than a receiver. That makes him an absolute weapon after the catch.
But in his time with Tennessee, Brown greatly improved the precision in his route running, which took his game to the next level, separating him from his former Ole Miss teammate, DK Metcalf.
6) Ja'Marr Chase, Cincinnati Bengals
Ja'Marr Chase can elevate over your dome, run by you down the sideline, or take a slant 80 yards. The only thing keeping him from being the most dominant WR in the NFL is that he doesn't quite have the route-running chops of the top five.
But it's not a weakness, either. Additionally, it's something Chase has continued to show strides with. His rapport with Joe Burrow makes for some of the most impressive receptions in any given week.
7) CeeDee Lamb, Dallas Cowboys
CeeDee Lamb is as exciting as he is frustrating. But in the back half of the 2022 NFL season, we started seeing the Oklahoma Sooners' version of Lamb — the one who could take games over by himself.
Lamb's fluidity gives him some of the most natural body control in the league. There should be fewer instances of confusion for the Dallas Cowboys' offense in 2023.
8) Brandon Aiyuk, San Francisco 49ers
It's funny how things work sometimes. Brandon Aiyuk has gone from a "meh" prospect to one of the most exciting players to watch in the NFL.
Although he also boasts good YAC ability — the prerequisite to playing in a Kyle Shanahan offense — it's his absurd attention to detail as a route runner that has become so much fun to dive into.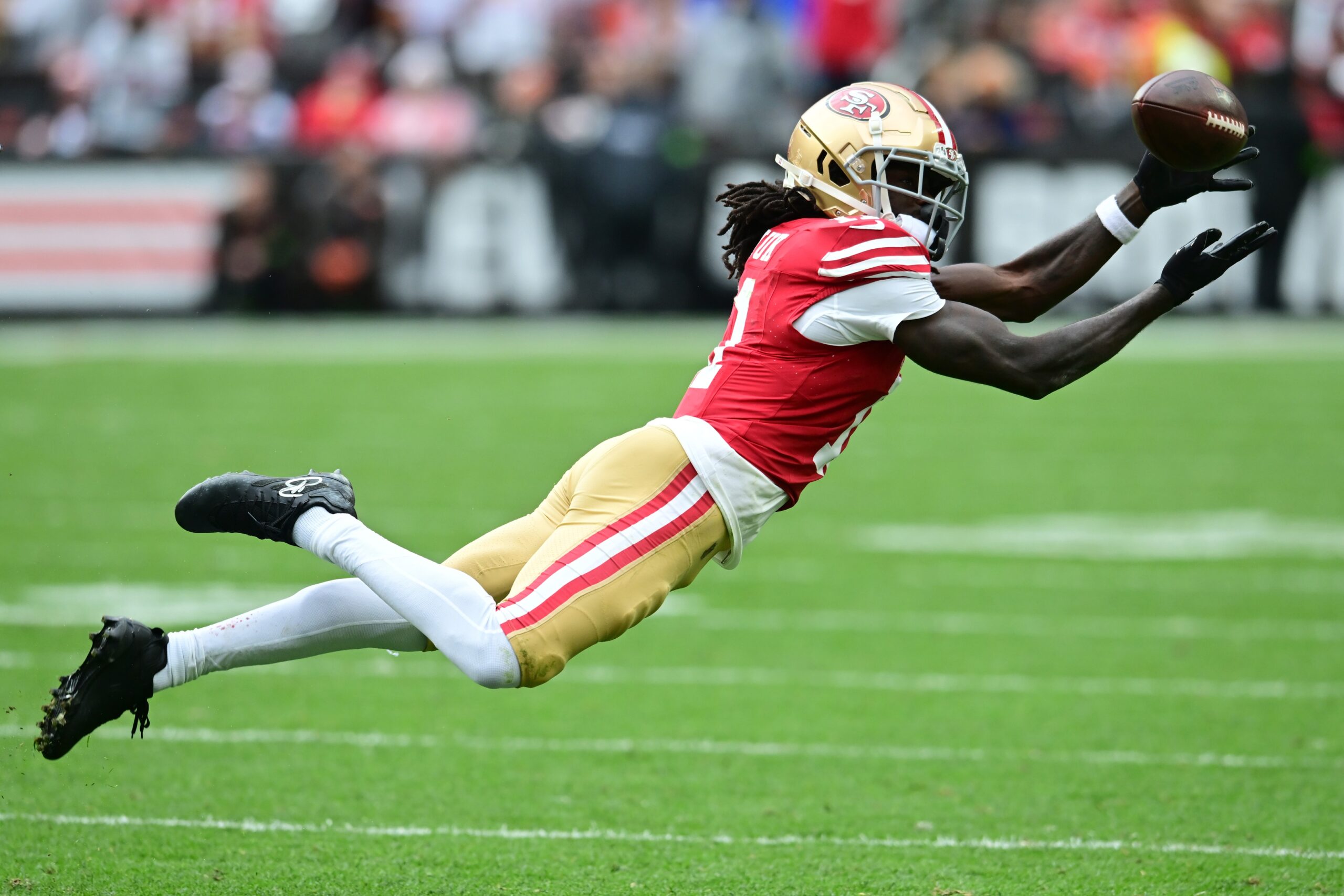 Aiyuk becomes more impressive to the eyes with every rewatch. He's gone from a moderately explosive sideline threat to a true technician who can win at all three levels from every alignment.
But what may be most impressive is that the young player got out of Shanahan's doghouse, a task few are seemingly able to accomplish. Consistently improving one's own game while also boasting impressive YAC potential may be the only way out.
9) Cooper Kupp, Los Angeles Rams
Cooper Kupp returned to the Los Angeles Rams in Week 5 like he'd never left. He led the team in targets, receptions, yards, and average against the Philadelphia Eagles. His usage in the Rams offense will always teeter between revolutionary and ridiculous.
But he will always be a massive part of this offense, in more ways than simply catching the football.
10) Tyler Lockett, Seattle Seahawks
Nobody tracks the ball in the air better than Tyler Lockett. He has a homing beacon on his head and on his hands connected with the ball floating in the air.
While he's a great all-around receiver, it's Lockett's outstanding body control and uncanny ability to make plays above the rim despite his size that makes him special.
11) Mike Evans, Tampa Bay Buccaneers
Mike Evans is a big and fast downfield threat who has consistently been undervalued as a route runner throughout his career. While he won't snap routes off like Diggs, Evans uses his frame incredibly well and can play with a defender's leverage to create separation underneath.
12) DK Metcalf, Seattle Seahawks
DK Metcalf could be even higher on this list if it weren't for his inconsistent production in contested situations. The classic physique bodybuilder is and has always been more agile than everyone's precious three-cone drill led on.
MORE: NFL Offense Rankings 2023
Metcalf's size, physicality, and ridiculous explosiveness have been paired with impressively detailed route-running chops. Even though Lockett is higher on this list, Metcalf has bested him in targets each of the last two seasons.
13) Calvin Ridley, Jacksonville Jaguars
Calvin Ridley has been away from the game for a long time now, but it sure doesn't seem like he's missed a beat. He moves at a different pace than the rest of the Jacksonville Jaguars receivers through drills, and that doesn't bode well for opposing cornerbacks in an offense that was already humming at the end of 2022.
Ridley's a gifted route runner whose precision is rarely matched in the NFL.
14) DeVonta Smith, Philadelphia Eagles
The Slim Reaper is here to stay. DeVonta Smith has always been far more physical than his paper-thin frame would suggest, and his game is larger than life.
Smith glides around the field and makes some of the most acrobatic catches in football. But he can make that all look so simple that amazes me the most.
15) Amon-Ra St. Brown, Detroit Lions
It's not often we see an entire group of amateurs on the internet who know better than the professionals tasked with selecting players. However, everyone but the league saw Amon-Ra St. Brown coming from a mile away.
St. Brown is a nifty player after the catch, and the improvements he's made in his timing from the slot have made him a very friendly receiver to Jared Goff.
He's not the biggest or most explosive receiver in the league, but St. Brown plays with impressive strength and fluidity. One could even venture to claim he's "gritty."
16) Deebo Samuel, San Francisco 49ers
Deebo Samuel was not a fan of the tape he put out last season, but he still ranks inside the top 15 among NFL receivers. Chase is faster and nearly as physical, but Samuel has special vision and creativity with the ball in his hands.
"Just going through the tape, it was, 'Look how sluggish and, like, how bad you look on tape,'" Samuel said of himself, per The Athletic. "Like I said, what happened last offseason kind of played a big role in that. I'll never put anything on tape like that again."
The emergence of Aiyuk in San Francisco will be an interesting development to track.
17) DJ Moore, Chicago Bears
DJ Moore was a post-catch phenom — not too unlike Samuel — coming from the University of Maryland. However, Moore's usage in the NFL has not been similar to his use in college. But that appears to be changing.
Moore flashed that trump card twice in the preseason, and his overall target depth should drop in Chicago with targets climbing higher. But don't let that trick you into thinking he's some rudimentary route runner, either.
One simply cannot make a list with this much talent if they're not. Moore possesses the athletic and technical ability to separate, but the consistency doesn't match those higher on the list.
18) Chris Godwin, Tampa Bay Buccaneers
Chris Godwin doesn't have Jefferson's ceiling, but he's similar in the sense that he doesn't have any legitimate weaknesses in his game. He's sturdy, smooth, and tougher to keep up with than it looks when he runs.
Godwin wins at all three levels of the field, and he can win from the slot or on the outside. Being healthy again could put him back into top-10 contention, but he'll also need to receive good enough QB play to consistently show off his skill set.
19) Garrett Wilson, New York Jets
Garrett Wilson finished tied for the seventh-most targets in the NFL a season ago as a rookie. Wilson entered the league already as a high-quality route runner. He's shifty after the catch, and his aerial attack is disrespectful to opposing defensive backs.
20) Amari Cooper, Cleveland Browns
Amari Cooper became more of a downfield option with the Cleveland Browns. He possesses outstanding straight-line speed, and his frame is far more dense than he's given credit for.
Chronic lower body injuries have been the only thing keeping Cooper from being one of the very best pass catchers in the league.
21) Jaylen Waddle, Miami Dolphins
In a league where everyone searches for the "next Tyreek Hill," the Miami Dolphins found the closest thing. The only thing keeping Jaylen Waddle from elevating his stock is the inconsistencies in his hands.
He struggles to finish through contact, and we rarely see the spectacular acrobatic catches we get from his teammates.
22) DeAndre Hopkins, Tennessee Titans
The best hands in the game have found a new home in Tennessee. It will be interesting to follow the veteran receiver's production in an offense that wants to dominate on the ground.
But because DeAndre Hopkins' game isn't based on pure athleticism, he should be able to maintain his productiveness into his mid-30s. But Ryan Tannehill must trust that when he puts it into traffic, Hopkins will be the one to come down with it.
23) Puka Nucua, Los Angeles Rams
If Puka Nucua keeps up on his torrent pace, he will continue to skyrocket up this list. However, it seems unlikely that a fifth-round rookie, even one as seemingly gifted as Nucua, will keep up that pace.
Nucua isn't the kind of physically dominant receiver we've grown accustomed to seeing among the league's best. At just shy of 6'2″, a hair over 200 pounds, but with sub 32″ arms, he isn't winning because he's bigger. And one glance at him on the field will show you he's not a 4.4 guy.
But that's not what makes a receiver, and pairing his skill set with Matthew Stafford has been a dream pairing. He's comfortable in traffic, has strong hands, and is wise beyond his years against zone coverage, which Stafford has loved taking advantage of early this year.
24) Chris Olave, New Orleans Saints
We shouldn't be surprised in the least that a Brian Hartline-coached wide receiver hit the ground running as a professional pass catcher. Chris Olave is a player similar to the mold of Ridley, except he's a more dangerous downfield option because of the extra horsepower he has under the hood.
Unfortunately, Olave's production has been inconsistent, even after a really hot start. Games of four and 12 yards aren't acceptable production numbers from the team's top target.
25) Terry McLaurin, Washington Commanders
Between explosiveness, size, and playmaking ability, few receivers are more difficult to cover 1-on-1 than Terry McLaurin. McLaurin's career has been marked by awful quarterback play, but it's allowed him to show off the fact that he's one of the best bad-ball receivers in the game.
26) Tee Higgins, Cincinnati Bengals
A little over a decade ago, Tee Higgins would have been one of the very best wide receivers in the game. He's big, physical, and heady as a route runner, which allows him to win with consistency over the middle of the field.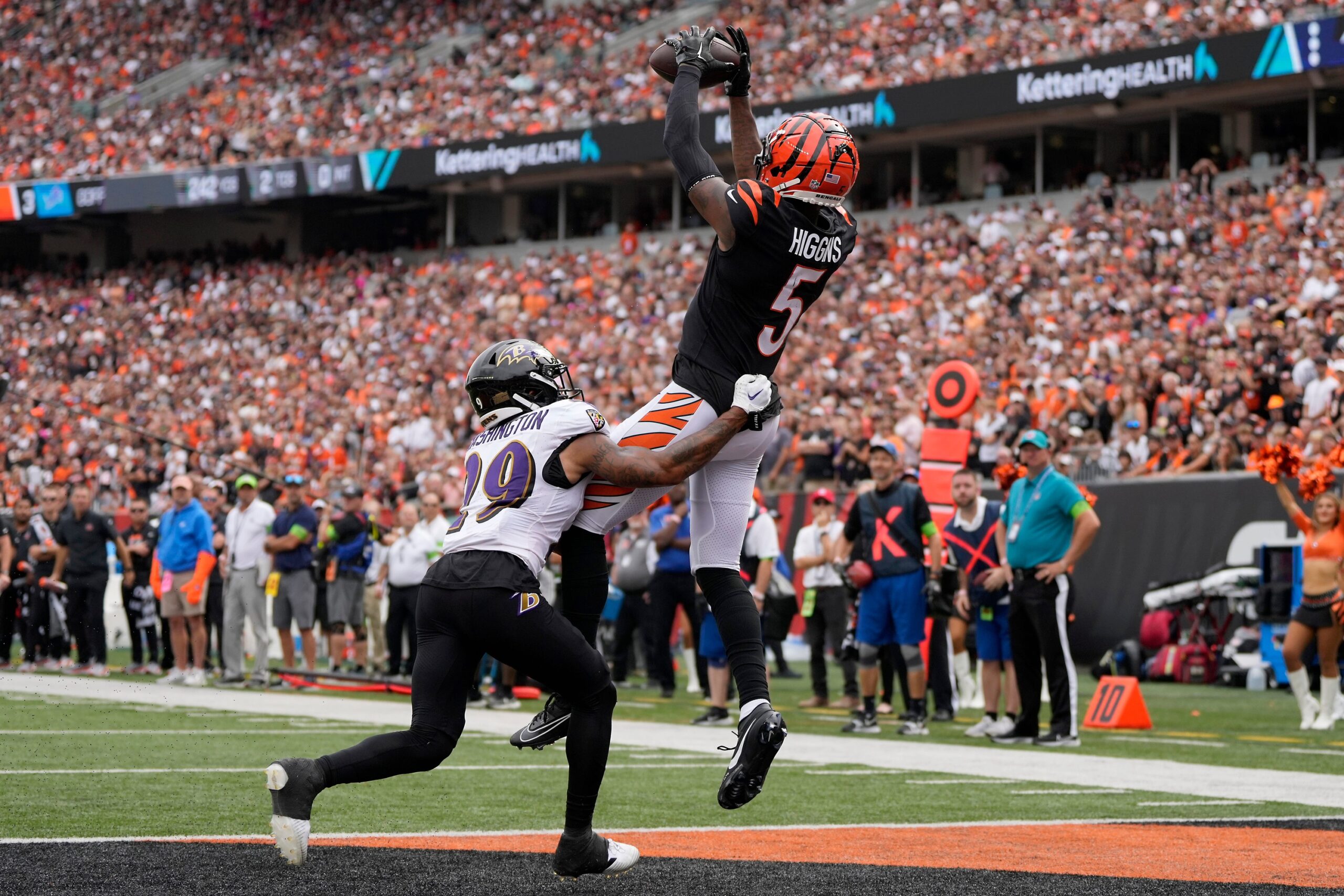 Higgins is a problem for defenses at the catch point, and he's a perfect complement to Chase and Tyler Boyd. If it weren't for Chase, there would be no one questioning whether or not Higgins is a No. 1 receiver.
27) Michael Pittman Jr., Indianapolis Colts
If Shane Steichen wants to squeeze as much success from Anthony Richardson as possible in Year 1, he needs Michael Pittman Jr. to be every bit of what Brown was for the Eagles' offense as he possibly can.
Although the young receiver has proven worthy of a significant pay increase on his second contract, will it be in Indianapolis?
MORE: NFL Defense Rankings
Pittman's a physically framed receiver who finishes strong over the middle of the field. However, he's far from the naturally loose athlete Brown is, and that shows in his lack of creativity post-catch. In a league with a ton of No. 1s, Pittman must elevate into that if he wants to be a Colt in 2024.
28) Keenan Allen, Los Angeles Chargers
It's almost unfair to look at Keenan Allen in the same lens as the other receivers on the list. He's the slowest one on the list, and it's not particularly close.
While Allen's 40 time has never been truly indicative of his speed, injuries have taken a toll on his explosiveness.
But he never needed to be particularly quick to be effective, and although he won't be a danger to teams down the field, Allen is like the Jason Witten of wide receivers at this point.
Let him run the Y-option and watch him make the correct decision and find the open spot against zone coverage or do just enough physically to separate against a man.
29) Jakobi Meyers, Las Vegas Raiders
From quarterback in college to quarterback's best friend in the NFL (and decidedly NOT a QB … sorry, Pats fans), Jakobi Meyers has had quite the journey. He's one of the slowest members on this list, but Meyers possesses outstanding ball instincts and a bully mentality when attacking the ball in the air.
Meyers is not a true No. 1, and it will be nice to see him be the complement to one that he always should have been in NE. Adams should make things marginally easier for Meyers.
30) Christian Kirk, Jacksonville Jaguars
Although many of the WRs on this list frequent slot alignments, Christian Kirk is one of the few true slot receivers. After receiving a contract that made most people tilt their heads like a confused puppy, Kirk set career highs everywhere.
He possesses dynamic short-area agility, is a nuanced route runner, and has a great feel for finding space to operate when a play breaks down. Kirk's not as well-rounded as others, and it keeps him from elevating to true No. 1 status, but he's an outstanding piece to have as a second option in an offense.
31) Drake London, Atlanta Falcons
With Desmond Ridder heading into Year 2, things should be better for Drake London, who is a big-bodied receiver who is surprisingly springy as a route runner for his size.
He'll never be one to take a slant 70 yards to the house, but London's presence should be maximized by Arthur Smith's unique approach to the passing game.