Cincinnati Bengals wide receiver Ja'Marr Chase knows beating the San Francisco 49ers is going to come down with being furious as much as it is fast.
San Francisco boasts arguably the best linebacker tandem in the league with Fred Warner and Dre Greenlaw. Chase said it's just up to the offensive linemen and Joe Mixon to have to deal with them.
"Hell yeah. Hell yeah, I pay attention," Chase said. "The last time we played these guys, we had track blocks. I had to block the linebacker; that's what that means. So hell yeah, I know about linebackers, especially these guys."
Ja'Marr Chase Eager for Physical Clash With 49ers
That last game Chase referenced was a 26-23 San Francisco overtime win during the Bengals WR's rookie season in 2021. He caught two fourth-quarter touchdown passes from Joe Burrow to rally the Bengals from a 20-6 deficit and force the extra period.
But as much as the two catches, he remembers the three track blocks he delivered against Warner.
MORE: Why Tee Higgins Hasn't Been Involved, and How the Bengals Can Change That
"Every play, I just remember leaving the damn block with sweat on my helmet from my visor," Chase said. "I'm stickin' my neck in there and giving my all for Mix."
Those plays didn't end up getting much — gaining three, two, and three yards — but that didn't have anything to do with Chase. Not only did Warner not make the tackle on any of those plays, he appeared to be growing frustrated with Chase's ability to remove him from the play and got away with a hands-to-the-face penalty the third time.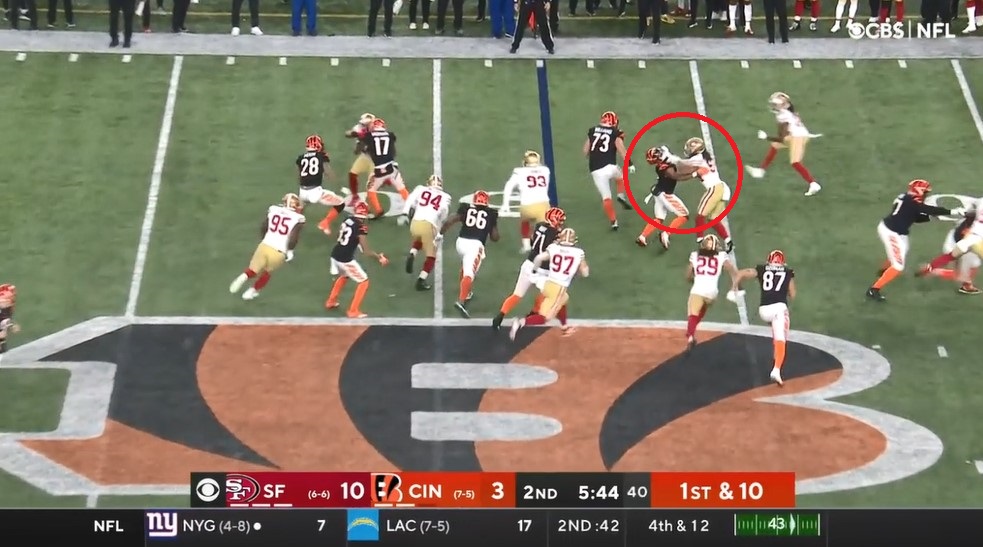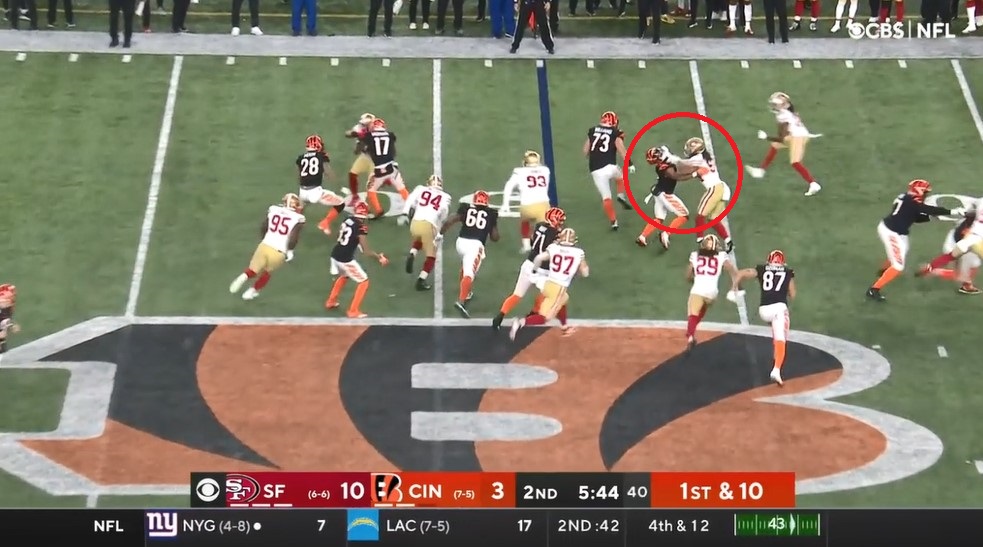 Two plays after that, Burrow hit Chase for what appeared to be a 37-yard, game-tying touchdown, but replay reversed the score after showing the ball slightly moved as Chase went to the ground. Otherwise, it would have been a three-touchdown, three-track game.
"He's one of the best in the business," Chase said of Warner.
Bengals head coach Zac Taylor also raved about Warner, a two-time All-Pro who went seven picks before Bengals defensive end Sam Hubbard – and one pick after Cincinnati defensive tackle B.J. Hill – in the 2018 draft.
"He's a great player. He's outstanding in their defense," Taylor said. "He makes an impact on every single play he's in there and plays really hard, plays really smart.
"Instincts, confidence in the scheme, confidence in what he's been asked to do," Taylor continued. "They've made tweaks over the years, but really, for his career, he's really been in the scheme.
"He seen it evolve. He's playing at a very high level. Just having watched him really over the entirety of my time with the Rams and here, he's always been a great player, and he continues to improve every single year."
Even though the #Bengals aren't likely to play the Seahawks for another four years, Ja'Marr's not trying to get on another team's bulletin board after his "Hold that L" tweet on their team account. pic.twitter.com/TrSacBBNgI

— Jay Morrison (@ByJayMorrison) October 26, 2023
The Bengals obviously are operating out of a new run scheme two years later, but Chase knows what kind of game this is going to be and what he's going to be asked to do at times.
And he loves it.
"I can just play football, man. This is the type of game I live up to," Chase said. "I'm not afraid to put my head in there. I think (Warner) even said it one time. I've just got to make a play for my teammates and hopefully get a good run for (Joe) Mixon. Just be a dog right there, man.
From the current NFL standings to team depth charts to coverage of every game in the 18-week NFL schedule, we have all the news from around the league to keep you up to speed!
Listen to the PFN Bengals Podcast
Listen to the PFN Bengals Podcast! Click the embedded player below to listen, or you can find the PFN Bengals Podcast on iTunes, Spotify, and all major podcast platforms.  Be sure to subscribe and leave us a five-star review! Rather watch instead? Check out the PFN Bengals Podcast on our NFL YouTube channel.