The Los Angeles Rams lost their top two running backs in the same week. That left them with sixth-round rookie Zach Evans and practice squadder Royce Freeman as the only two backs on the roster. They've since signed Myles Gaskin from the Vikings practice squad and Darrell Henderson from sitting on his couch. In a week riddled with injured players and teams on byes, should fantasy football managers consider starting a Rams running back? If so, who?
Looking to make a trade in your fantasy league? Having trouble deciding who to start and who to sit? Setting DFS lineups? Check out PFN's Free Fantasy Football Trade Analyzer, Start/Sit Optimizer, and DFS Lineup Optimizer to help you make the right decision!
Zach Evans' Fantasy Outlook This Week
The guy presumptively atop the current depth chart is also the one we have the latest information on.
Evans is a sixth-round rookie with an unimpressive prospect profile. While he does have good size and average athleticism, he fell to the sixth round for a reason. Evans was never supposed to take on any significant work.
MORE: Fantasy News Tracker
When he was forced into action last week, he managed just 10 yards on four carries. Of course, that is an extremely small sample size. But it's certainly not encouraging.
We have no idea where Evans is in terms of his knowledge of the offense. The other three running backs on this roster all have years of experience. None of them are anything special — if they were, they'd have had jobs before this week — but they've been in the league for a while.
It would be far from a shock for Evans to remain the RB3 this week behind two of these veterans.
Royce Freeman's Fantasy Outlook This Week
Freeman's career began in 2018, as he lost the Broncos' starting job to UDFA Phillip Lindsay. It never really got better.
By Freeman's third season, he was already just a role player. After that season, the Broncos cut him.
Freeman spent half his fourth campaign with the Panthers and half with the Texans, where he remained throughout his fifth season, barely playing. He signed with the Rams practice squad this year, only getting into a handful of games and playing on special teams.
The Rams did sign Freeman to the active roster. He is almost certainly going to play this Sunday. However, that doesn't mean he will see much work on offense.
Freeman's only advantage over Gaskin and Henderson is that he's been with the team all season.
Myles Gaskin's Fantasy Outlook This Week
Gaskin is a former seventh-round pick who surprisingly broke out in his second season with the Dolphins. In 2020, Gaskin was a very effective receiver, commanding a 13.5% target share.
While Gaskin played well enough, it's always a challenge for Day 3 picks. He lost his job during the 2021 season, barely played in 2022, and was cut.
MORE: PFN Consensus Rankings
Gaskin has spent the first six weeks of this season on the Vikings practice squad. It is likely the Rams poached him because he has experience and could play in a pinch.
With that said, Gaskin was the last addition to this backfield. That doesn't necessarily mean he's fourth on the depth chart, but it's highly suggestive. There's a very real chance he's not even active this week.
Darrell Henderson's Fantasy Outlook This Week
Henderson is my dark-horse pick to be the Rams RB1. Why? He's done it before.
Ever since the Rams drafted Henderson in 2019, they went out of their way to find reasons not to feature him. From a washed Todd Gurley to a sub-replacement-level Malcolm Brown to drafting Cam Akers, the Rams did everything in their power to find someone other than Henderson to be their running back.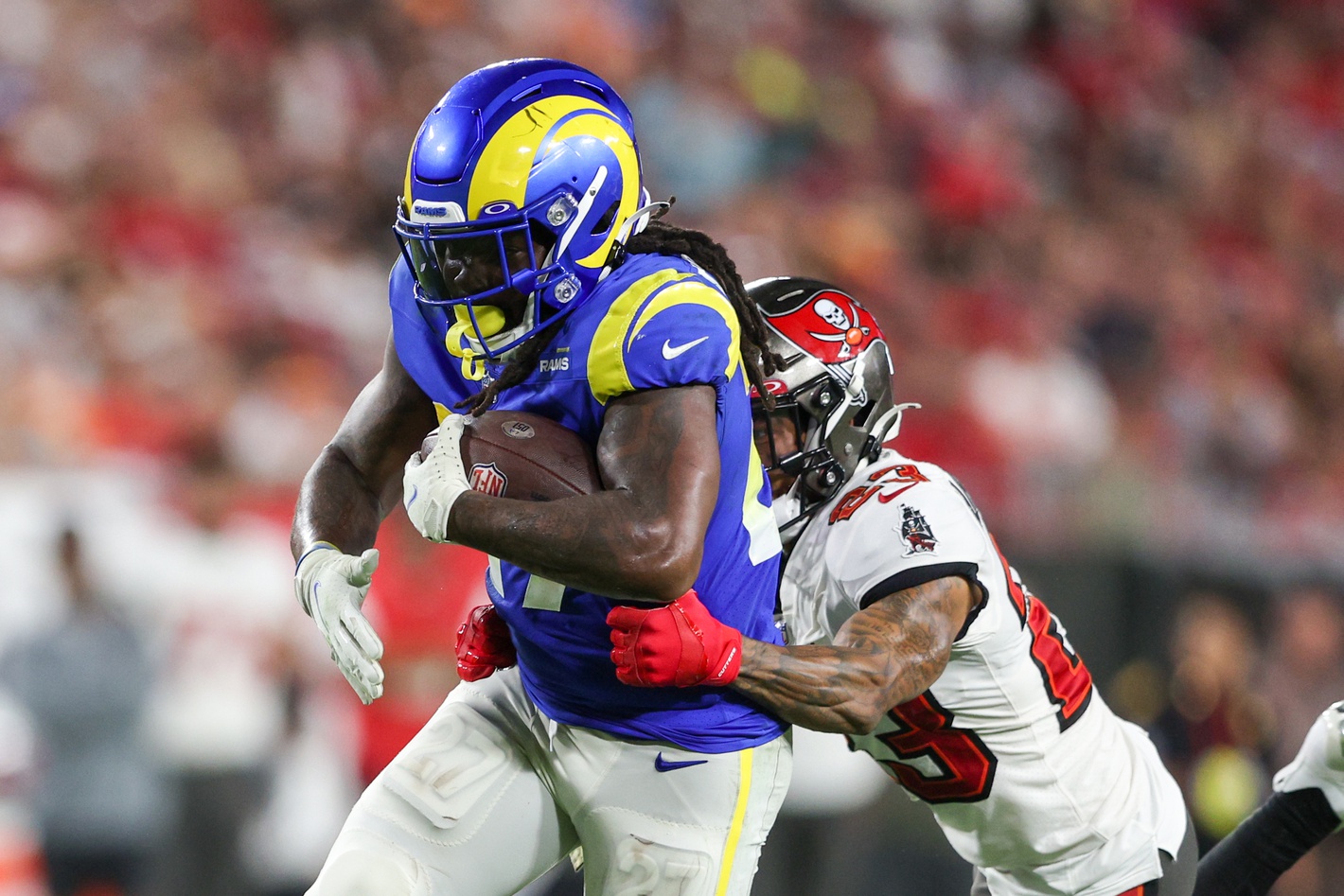 Then, in 2021, the Rams had no choice. Akers tore his Achilles, leaving them with just Henderson. They gave him a chance, and he thrived. Henderson averaged 13.9 fantasy points per game in 12 games that season, finishing inside the top 20.
Of course, it didn't end as well as it began. The Rams signed Sony Michel and eventually found an excuse to make Michel their lead back because … anyone but Henderson.
Nevertheless, Henderson not only has lead-back experience, but he has lead-back experience specifically with the Rams in Sean McVay's offense. And he's handled a 90% snap share before.
Which of the Rams RBs Should You Start?
This is a question we are unlikely to be able to answer with any degree of certainty. The silver lining is McVay has historically been a pretty trustworthy source of information. He's also not one to play games and hide his intentions.
There are a couple of things we need to monitor. First, we want to see how practice reps are divided during the week. That will give some insight into what the pecking order may be in this backfield.
Second, we want to listen to McVay. Beat reporters will undoubtedly ask him about the backfield. His answers could clue us in on which way he's leaning.
Third, we need to see what happens on Saturday. That is when the Rams will elevate Henderson, Gaskin, or both (but definitely at least one) from the practice squad.
Finally, this smells like a situation where Jay Glazer would get a tip on Sunday morning. Pay attention to him (and the insiders like him).
Fantasy managers may recall Week 14 of the 2021 season. The Lions had lost both D'Andre Swift and Jamaal Williams to injury. Rather than turn to incumbent rookie Jermar Jefferson, Adam Schefter reported that Craig Reynolds was likely to be the lead back. No one had even heard of Reynolds at that point.
Sure enough, Reynolds wound up leading the Lions in rushing that week. We could see a similar scenario play out with Henderson or Gaskin this week.
All of this is to say, right now, the answer to who to start is no one. If we don't get any sort of clarity on this backfield, all four of these backs will be impossible to trust, as their floors would quite literally be zero.
Fortunately, I do think we will get more information throughout the week. We will update you every time we do.
Listen to the PFN Fantasy Podcast
Listen to the PFN Fantasy Podcast! Click the embedded player below to listen, or you can find the PFN Fantasy Podcast on iTunes, Spotify, and all major podcast platforms.  Be sure to subscribe and leave us a five-star review! Rather watch instead? Check out the PFN Fantasy Podcast on our Fantasy YouTube channel.