Looking ahead, the 2024 NFL Draft will be a pivotal event for NFL teams seeking to secure their franchise quarterback. It's important to consider many factors when building a professional roster, but winning a Super Bowl is ultimately unlikely without a great QB.
So, which quarterbacks will be the key to opening that door for teams in 2024?
Ranking the Top QBs in the 2024 NFL Draft
10) Quinn Ewers, Texas Longhorns
Quinn Ewers, a five-star recruit from high school, is now in his first season of eligibility.
Although he had some impressive moments during his first season with Texas, there was also a stretch of four games that raised questions about whether he would remain ahead of Arch Manning on the depth chart for the 2023 season.
MORE: FREE Mock Draft Simulator With Trades
Ewers has shown significant improvement in important areas during the 2023 season — most notably his deep ball placement. But his characteristic volatility (both with his decision-making and mechanics) has reared its ugly head at times, most notably in a Week 6 Red River Rivalry loss against Oklahoma.
Ewers still has the alluring arm talent and angle freedom that made him such an intriguing summer prospect, but time is slowly running out for him to make up ground in the QB3 race.
His exceptional arm talent sets him apart in his ceiling evaluation, but Ewers doesn't quite have the athletic ability to compensate for mechanical and mental shortcomings, and there's still a lot of room to keep growing.
9) Spencer Rattler, South Carolina Gamecocks
Spencer Rattler's 2023 campaign has been a bit up and down — not dissimilar to the rest of his college football career. But if we're asking whether or not Rattler is a top-10 QB prospect in the 2024 NFL Draft, the answer has to be trending toward "yes."
Of course, that's just as much a byproduct of a lack of distinguishing talent behind him. Very few QBs past the top eight have decisively played their way into the positional top 10. But of that wild card group, Rattler might have the best blend of talent and production.
In Week 7, while Rattler's South Carolina Gamecocks lost, Rattler himself was very good, completing 23 of 30 passes for 313 yards, four touchdowns, and an interception.
Rattler's arm talent is a force that can be weaponized on throws downfield and outside the numbers, and his general accuracy has been a resounding strength in 2023. The tools are there to invest in, and in the middle rounds, that's what matters most for some teams.
8) Cameron Ward, Washington State Cougars
You could make a case that, through the first four games of the season, no quarterback was playing better than Cameron Ward at Washington State.
Ward exited his win over Oregon State with almost 1,400 yards, 13 touchdowns, and no interceptions. In that game, Ward put on a clinic with his layering ability, situational ball placement, and risk propensity.
But against a ravenous UCLA pass rush led by Laiatu Latu in Week 6, Ward came back to Earth, completing just 19 of 39 attempts for 197 yards, a touchdown, and two interceptions. A week later, Ward threw less than 200 yards and tossed an interception in a 44-6 loss to Arizona.
Ward has stalled out after his quick ascension in the early weeks of 2023. But there's still hope for him as a potential early-round pick, and he's still on track for a career year.
Ward's creation capacity will always land him some appeal as a developmental prospect, but the need for more overarching consistency remains.
7) Jayden Daniels, LSU Tigers
No 2024 NFL Draft quarterback prospect has helped their stock more than LSU's Jayden Daniels in 2023. Daniels was viewed as a Day 3 sleeper prospect in the summer, but he's quickly proving his merit as a legitimate early-round contender.
Through six games in 2023, Daniels has completed 152 of 203 passes (73.1%) for 2,294 yards, 22 touchdowns, and just three interceptions. If those numbers aren't gaudy enough, he's also accounted for 515 yards and four scores on the ground.
It was a universally agreed-upon conclusion in the summer months that Daniels had the requisite athleticism and arm talent to be an NFL quarterback. That creation ability and running value were his primary selling points in 2022.
But in 2023, Daniels has completely reworked his game in the pocket, dicing up defenses with his quick processing ability, anticipation, smooth mechanics, accuracy, and situational precision.
With Daniels, you have to ask, "What prevents him from going Round 1 in the 2024 NFL Draft?" Because with each passing week, the answers to that question dwindle more and more.
Daniels has the high-energy athleticism and playmaking potential to elevate an offense, and he's also able to work in structure with absurd efficiency. There simply aren't many boxes he doesn't at least check.
6) Shedeur Sanders, Colorado Buffaloes
Everyone was interested in how Shedeur Sanders would play after transferring to Colorado from Jackson State. No one could have projected just how productive he'd be in his first year at the Power Five level.
Of course, Sanders' placement in the 2024 NFL Draft ultimately depends on whether or not he declares. However, he's pushing to be the third-best quarterback in a stellar group.
MORE: PFN's Top 100 Prospect Watchlist
Sanders' Week 6 showing was less explosive, but the Buffaloes' passer still led his team on a game-winning drive against an upset-minded Arizona State team. The Buffaloes lost a stunner to Stanford in Week 7, but Sanders did his part with 400 yards and five scores.
Sanders has dealt with pressure more than any CFB quarterback. His play under pressure is still developing, but as a pocket operator, he has some of the best patience, timing, field vision, and accuracy in the 2024 class.
5) Bo Nix, Oregon Ducks
Bo Nix has quickly made the NFL world forget his struggles at Auburn. Now, in more control of his urges and physical talent, he's a very real first-round QB candidate.
At 6'2″ and 213 pounds, Nix is one of the most dynamic running and off-script QB threats in college. He's a quick, flexible, short-area athlete with excellent creation ability and the arm strength and flexibility to generate velocity off-platform.
Nix's development on the operational side suggests he can be a quality NFL starter.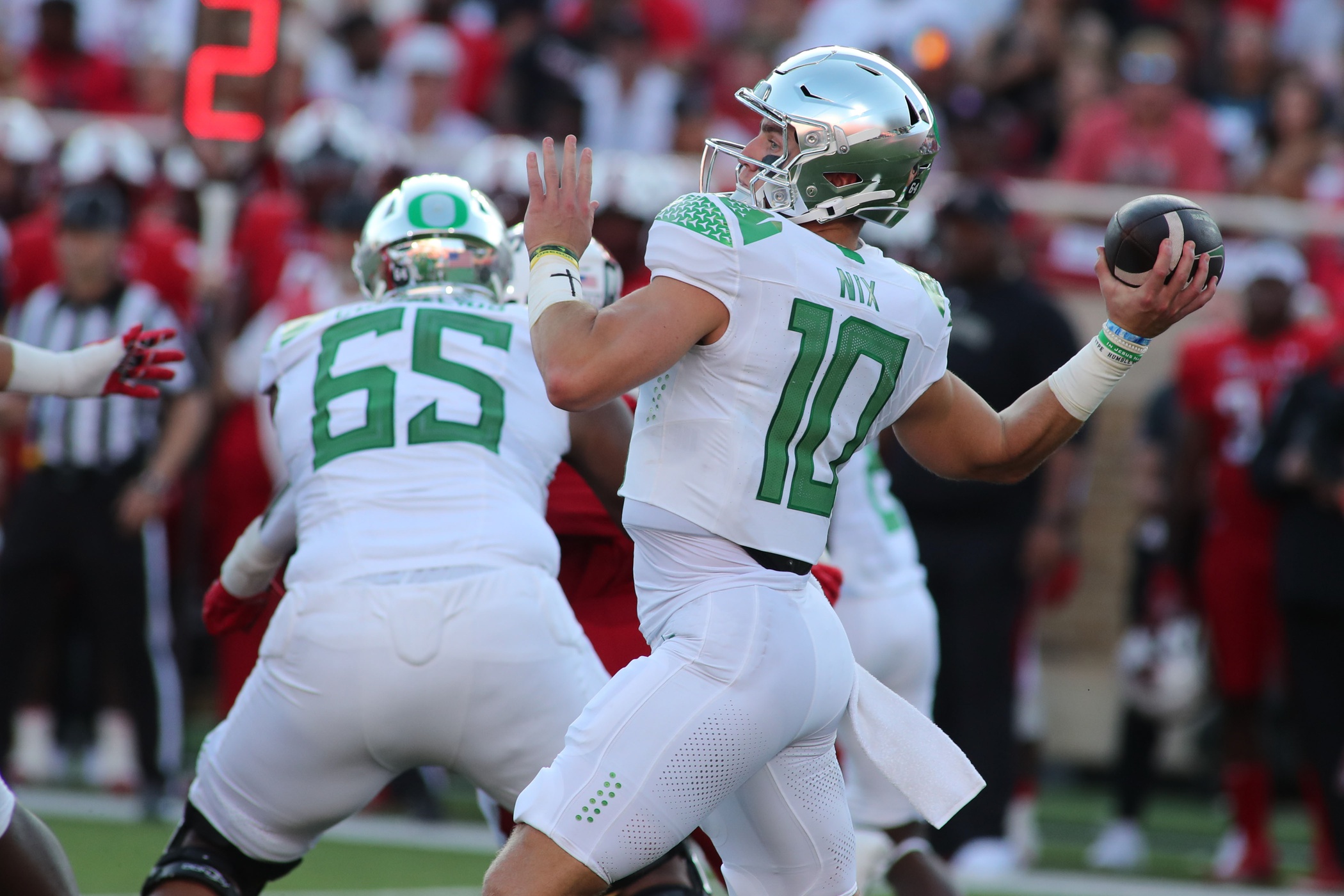 Week 7 was a big checkpoint for Nix, who dueled against fellow 2024 NFL Draft prospect Michael Penix Jr. in a high-pressure Pac-12 matchup. The Ducks didn't get the win, but Nix did everything he needed to do to give his team a chance, completing 33 of 44 attempts for 337 yards and two scores.
On the season, Nix has completed 164 of 207 attempts — a whopping 79.2% completion rate — for 1,796 yards, 17 touchdowns, and just one pick. He's operating at a level of efficiency rarely seen, and he also has the talent to generate big plays.
4) J.J. McCarthy, Michigan Wolverines
At the start of this season, J.J. McCarthy was seen as a promising player with great potential.
While there have been lapses — most notably against Bowling Green several weeks ago — McCarthy is visibly trending up in 2023, with 1,512 yards, 14 touchdowns, and just three interceptions on a 78.2% completion rate in six games.
McCarthy was volatile earlier in his career, but he's starting to become more steady and controlled in structure, and his tools are easy to like. He has a loose arm capable of hitting tight windows, and his elite creation ability and rushing value give him an edge over other young QBs.
McCarthy has everything he needs physically to be a plus NFL starter. If he can keep developing through Big Ten play, he'll be the favorite behind Drake Maye and Caleb Williams in this crowded QB3-QB8 group.
3) Michael Penix Jr., Washington Huskies
Michael Penix Jr. is a bit of a throwback prospect because he's not the most dynamic athlete. But he's been simply undeniable as an ascending first-round prospect this year. He has 2,301 passing yards, 20 touchdowns, and three picks to this point. He's a Heisman front-runner, and he has his team undefeated and at the top of the Pac-12.
Penix's health issues are serious. They include two torn ACLs and a shoulder problem. That medical history may scare off some teams later on. But if Penix's medicals check out for teams, then there aren't many arguments to keep him away from Round 1 real estate.
Penix also has excellent field vision, aggressiveness, and competitive toughness. He's made every throw asked of him this season, and his ability to be a plug-and-play passer helps him tremendously.
On top of his superb in-structure qualities, Penix also has a wicked arm to match. He'll easily have the strongest left-handed throwing arm over Tua Tagovailoa once he makes the NFL leap, and his driving velocity is a fusing element for his accuracy and intangibles.
It's not brash to say Penix could be an NFL starter in a similar mold to Matthew Stafford or Philip Rivers — a surgical pocket operator with the arm strength and elasticity to make the most of any opportunities given by a defense at any level of the field.
2) Caleb Williams, USC Trojans
Caleb Williams is the reigning Heisman winner after throwing for 4,537 yards, 42 passing touchdowns, five picks, and running for 10 more scores in 2022.
His production is impressive, and looking at the tape, he stands out as a premier QB1 candidate. Maye is the only one who could challenge him, however, and after a three-interception showing in a loss to Notre Dame, Williams' standing against Maye is starting to slip.
MORE: 2024 NFL Draft Big Board
Williams possesses all the necessary qualities to become a top-tier NFL quarterback early on in his career. His hyper-elite creation capacity and composite arm talent will not only enable him to generate big plays, but they'll also enable him to withstand adversity and extend plays for himself.
That said, Williams is a flawed pocket operator outside of his generational creation ability. His mechanical discipline is still improving, his decision-making under pressure can be spotty, and his accuracy can also suffer in the short and intermediate ranges.
Against Notre Dame, all of those flaws were on display for Williams. It doesn't change the fact that his physical skill set is very much worth banking on as a franchise QB option — but he's not the perfect prospect he's been billed as at times.
Who Is the Best QB in the NFL Draft?
1) Drake Maye, North Carolina Tar Heels
The 2024 NFL Draft QB class is being led by two talented quarterbacks who are neck and neck in terms of skill — Williams from USC and Drake Maye from North Carolina.
While Williams is a fan favorite, Maye doesn't always get his credence as an equally viable QB1 candidate. He may not have Williams' hyper-elite improvisational skills, but this 6'4″, 220-pound Tar Heel is a talented athlete with rare arm strength, elasticity, and anticipation ability.
Decision-making was the lone factor keeping Maye from legitimately challenging Williams earlier in the season, but he's coming off two of his best games of the 2023 season: A 442-yard, three-touchdown outing against Syracuse and a 273-yard, four-touchdown outing against Miami.
Maye's QB1 case has never been stronger as it is right now, especially with Williams coming off the worst game of his collegiate career.
Maye, for his size, still has exceptional off-platform ability and athleticism, and there's a strong argument to make that Maye is more disciplined, more decisive, and more accurate than Williams in structure.
As C.J. Stroud has shown early on in his NFL career, it's the passers with the best balance of physical talent and operational utility that find success. Both Maye and Williams have bright futures, but Maye might best fulfill that definition in the 2024 NFL Draft.
Honorable Mentions
Listen to the PFN Scouting Podcast
List to the PFN Scouting Podcast! Click the embedded player below to listen, or you can find the PFN Scouting Podcast on iTunes, Spotify, and all major podcast platforms.  Be sure to subscribe and leave us a five-star review! Rather watch instead? Check out the PFN Scouting Podcast on our Scouting YouTube channel.