NFL Insider Jordan Schultz turned some heads Wednesday when he brought up the Dallas Cowboys as potential buyers at the trade deadline.
Who could Dallas potentially target to fill holes on its 4-2 squad?
From the current NFL standings to team depth charts to coverage of every game in the 18-week NFL schedule, we have all the news from around the league to keep you up to speed!
NFL Insider Lists Cowboys Among Likely Buyers
With the NFL's Oct. 31 trade deadline fast approaching, Schultz made an appearance on CBS' "Maggie and Perloff" sports talk show Wednesday and discussed teams that could potentially be buyers or sellers.
Cowboys Expected to Be Buyers at Trade Deadline: @Schultz_Report 🏈📈 pic.twitter.com/0JpanGtzKn

— Maggie and Perloff (@MaggieandPerl) October 18, 2023
Schultz floated the Cowboys as perhaps the team most likely to look at bolstering their squad at the deadline, given their current 4-2 record. He mentioned cornerback specifically as a position Dallas could target, which would make sense after star cornerback Trevon Diggs' season-ending injury earlier this year.
Schultz also mentioned the Philadelphia Eagles and Las Vegas Raiders as teams that could potentially get aggressive at the deadline.
On the flip side, he brought up the Denver Broncos, Minnesota Vikings, and potentially even the Washington Commanders as potential sellers.
Potential Deadline Targets For Dallas
Patrick Surtain II, CB, Denver Broncos
As Schultz mentioned, one of the Cowboys' most obvious holes is at cornerback after Diggs' season-ending injury.
Surtain is one player who could certainly help fill that void in the defensive backfield opposite Stephon Gilmore. The third-year cornerback earned a Pro Bowl nod and first-team All-Pro honors last season after tallying 60 tackles (46 solo), 10 pass breakups, two interceptions, and a forced fumble.
MORE: Dallas Cowboys Depth Chart
He has tallied 25 tackles (23 solo) and six pass breakups through six starts in 2023.
The Broncos were mentioned among Schultz's sellers for a reason. They have already traded Randy Gregory and released Frank Clark amid a 1-5 start and look poised to continue offloading players. Surtain should garner significant value and may not fit Denver's timeline of returning to contention.
All of those factors make a Surtain trade at least worth exploring for Dallas, though the asking price might be steeper than the franchise is willing to pay.
Kristian Fulton, CB, Tennessee Titans
Looking at other cornerback options, Fulton is another intriguing possibility on a team that could look to begin moving on assets amid a tough start to the season.
The fourth-year cornerback has yet to play a full season in his career amid some injury issues but was productive in 11 starts last year as he tallied 48 tackles (35 solo), five pass breakups, one interception, and a forced fumble. That came on the heels of a productive 2021 campaign, where he had 40 tackles (30 solo), 14 pass breakups, and two interceptions.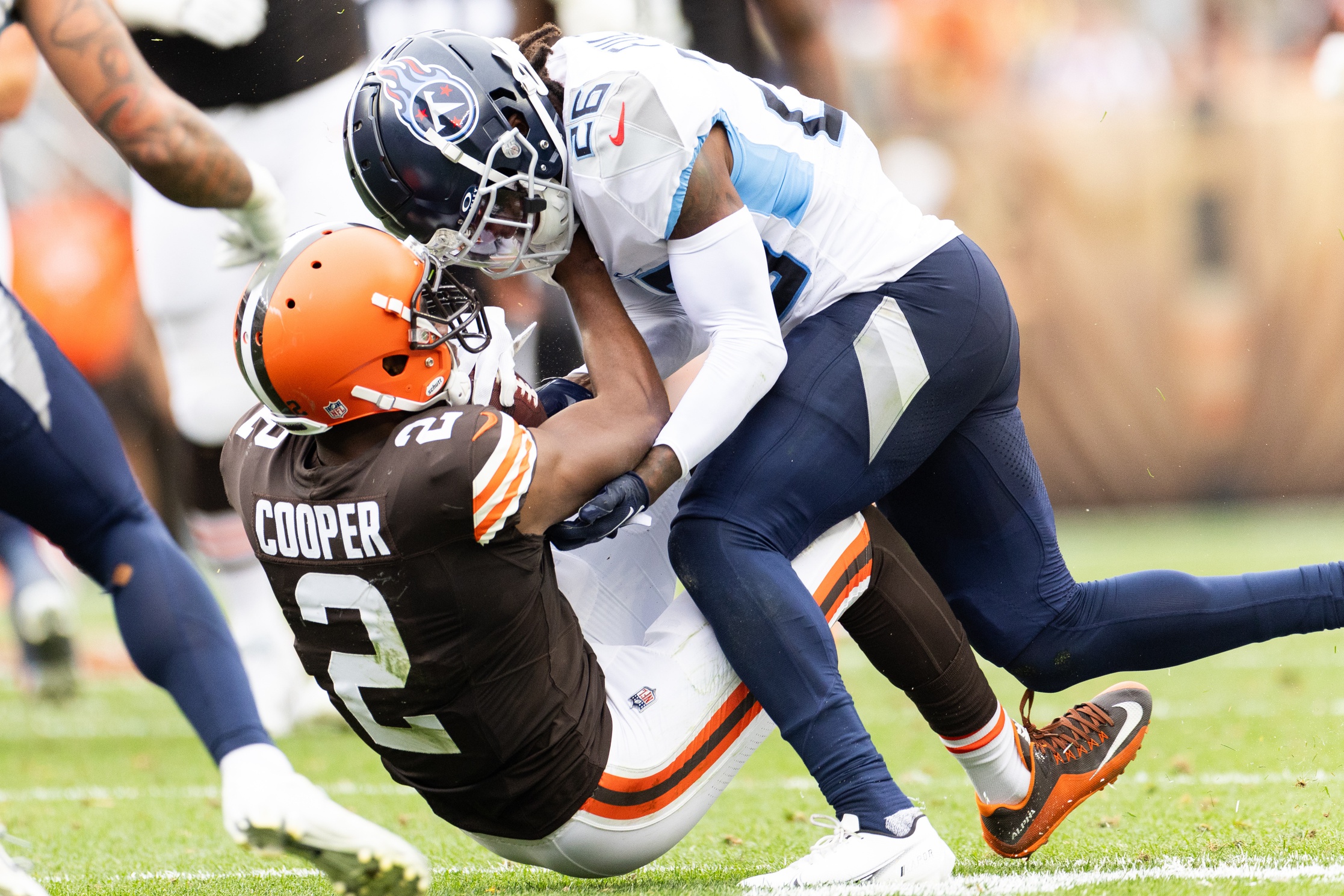 Fulton has 24 tackles (20 solo) and three pass breakups through six appearances in 2023, including five starts.
Tennessee could look to move on from Fulton and others amid a rough 2-4 start that has also featured starting quarterback Ryan Tannehill going down with a potentially significant injury on Sunday. It would make sense for the Titans to move on from a player or two, given those circumstances.
Dallas could also find Tennessee's asking price for Fulton a bit more palatable than the price for other options, along with the flexibility to move on this offseason, given his expiring contract.
Byron Murphy, CB, Minnesota Vikings
Murphy is perhaps a bit of a less likely option, as Minnesota just signed him this offseason, but the franchise does look to be a potential seller at the deadline due to its 2-4 start.
The Vikings signed Murphy to a two-year, $17.5 million contract with $12.6 million guaranteed this offseason to help shore up their defensive backfield. The fifth-year cornerback has produced through six starts this fall, generating 26 tackles (18 solo), seven pass breakups, and one interception.
He also has a strong track record as a consistent producer from his four seasons with the Arizona Cardinals.
Given Murphy's relatively reasonably priced contract and recent signing with Minnesota, acquiring him might take more than Dallas is willing to give up. Still, he's one player who would be worth inquiring about at the very least ahead of the deadline.
Josey Jewell, LB, Denver Broncos
Another potential hole for the Cowboys lies at linebacker, particularly after a neck injury suffered in the Week 5 loss to the San Francisco 49ers sent Leighton Vander Esch to the injured reserve.
Dallas has already added some depth to the room by signing former first-round pick Rashaan Evans, but the room was thin beforehand and remains so with Vander Esch now seemingly set to miss an extended period of time.
Jewell is one player who could help fill that hole. The sixth-year linebacker is coming off posting a career-best 128 tackles (70 solo), seven tackles for a loss, four pass breakups, 2.5 sacks, two interceptions, two forced fumbles, and two fumble recoveries in just 13 appearances (all starts) last season.
He has 33 tackles (18 solo) and one pass breakup thus far for the struggling Broncos. Jewell is another of several players whom Denver could look to move on amid its rough patch and one who is certainly worth Dallas considering to bolster its linebacker depth.
Derrick Henry, RB, Tennessee Titans
Moving for Henry certainly feels like a long shot, but the Cowboys have been known to make splashy moves from time to time.
Dallas has one consistent option at running back in Tony Pollard, who has 96 carries for 370 yards and two touchdowns but has not produced from the position otherwise. Rico Dowdle is the only other player who has made much of a contribution at the spot with 28 carries for 107 yards.
Adding Henry would certainly give the running back room a boost and fill the hole left by the departure of longtime Cowboy Ezekiel Elliott.
Henry is coming off a productive 2022 season which saw him rack up 349 carries for 1,538 yards and 13 touchdowns, good for his third-most productive season across seven years. He has been solid in six starts to open the 2023 campaign with 98 carries for 425 yards and three scores.
Given Tennessee's early struggles and relatively poor prognosis at this point, getting something for Henry in the final year of his contract could be appealing.
The veteran running back would likely have no shortage of suitors if available. If he does become an option, the Cowboys could at least explore dealing for Henry to give the offense another dynamic playmaker, though taking on his salary might not be easy.