It's always a challenge to navigate through injuries in fantasy football. The WR position has several players dealing with issues. The time to set Week 7 lineups is near. What is the latest injury information on Deebo Samuel, DeVonta Smith, and Diontae Johnson?
Looking to make a trade in your fantasy league? Having trouble deciding who to start and who to sit? Setting DFS lineups? Check out PFN's Free Fantasy Football Trade Analyzer, Start/Sit Optimizer, and DFS Lineup Optimizer to help you make the right decision!
Latest News and Injury Updates Impacting Fantasy
Analysis last updated 6:15 p.m. ET on Wednesday, Oct. 19
Deebo Samuel, San Francisco 49ers
In what seems to be a multi-time annual occurrence, Deebo Samuel is once again banged up. He is rarely ever truly injured to the point where he misses a large chunk of time. But his playing style is such that he repeatedly picks up minor injuries that knock him out of games or cost him a game or two.
Samuel hasn't missed a game yet this season, but he was a complete decoy in Week 4 while dealing with a knee injury. He finally put that behind him in Week 5. Then, in Week 6, he picked up a shoulder issue early in the game and did not return.
The 49ers don't play until Monday this week. That means their "Wednesday" practice occurs on Thursday. There will be no official report until then. Right now, the best we have is an appearance Sameul made on Kay Adams' show.
Of course, she asked about the injury. Samuel said, "We gonna do everything possible to get ready for Monday and see how it goes during the week… From Sunday to now, it's feeling way much better than what it was."
MORE: Fantasy News Tracker
This is great news but far from a guarantee that Samuel plays. He is a notoriously quick healer but also doesn't typically perform well when playing through injuries.
Historically, if Samuel practices at all, he usually plays. That includes even if it's only a single limited practice on Friday (this week, Saturday).
There's no way Samuel is getting in a full practice on Thursday, but even a limited session would be an extremely good sign for his availability. However, fantasy managers should prepare for Samuel not to practice on Thursday. Hopefully, he is able to get in a limited session on Friday.
We are almost certainly headed toward a questionable designation for Samuel. This is the worst-case scenario for fantasy managers, as 99 percent of us will have to make a call on Samuel by Sunday.
Whether you start Samuel will come down to what Kyle Shanahan says about his status, the nature of your matchup, and the caliber of the alternatives if you choose to not roll the dice. It is far too soon to render a decision.
DeVonta Smith, Philadelphia Eagles
I watched the entirety of the Eagles' loss to the Jets last week. DeVonta Smith played the entire game. There was no noticeable point at which he got hurt. But clearly, something happened.
The Eagles did not hold a real practice on Wednesday, just a walkthrough. They are still required to release an estimated practice report, though. On that report, Smith was listed as DNP due to a hamstring issue.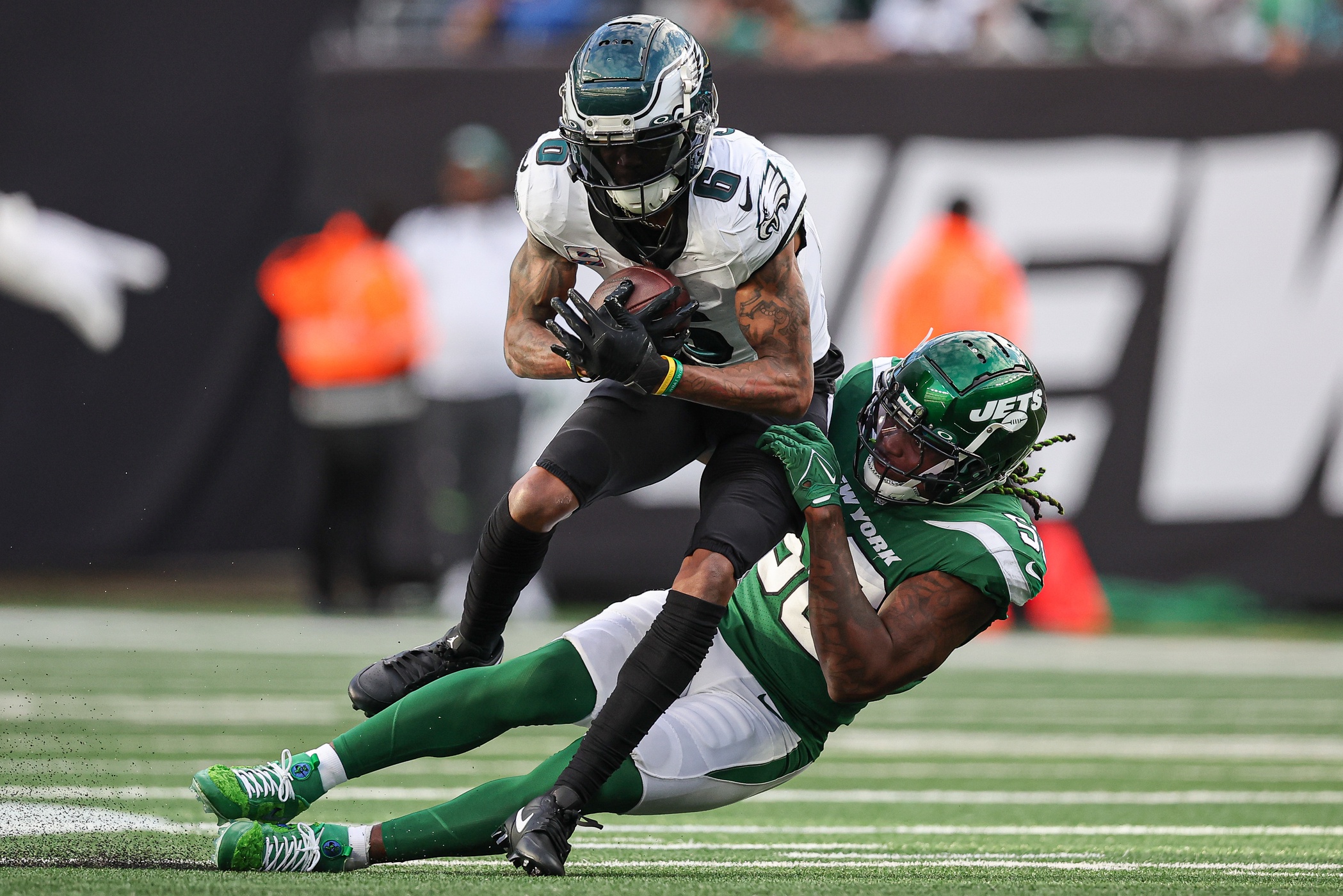 Currently, we have no information beyond the practice report itself. In his press conference, Nick Sirianni did not mention anything about a Smith injury.
The eternal optimist could point to Sirianni's lack of comments as a positive sign that Smith's DNP is purely precautionary. It's entirely possible it's just general soreness and that he's fine. We will know more once Thursday's practice begins. If Smith doesn't at least get in a limited session, fantasy managers should be very concerned. For now, it's just too early to panic.
Diontae Johnson, Pittsburgh Steelers
We haven't seen Diontae Johnson on a football field since Week 1. Johnson strained his hamstring opening Sunday and was placed on IR the next week. The expectation was that he would miss four games and return after the team's Week 6 bye. Based on Wednesday's practice report, it looks like that is exactly what's going to happen.
MORE: PFN Consensus Rankings
Johnson returned to practice for the first time since early September on Wednesday. His practicing on Wednesday at all is a fantastic sign. His being listed as a full participant is as good as it gets.
As long as Johnson doesn't aggravate his hamstring over the next two days, fantasy managers should expect the Steelers to officially activate him from IR on Saturday and for him to play on Sunday.
In Johnson's absence, George Pickens has stepped up as the team's WR1 and has played well. There is certainly room for both Johnson and Pickens to thrive. I would expect Johnson to resume his role as the WR1 and primary target, but it's possible this is now more of a 1A/1B situation.
Either way, Johnson should be treated as a WR3, at worst this week, and belongs in fantasy lineups.
Listen to the PFN Fantasy Podcast
Listen to the PFN Fantasy Podcast! Click the embedded player below to listen, or you can find the PFN Fantasy Podcast on iTunes, Spotify, and all major podcast platforms.  Be sure to subscribe and leave us a five-star review! Rather watch instead? Check out the PFN Fantasy Podcast on our Fantasy YouTube channel.