For the last five years, the Cincinnati Bengals have had their bye week fall smack in the middle of the season, with it landing in Week 10 the last two seasons and Week 9 the three before, lining up perfectly for midseason awards content.
But this year, the bye arrives in Week 7.
Eh, close enough.
From the current NFL standings to team depth charts to coverage of every game in the 18-week NFL schedule, we have all the news from around the league to keep you up to speed!
Who Are the Midseason Award Winners for the Cincinnati Bengals?
If you want to hear a more in-depth discussion of these awards, including where Dallas Robinson and I differ, check out the latest episode of the PFN Bengals Podcast.
What's wrong with the #Bengals offense? 🤔 @ByJayMorrison and @DallasDRobinson discuss the struggles and give out bye week awards on the NEW episode of the #PFN365 Bengals Podcast!

— Pro Football Network (@PFN365) October 17, 2023
Here are my picks.
MVP | Ja'Marr Chase
This is as much of a slam dunk as Joe Burrow has been the last two seasons. Burrow has been a shell of himself due to the calf injury, and Chase still has managed to elevate his game in spite of that.
Chase has 50 catches, which is 28% higher than his previous high of 39 through the first six games. His 556 yards also are the most through six games (553 in 2021), as are his 73 targets (63 last year).
MORE: Cincinnati Bengals Depth Chart
The only area where he is lagging is in touchdowns with three, two behind the five he had his rookie year in 2021. But that's only because the team isn't scoring this year. Chase has three of the Bengals' eight offensive touchdowns (38%). In 2022, he had four of 15 (27%). And in 2021, it was five of 18 (28%).
With this being scary season as Halloween approaches, here is something spooky for you: Imagine where the Bengals would be right now without Chase and his record-setting pace.
Defensive MVP | Trey Hendrickson
Raise your hand if you wanted the Bengals to re-sign Carl Lawson after 2020 instead of going outside the building to lure Hendrickson.
Half of you, with your hands down, are lying.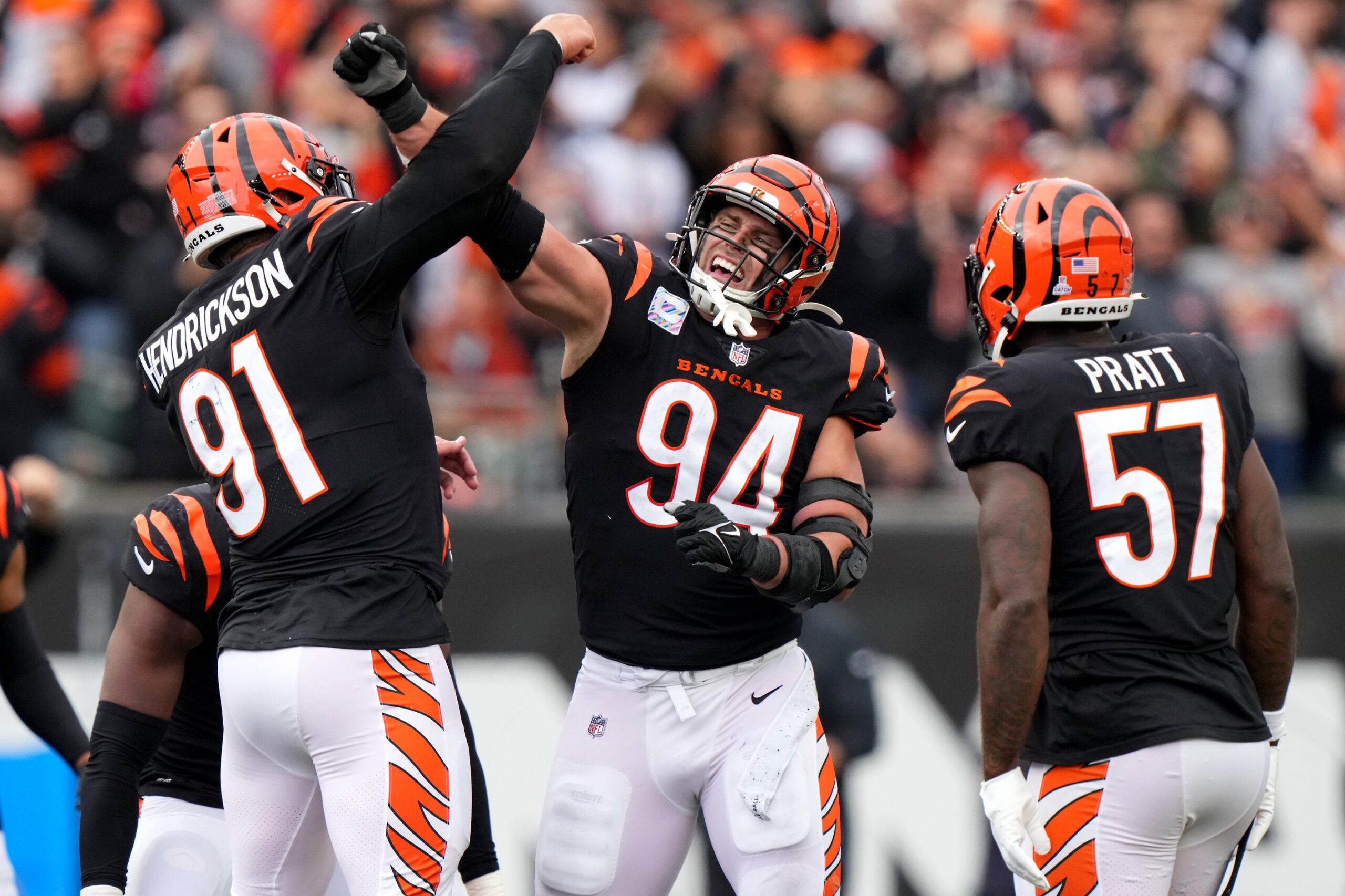 Hendrickson has been incredible since the day he arrived in Cincinnati, and this is his best season yet. Even with a lot of football left to play in the 28-year-old's career, let's just go ahead and call it — Hendrickson is the best free agent signing in franchise history. And, dollar for dollar, one of the best across the league in recent memory.
Hendrickson is tied for third with seven sacks, one shy of the league lead. He's halfway to his career high of 14, and there are still 11 games to play.
He's also fourth in Pro Football Focus' Pass-Rush Win rate (23.2%), seventh in pressure rate (11.3%), and ninth in total pressures (27). And he's doing it all for far less money than the players ahead of him.
Newcomer of the Year | DJ Turner II
None of the free agents have made a huge impact, and no rookie has played more than Turner, so this is an easy pick.
He flashed early in training camp and has continued to improve, getting stronger against the run the more chances he gets to stick his nose in the action on game days, which has been more often than we typically see from rookies in a Lou Anarumo defense.
Turner has allowed Chidobe Awuzie to take his recovery from ACL surgery slower, and he was able to fill in as a starter in Week 5 when Awuzie couldn't play due to a back injury. Turner looks to be the latest in a pretty strong run of second-round picks by the Bengals.
Most Improved | Dax Hill
From only playing 17 snaps at safety last year to starting this year and making an impact both in one-on-one coverage against tight ends on third down and as a blitzer, Hill has made the biggest leap of any player.
If you want to limit the discussion to guys who played regularly last year and this year, Cam Taylor-Britt has certainly improved. But he already was playing well when 2022 ended.
On the podcast, Dallas mentioned that Jonah Williams and Cam Sample could be in the conversation as well.
Most Disappointing | Irv Smith Jr.
The expectations weren't exactly through the roof for Smith when the Bengals signed him in March, well after free agency began, but Smith has nearly as many games missed due to injury (two) as he does receptions (three).
Burrow had 49 pass attempts in Week 5, and none were to a tight end (there was one ball throw at Smith on a play that was wiped out by pass interference). Against Seattle last week, Smith saw two targets, one of which went off his hands.
MORE: NFL Week 7 Power Rankings 
Rookie punter Brad Robbins should be considered as well, but he's at least turned a corner and ranks 12th in punting average after a shaky first three games. Smith has yet to produce anywhere near a starting level in any game.
Cases can — and were — made for safety Nick Scott and wide receiver Tee Higgins.
Player You Want To See More Of | Evan McPherson
This isn't more "from" but rather more "of." As in score some more touchdowns so McPherson can get on the field and kick some more extra points.
The Bengals have eight offensive touchdowns through six games. That's the lowest total in franchise history since 2008, and it's tied for the sixth-lowest all-time.
I can make a case for rookie receiver Andrei Iosivas as well. It's not as though he needs to steal some snaps from Higgins or anything crazy like that, but running some more 10 personnel to take Smith off the field could be a way to get Iosivas more than the six snaps he's averaging in games when the Bengals have all of their receivers available.
Listen to the PFN Bengals Podcast
Listen to the PFN Bengals Podcast! Click the embedded player below to listen, or you can find the PFN Bengals Podcast on iTunes, Spotify, and all major podcast platforms.  Be sure to subscribe and leave us a five-star review! Rather watch instead? Check out the PFN Bengals Podcast on our NFL YouTube channel.