This year has been incredibly tough when it comes to injuries to the RB position. While picking up backups and monitoring the severity of injuries, sometimes it feels like the IR is a full-time job. Here is the latest on the fantasy-relevant RBs that are on IR this week.
Which Running Backs Are on IR in Week 8?
James Conner | Arizona Cardinals
After providing a bright spot in an otherwise questionable offense, James Connor went on IR after Week 5. He sustained a knee injury in the Cardinals' loss to the Cincinnati Bengals. Connor was RB27 when he went on IR but had three weeks as the RB24 or better.
He is eligible to return in Week 10 against the Atlanta Falcons, and with the chatter around QB Kyler Murray returning the same week, if not earlier, I expect Connor to be back as soon as his body allows.
MORE: Fantasy News Tracker
There was confusion on which Arizona RB to pick up with Connor out — even on a "bad" team, there can be a lot to get from volume fantasy-wise. Before the game he was injured in, Connor was averaging 15.5 carries and 2.5 targets. In Week 6, it was an all-hands-on-deck approach with RBs, but in Week 7, the Cardinals seemed to commit to rookie undrafted free agent Emari Demercado. He had 93% of the RB rushing attempts and all of the RB targets.
If you have an IR spot, you are stashing Connor there, but if you do not have one in your league and your team already looks poised for the playoffs, trading for Connor could be a good plan. If the team that owns him needs to buy wins, they might trade him cheap, and you could get quite a value.
De'Von Achane | Miami Dolphins
Our favorite rookie RB, De'Von Achane, was a constant highlight reel until he went down with a knee injury. He was placed on the IR prior to Week 6 after having three weeks in a row of top-four fantasy finishes, including his four-TD game in Week 3.
Head coach Mike McDaniel has made it clear that Achane will return after his requisite four weeks. The Dolphins have a bye in Week 10, so Achane should be back on the field in Week 11 against Las Vegas. It will be in time to give the older Raheem Mostert a little bit of a break.
If you own Achane, chances are you are holding on to him or requiring a king's ransom in a trade. And you should — managers cannot wait to see him get back on the field.
Khalil Herbert | Chicago Bears
The backfield in Chicago will be much more muddy when Khalil Herbert is eligible to return in Week 10 against the Carolina Panthers. Herbert suffered a high ankle sprain in Week 5 against Washington in a game where rookie Roschon Johnson also went down. Johnson sustained a concussion that kept him out of two games.
In classic fashion, D'Onta Foreman did Foreman things, stepping in for injured RBs and knocking it out of the park. He was the RB1 in Week 7. Things will start to get messy this week when Johnson returns and will continue to get even messier when Herbert returns.
I can't believe the organization can bench Foreman after how successful he has been, so I think we are looking at a true split backfield in Chicago for an offense that is not great and is currently led by rookie Tyson Bagent. If you have Herbert and can get out from under him, I would do it and do it fast.
Kyren Williams | Los Angeles Rams
At first, head coach Sean McVay suggested that Kyren Williams had a minor injury after Week 6, but he changed his tune quickly, and Williams was put on IR prior to Week 7. He can return in Week 12 against Arizona.
Although managers ran to the waiver wire to pick up Zach Evans, it turned out that Darrell Henderson was the best bet for a fill-in. In Week 7, he finished as RB15 with 61 yards on the ground and one TD and got two red-zone rushing carries.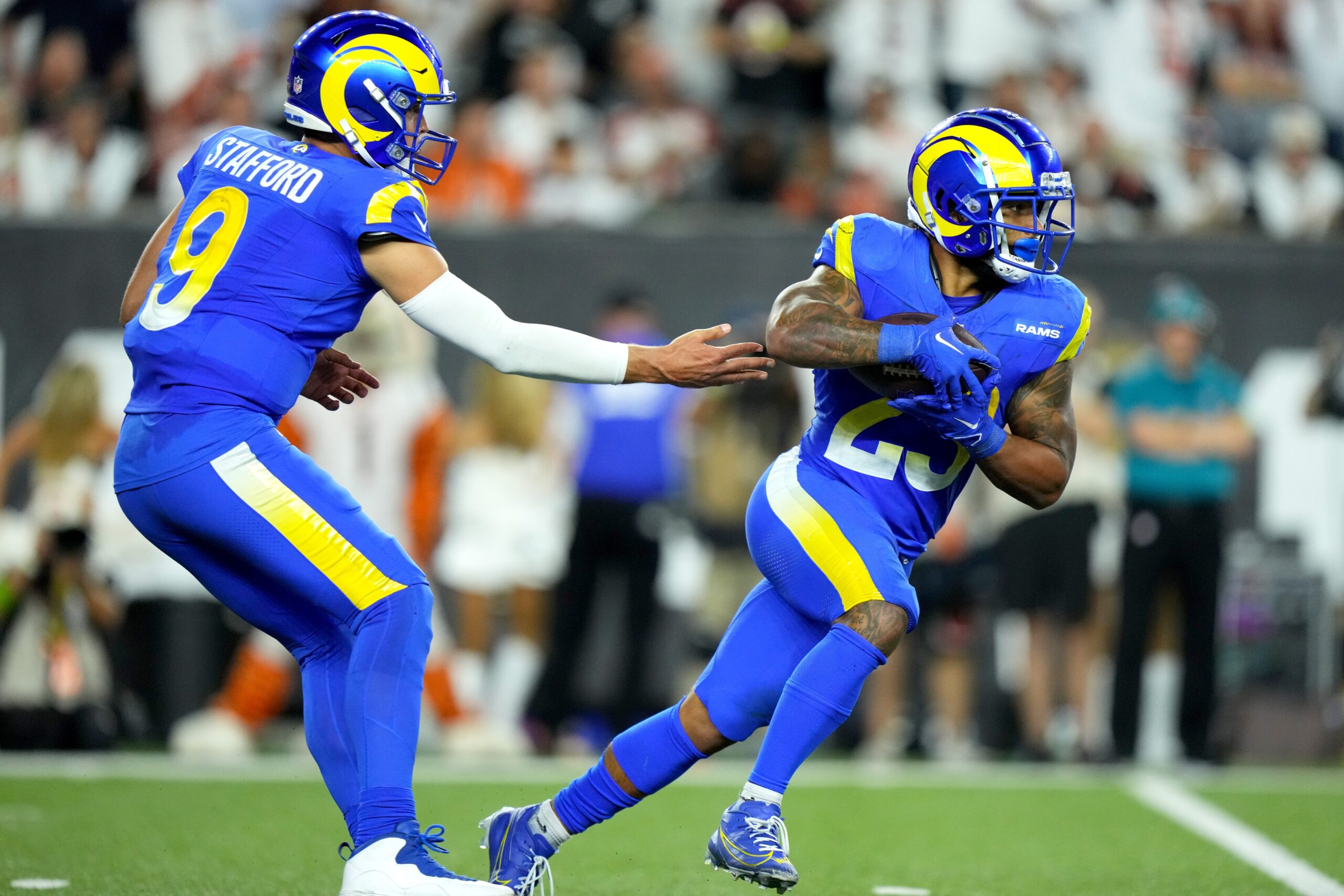 If another manager is willing to part with Williams on the cheap, it is worth a discussion. The NFC West is tighter than anticipated, and it looks like the Rams are fully committing to the season.
When Williams returns, I expect him to slide back into the RB1 role, and Henderson will be the supplementary back. I don't think that McVay can turn away Williams and his talent.
Ronnie Rivers | Los Angeles Rams
Rams RB Ronnie Rivers got put on the IR after Week 6 with an ankle injury, and he is eligible to return as early as Week 12. It seems that McVay and the Rams will not push Rivers to return quickly — he was placed on IR immediately after the game — and it seems that his injury is more severe than Williams'. If you need the space on your roster, you can drop Rivers.
Damien Harris | Buffalo Bills
The stadium held its breath in Week 6 when Damien Harris went down after a brutal hit. After the game, we got positive news, and the Bills RB was placed on the IR with a concussion/back/neck injury. He can return in Week 11 against the Jets.
With Harris sidelined, it has been the James Cook and Latavius Murray show, and where we would expect to see Cook, we are getting a steady diet of the older Murray. Cook only has one more red-zone carry than Murray, despite him being stronger and more explosive.
MORE: PFN Consensus Rankings
If you have an IR spot for Harris, keep him there, but if you have a team without an IR spot, you can drop him if you need to pick up someone to win now.
Looking to make a trade in your fantasy league? Having trouble deciding who to start and who to sit? Setting DFS lineups? Check out PFN's Free Fantasy Football Trade Analyzer, Start/Sit Optimizer, and DFS Lineup Optimizer to help you make the right decision.
Listen to the PFN Fantasy Podcast
Listen to the PFN Fantasy Podcast! Click the embedded player below to listen, or you can find the PFN Fantasy Podcast on iTunes, Spotify, and all major podcast platforms.  Be sure to subscribe and leave us a five-star review! Rather watch instead? Check out the PFN Fantasy Podcast on our Fantasy YouTube channel.