The modern age of NFL football is built for a 2023 NFL Draft prospect like Alabama RB Jahmyr Gibbs. After transferring to the Crimson Tide ahead of 2022, Gibbs lived up to the hype and established himself as a resounding star in college football. After being drafted 12th overall by the Detroit Lions, he's poised to be an offensive weapon and superstar in the NFL.
Jahmyr Gibbs NFL Profile
Position: Running Back
Team: Detroit Lions
Stats: 50 carries, 247 yards; 23 receptions, 128 yards; 1 touchdown
Gibbs has taken a back seat to David Montgomery in the run game for much of the 2023 season. Montgomery was a better rusher in between the tackles, where much of the Lions' rushing attack is predicated, and Gibbs was left for change-of-pace duties. Gibbs has also spent time dealing with a nagging hamstring injury in the early part of the season.
MORE: 2024 NFL Draft Big Board
However, Montgomery did miss the Lions' Week 7 game against the Ravens. In his absence, Gibbs tallied 126 total yards and got his first touchdown of the season. With his confidence gaining and getting more involved in the offense, Gibbs' playmaking can really shine and be the player we thought he could become as an NFL Draft prospect.
— Analysis provided by A.J. Schulte
Gibbs' NFL Draft Profile
School: Alabama
Current Year: Junior
Height/Weight: 5'9″, 199 pounds
There are some high school players who are so productive that they enter college with a reputation already established. One such player is Gibbs. During his time at Dalton High School in Georgia, Gibbs accumulated an impressive 4,882 yards and 70 touchdowns. In his senior year alone, he gained 2,554 yards and scored 40 touchdowns. In one game, Gibbs totaled 420 yards and eight touchdowns before sitting out in the fourth quarter.
It's safe to say that Gibbs dominated the competition at his high school in Georgia. His impressive performances earned him a spot in the top 100 of the 2019 recruiting class. As a four-star recruit, Gibbs had offers from numerous schools but ultimately chose to sign with Georgia Tech, his local team.
From then on, Gibbs became synonymous with Georgia Tech football. Over the course of two seasons with the Yellow Jackets, Gibbs put up 1,974 yards from scrimmage and 13 total touchdowns. During his sophomore year in 2021, he recorded 746 yards and four touchdowns on 143 carries while also adding 35 catches for 465 yards and two touchdowns through the air.
In 2021, Gibbs became a highly sought-after player and entered the transfer portal. He ultimately chose to join the Alabama Crimson Tide. Although he only played for a short time with the team, it was a successful chapter for him. It was expected that he would only play for one season and then move on to the 2023 NFL Draft. This turned out to be true.
MORE: PFN's FREE Mock Draft Simulator With Trades
Aside from quarterback Bryce Young, Gibbs was one of the strongest players on the Alabama offense. In 12 games, he had 151 carries for 926 yards and seven touchdowns. He also had 44 catches for 444 yards and three scores as a receiver.
Gibbs' impressive statistics demonstrate his skill and versatility as a player. He is a threat to the defense in any situation, making him one of the top running back prospects for the upcoming 2023 NFL Draft.
Gibbs' Scouting Report
Here's a look at what Gibbs brings and how the Alabama RB might be valued in the 2023 NFL Draft.
Gibbs' Positives
The way Gibbs runs is defined by his athleticism, particularly his explosiveness when moving forward. He can accelerate quickly and generate bursts of momentum when there's an opening, even through tight spaces. His short-area athleticism is effortless and impressive, allowing him to move quickly and throw off defenders. Additionally, Gibbs has loose hips, which enable him to change direction while maintaining speed.
He has excellent vision and instincts, which help him navigate through congested areas and find lanes to run through. Gibbs is also skilled at identifying secondary lanes and can quickly process changes in his surroundings. Overall, Gibbs is an agile and aware runner who can make defenders miss and capitalize on their mistakes.
Gibbs is an extremely instinctive runner. More than that, he displays situational awareness and discipline. He rarely dances around behind the line of scrimmage in short-yardage situations. And on outside-zone runs, he has the instincts to flatten his angle to pass incoming A- and B-gap defenders, then surge upfield when he's clear.
He consistently leads runs with a split step to prepare for potential moves, has excellent timing with his lateral cuts, and is patient in deconstructing angles.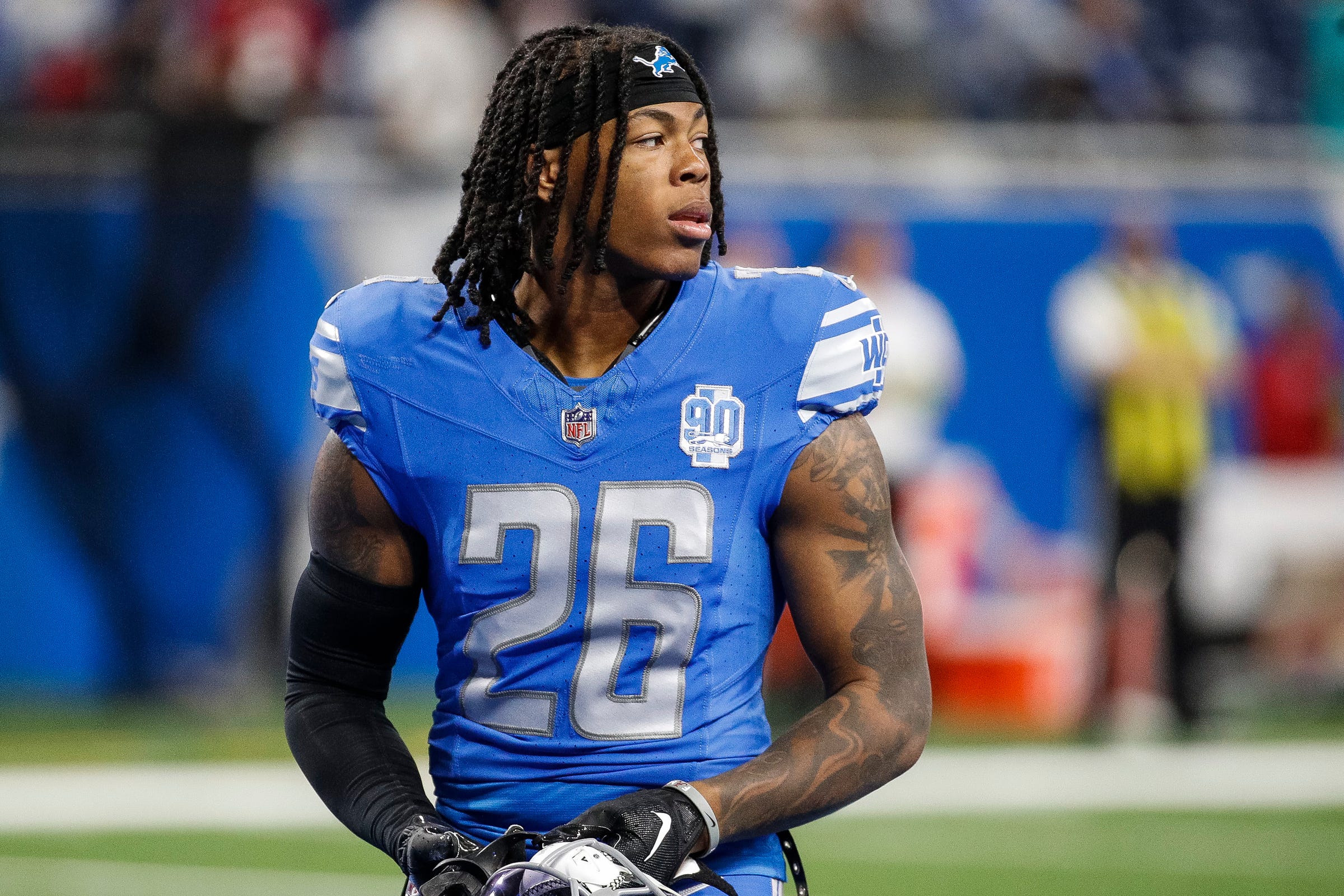 Gibbs naturally throttles up and down to maximize the space he has, as well as create new windows to exploit. The Alabama RB actively presses close behind blocks, forcing defenders to slow up. By doing so, he controls the space allotted and can manipulate angles thereafter.
At 5'9″, and 199 pounds, Gibbs isn't an overly imposing back, but he does at least bring measurable physicality to the fold. The Alabama RB has shown he can utilize stiff arms to push down imbalanced defenders and extend plays. He consistently fights to stay on his feet with active footwork and is willing to lower his shoulder and finish forward on runs. Occasionally, Gibbs has also shown he can bounce off contact and absorb blows with his hips and torso.
Much of Gibb's appeal rests in his multi-phase ability. The Alabama RB has high-level ability as a pass-catching RB. As young as he is, he already shows impressive nuance, as he can manipulate defender leverage when running routes. He can press outside and then cut back in, and his short-area agility is an asset at stems.
Gibbs can run routes and split out wide, but he can also use body control to adjust for high passes, catch with his hands extending beyond his frame, and then reset his feet for run-after-catch yards. Gibbs quickly shifts from receiving mode to RAC mode. He's also shown he can corral passes in stride and haul in passes amidst contact.
As an athlete, Gibbs has enough speed to get to the edge on outside runs and turn the corner upfield. He also has the speed to accelerate along unideal angles and get a step on defenders. In pass protection, he has urgent active feet and brings solid effort. He can square up defenders and surge into contact, and he can also identify points of weakness in the protection and respond quickly.
Gibbs' Areas for Improvement
When it comes to physicality, Gibbs is noticeably lean and not built to handle direct contact consistently. He may not have the brute force needed to overpower opponents and lacks a certain aggressive quality. While he does have impressive speed and short-area explosiveness, he doesn't always play up to his timed 4.36 40-yard dash and doesn't frequently break away from defenders.
In terms of strategy, Gibbs has been known to miss open cutback lanes and instead runs towards congested areas in the middle of the field. He also tends to get tunnel vision in close-range situations and sometimes plays himself into congestion by using too much wasted motion. This can occur even when there are clear lanes to follow. Although he has improved in 2022, he could still benefit from being more concise and efficient.
When it comes to passing, Gibbs occasionally loses sight of the ball when running downfield and can be more consistent in attacking it at the catch point. He sometimes bobbles passes, which delays his ability to transition upfield on swings and screens. Additionally, he experiences occasional lapses in ball security after the catch.
Lastly, Gibbs' need for added strength is evident when it comes to pass blocking. He can struggle to sustain blocks consistently and is sometimes overpowered due to his lighter frame.
Listen to the PFN Scouting Podcast
List to the PFN Scouting Podcast! Click the embedded player below to listen, or you can find the PFN Scouting Podcast on iTunes, Spotify, and all major podcast platforms.  Be sure to subscribe and leave us a five-star review! Rather watch instead? Check out the PFN Scouting Podcast on our Scouting YouTube channel.