USC's quarterback might very well be the most exciting college football player since Patrick Mahomes. And just days ago, ESPN NFL Draft analyst Matt Miller released an article littered with scout, general manager, and coach quotes about the greatness of Caleb Williams. One even said he's the best QB prospect since Peyton Manning.
Let's get one thing straight before we begin. Williams is an incredible talent. He is everything we look for from a modern NFL passer, at least athletically. And his ability to create is up there with the best we've seen. But is he really a better prospect than Joe Burrow or Trevor Lawrence? Remember, NFL Draft's Godfather, Mel Kiper, ranked Lawrence as the fourth-best QB he's ever scouted. Only John Elway, Andrew Luck, and Manning were rated higher.
Williams does not clear that hurdle.
The Dangers of Chasing the Dragon
The NFL is always chasing traits. Forever, the big, strong-armed quarterback was the prototype. But the modern game is faster. The ball must get out within three seconds, or your quarterback must be able to manage the pocket, escape pressure, and make plays with their arms and legs on the hoof.
MORE: FREE Mock Draft Simulator With Trades
But evaluators get tunnel vision. We allow what we see from the exceptional at the NFL level to become expected. There is no better example of that than Zach Wilson. Wilson was a playmaking savant at BYU. He extended plays and leveraged downfield passes away from draping defenders where only his big receivers could make a play.
"What he does as a thrower, and as a runner, is exactly where we are as a league right now," an NFL college scouting director told Miller in 2021. "He throws some of those 50-50 balls with his shoulders square to the defense after running around in the pocket and I'm seeing Patrick Mahomes at Texas Tech all over again."
The collective "We" becomes enamored with Culdesac quarterbacks. And to be clear, having that ability is absolutely critical in becoming a top-tier NFL QB in 2023. But down-to-down quarterbacking isn't about running around and creating something out of nothing. It's about getting to you're three-step drop, hitch, and delivering immediately off the hitch.
It's about finding the hot against Cover 0 and consistently getting the ball out of your hands in under three seconds to your playmakers. And that was conveniently ignored with Wilson. Despite having similar — if not better — red-zone numbers than Williams, it was clear that when the field shrunk, so did Wilson. And we've all seen his style hasn't necessarily translated well to the NFL level.
And Williams certainly isn't Wilson. He is a much better prospect. But just a few years ago, Lawrence was generational, and Burrow had arguably the greatest college football season ever the year before. Does Williams really stack up?
Is Caleb Williams Better Than Joe Burrow and Trevor Lawrence?
Sometimes, a single entity can be enough of a trump card to overcome lackluster ones elsewhere. Other times, well-roundedness is the ultimate trump card.
Take the current form of the Philadelphia Eagles, for example. They have a few flaws, but even if multiple parts of their game are lacking on a Sunday, they are so well-rounded up and down the roster that another unit can dominate and allow them to win ugly games. Sometimes, it's downfield passing, and other times, they bludgeon opponents on the ground.
Meanwhile, iterations of the Patriots and Chiefs have been so dominant offensively, particularly in the passing game, that they were about to outgun anybody they lined up against.
Burrow was a complete prospect in every sense of the word. He was a professional quarterback in his final season at LSU. He had every answer to the test. The only thing keeping him from the generational tab was his physical traits. He has an NFL-caliber arm, but it's far from the Justin Herbert, Josh Allen, Patrick Mahomes, and even Williams category.
And while he's a melding of Tony Romo and Tom Brady regarding his pocket manipulation and playmaking, he isn't a true running threat.
MORE: 2024 NFL Draft Big Board
Wanting to bet on Williams' unbelievable physical traits is perfectly fine. Burrow was far better at being on time and on schedule. But in the eyes of a coach, that is a coachable trait. And Williams' has uncoachable physical talents.
But we should be skeptical of claims that he is a better prospect than Lawrence.
Playing on schedule is everything, and Williams holds the ball for an eternity. Lincoln Riley's scheme has afforded all of his quarterbacks that luxury. That in and of itself is not concerning.
Through six weeks of college football, he's holding it the sixth-longest in the FBS, and he ranked behind only Anthony Richardson in 2022.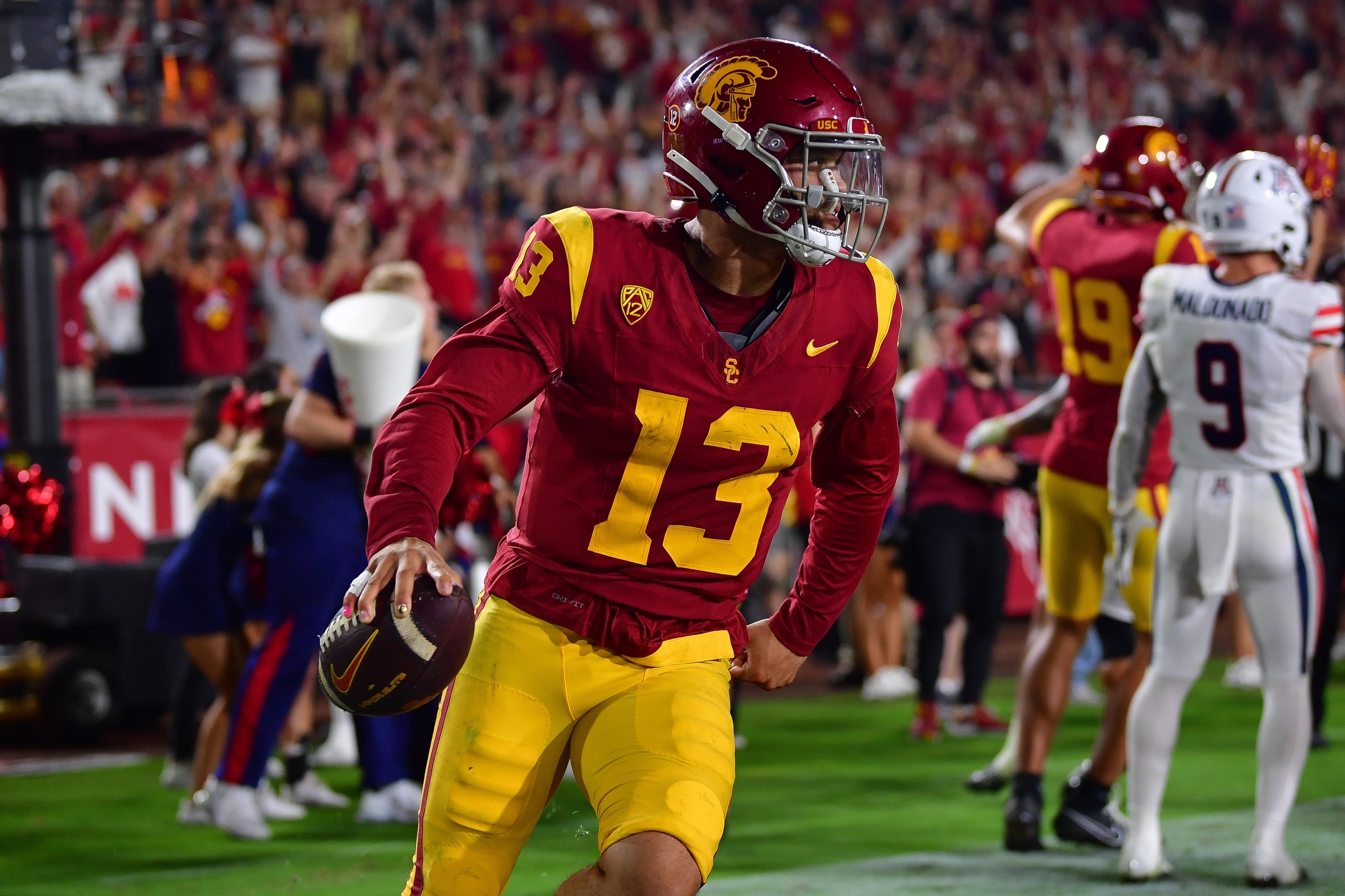 Despite holding the ball long enough to properly roast a marshmallow, he's pressured on only 27.2% of dropbacks, which ranks 57th out of 115 college passers with at least 100 attempts, according to Sports Info Solutions. His 5.8% sack rate is 50th of 115.
Another general manager in Miller's piece claimed that Williams would have been selected over Burrow and Lawrence. But the interesting part of his quote was that Williams is a "difference-maker" and the other two were "distributors."
Claiming that Lawrence wasn't a difference-maker is … an opinion. And "distributing" is well over half of the NFL game. And it's something that Mahomes, for all of his otherworldly abilities, is also elite in.
Williams is not. Williams is always looking to make the play instead of the play. And that is something that has made many a highly touted prospect fail at the NFL level. Ask Carson Wentz.
None of this is to say that Williams is not a wonderfully talented prospect worthy of praise and the top pick in the NFL Draft. He is the best in this class, and it would be a complete shock to see anybody else drafted first overall.
But we (collective) are like cats chasing a laser pointer or a bug flying to light. The new, shiny thing is always going to feel the best because the dopamine is right in front of you.
Lawrence was the more complete player. He had everything you look for in a prospect. He was quite as creative running the ball as Williams, but he's sturdier and as much a danger on designed QB runs. His ability to manipulate the pocket and create throwing windows while remaining on schedule was sublime.
There weren't any legitimate questions concerning Lawrence as a prospect. With Williams, there are.
In the end, it's perfectly fine to prefer one player to another. But it's important to note that the one thing Williams absolutely must improve upon is the one thing that he'll be dealing with most often at the NFL level because the league won't be playing drop-eight zones against him like the Pac-12.
Nobody knows how this will all play out. The situation a young QB finds himself in will likely have a greater impact on his successes and failures than his own talent. That is the way the cookie crumbles. Look no further than Lawrence himself.
Is his trump card enough to propel him to success, even if he struggles with "normal" QB operations?
Listen to the PFN Scouting Podcast
List to the PFN Scouting Podcast! Click the embedded player below to listen, or you can find the PFN Scouting Podcast on iTunes, Spotify, and all major podcast platforms.  Be sure to subscribe and leave us a five-star review! Rather watch instead? Check out the PFN Scouting Podcast on our Scouting YouTube channel.