It's time to grade NFL teams' Week 7 performances!
The Baltimore Ravens had an impressive blowout win over the Detroit Lions, the New England Patriots stunned the Buffalo Bills, and the Philadelphia Eagles and Kansas City Chiefs kept their hot starts rolling to highlight an action-packed slate of games.
That's not even mentioning the Atlanta Falcons' walk-off win over the Tampa Bay Buccaneers or the Cleveland Browns' narrow victory over the Indianapolis Colts, among other big results.
Needless to say, the week gave us plenty to discuss. Let's dive into how each team has come out of their Week 7 contests.
From the current NFL standings to team depth charts to coverage of every game in the 18-week NFL schedule, we have all the news from around the league to keep you up to speed!
Jacksonville 31, New Orleans 24 (Thursday)
Jaguars: B
Jacksonville (5-2) found a way to get in the win column again Thursday night despite an inspired comeback effort by the Saints in the second half.
The Jaguars led by 15 points midway through the third quarter but needed a game-winning 44-yard touchdown pass with 3:08 remaining from Trevor Lawrence, who threw for 204 yards and one touchdown, to escape with a victory — not exactly a convincing performance from a team with plenty of ambitions.
Saints: C+
New Orleans (3-4) put together a valiant comeback effort after falling into that 15-point hole on the pick-six thrown by Derek Carr, who was asked to throw a lot, completing 33 of 55 pass attempts for 301 yards, one touchdown, and the one pick.
Alvin Kamara also delivered a big performance as he had 153 all-purpose yards on 29 combined catches and runs. It was ultimately not enough to get the Saints across the finish line, but their pair of tough losses the last two weeks point to a chance at being better moving forward.
Baltimore 38, Detroit 6
Ravens: A+
Baltimore (5-2) welcomed a Detroit team to town that many considered to be among the best in the NFL through six weeks and completely bludgeoned them on the way to a blowout win.
MORE: NFL Week 7 Winners and Losers
Lamar Jackson was masterful in completing 21 of his 27 passes for 357 yards and three touchdowns while also running nine times for 36 yards and one score. The Ravens scored 35 unanswered points and never looked back on their way to asserting themselves as one of the league's top teams.
Lions: F-
Detroit (5-2) came out flat and never really snapped out of it in its first true dud performance of the season. The Lions opened the game with three straight three-and-outs as Baltimore scored on each of its first four possessions to all but put the game away before halftime.
It all left Detroit with plenty to sort out ahead of its Monday Night Football clash with a Las Vegas Raiders team that is also reeling after a poor performance of its own.
Chicago 30, Las Vegas 12
Bears: A+
Chicago (2-5) entered Sunday with plenty going against it, having lost four of its first five games and taking the field without the injured Justin Fields. The Bears quickly made all of that irrelevant as undrafted rookie Tyson Bagent went an efficient 21 of 29 passing for 162 yards and one touchdown, adding three carries for 24 yards.
That production, combined with D'Onta Foreman anchoring the run game and the defense allowing just three points through three quarters, added up to an impressively comfortable victory.
Raiders: F
Las Vegas (3-4) was thoroughly incapable of accomplishing much of anything offensively without the injured Jimmy Garoppolo.
The Raiders sputtered with Bryan Hoyer at the helm, scoring just two field goals (a third was blocked) before rookie Aidan O'Connell entered and led their lone touchdown drive in garbage time. They will certainly have a decision to make at quarterback, among many other issues, heading into their Monday night clash with the Lions.
Cleveland 39, Indianapolis 38
Browns: B
Cleveland (4-2) went back and forth with Indianapolis for much of the teams' tightly contested affair before benefiting from a pair of controversial penalty calls on the way to a game-winning touchdown with just 15 seconds to play.
P.J. Walker filled in serviceably at quarterback after Deshaun Watson went down with an early injury, but the Browns' defense took a step back from last week's impressive showing against the San Francisco 49ers. They found a way to get a big win, but questions persist about the team's ceiling going forward.
Colts: B-
Indianapolis (3-4) put in a largely respectable performance as Gardner Minshew II threw for 305 yards and two touchdowns and ran for two more scores. Minshew coughed the ball up far too much, though, as he threw one interception and lost three fumbles that the Browns turned into 17 points.
Still, the Colts did enough to put themselves in position to win after taking a late 38-33 lead and will have some positives to build on despite the loss heading into next week's clash with the Saints.
New England 29, Buffalo 25
Patriots: A
New England (2-5) snapped its three-game losing streak with an impressive win over the Bills as it jumped out to an early lead and rallied from a late deficit to score the go-ahead touchdown with just 12 seconds remaining.
MORE: Week 8 NFL Power Rankings
Mac Jones, who hit Mike Gesicki for the one-yard game-winning TD, completed 25 of 30 passes for 272 yards and two scores in perhaps his best performance of the year. Bill Belichick's 300th career win could help the legendary coach begin to work his way off the hot seat if he can string a few more together.
Bills: D-
Buffalo (4-3) gets credit for its comeback but turned in a complete head-scratcher of a performance against a Patriots squad that has struggled to accomplish much of anything early on.
The Bills got out to yet another slow start as they fell behind 13-3, which eventually became 22-10 with 7:36 to play. They found a way to pull ahead 25-22 with 1:58 remaining, and all they needed was one stop from the defense to finish off a come-from-behind win, but they instead suffered a surprising defeat that only amplified concerns about their postseason potential.
New York Giants 14, Washington 7
Giants: B-
New York (2-5) found a way to win and snap its four-game skid despite scoring just 14 points as its defense came up with a huge performance.
The Giants forced seven three-and-outs on Washington's first nine drives and gave up the only touchdown after a muffed punt gave the Commanders a chance to go just 21 yards. That defense, combined with an effective performance from Tyrod Taylor, gave New York just enough to pull out a big win and gain some positive momentum in a season that has largely lacked it.
Commanders: D+
Washington (3-4), on the other hand, lost what could easily be considered a must-win game for its postseason ambitions and continued a rough, now 1-4, patch in the process. Two of the Commanders' three wins have come against the Denver Broncos and Arizona Cardinals, a pair of the league's worst teams.
In a season where it hopes to be in the mix for a playoff berth, games like this could go a long way toward preventing Washington from doing so and might even convince the front office to be sellers at the trade deadline.
Atlanta 16, Tampa Bay 13
Falcons: C+
Atlanta (4-3) nearly snatched defeat from the jaws of victory as Desmond Ridder's inexplicable goal-line fumble turned touchback, one of the quarterback's three turnovers on the day, kept it from taking a comfortable lead late.
The Falcons still got it done as Ridder helped orchestrate a game-winning drive that Younghoe Koo capped off with a 51-yard field goal as time expired. Atlanta ultimately got the result it wanted in a key game, but Ridder's up-and-down performances continue to limit the team's upside.
Buccaneers: D+
A week removed from a tough loss to the Lions, Tampa Bay (3-3) had every opportunity to rebound in a game the Falcons tried to give away time and time again.
The Buccaneers failed to capitalize with points immediately after any of Ridder's three turnovers and mustered just a single touchdown with two red-zone trips ending in field goals. It's the kind of game teams in the playoff race need to win to get a leg up on their peers, an opportunity Tampa Bay squandered.
Pittsburgh 24, Los Angeles Rams 17
Steelers: A
Pittsburgh (4-2) rallied from a 17-10 deficit in the third quarter to pull ahead with 7:20 left in the final period and then got a stop to run off the final 5:28 of game time on its ensuing drive.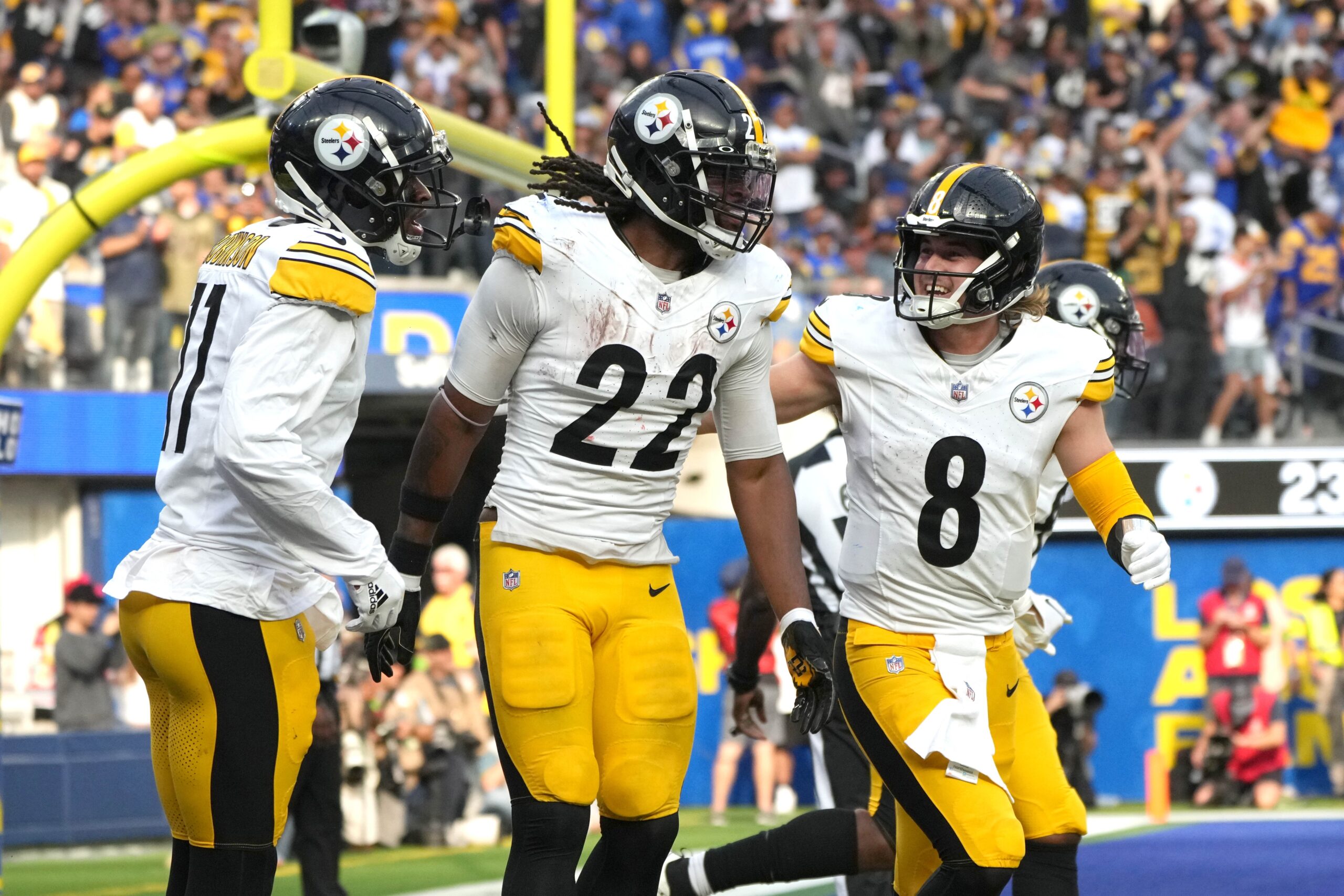 The Steelers were fortunate that Los Angeles missed two field goals, scoring a touchdown after one miss and capitalizing on an interception with another touchdown. Those few plays ultimately made the difference in Pittsburgh securing an impressive win that could aid its playoff hopes significantly.
Rams: D
Los Angeles (3-4) missed out on a crucial opportunity to keep its season trending in the right direction after last week's win over the Cardinals. The Rams will certainly bemoan the pair of missed field goals alongside an interception that gifted the Steelers crucial momentum right after the halftime break.
They had every chance to put this one away but instead let a team good enough to capitalize on its fortune hang around for too long.
Seattle 20, Arizona 10
Seahawks: B-
Seattle (4-2) picked up its fourth win in the last five games behind a stout defensive performance, a strong night on the ground from Kenneth Walker III, and Geno Smith's efficient day.
The Seahawks' defense allowed just one drive of more than 26 yards, Arizona's lone touchdown drive, and benefited from a missed 34-yard field goal in allowing just 10 points. Although it wasn't exactly a dominating performance, Seattle accomplished what it needed to as its schedule only gets harder in the coming weeks.
Cardinals: C
Arizona (1-6) gave itself a chance to win as its defense forced three turnovers to keep it in the game, but an offense that has looked largely inept the last few weeks in hitting 20 points just once held it back again.
The Cardinals mustered just one offensive touchdown on the day and, as mentioned above, struggled to put together any other sustained drives on a day where better offensive execution could have given them a chance. Instead, Arizona's playoff chances are all but over, even with Kyler Murray potentially returning soon.
Denver 19, Green Bay 17
Broncos: B-
One touchdown was all it took for Denver (2-5) to pick up its second victory of the season, and first at home, as it pulled out to an early lead and found a way to hold off the Packers' surge.
The Broncos got an efficient day from Russell Wilson, turned the ball over just once, and were helped out by a missed field goal as they just made fewer mistakes on their way to victory. Denver has now won two of its last four games after starting 0-3 and is three points away from being above .500 on the season.
Packers: D-
Green Bay (2-4), conversely, missed out on a big chance to reach .500 as it made too many mistakes on a night where the Broncos did a better job of limiting theirs.
Jordan Love threw for 180 yards, two touchdowns, and one interception, a crucial turnover on a late third-and-20 play near midfield with 1:40 left that officially ended the Packers' last-gasp effort. In a league where close games are commonplace, Green Bay has now suffered three costly losses decided by four or fewer points.
Kansas City 31, Los Angeles Chargers 17
Chiefs: B
Kansas City (6-1) took a 24-17 lead into halftime and pitched a shutout the rest of the way as it scored one last touchdown with 3:30 left in the final quarter to put the game on ice. Patrick Mahomes came through with another of the big-time performances he has made routine, completing 32 of his 42 pass attempts for 424 yards, four touchdowns, and one interception.
MORE: NFL Playoff Picture Week 7
That, combined with a defense that forced three three-and-outs and two turnovers on Los Angeles' five second-half drives, kept the Chiefs among the one-loss squads.
Chargers: D+
Los Angeles (2-4) continues to underachieve despite having a roster with plenty of top-end talent, even if most of its losses have come by narrow margins against quality opponents.
The Chargers have not been able to get over the hump in those big games thus far, this time behind a rough day from Justin Herbert, who went 17 of 30 for 259 yards, one touchdown, and two interceptions. Los Angeles will have to win these kinds of games at some point to have a chance at achieving its playoff ambitions, even as the schedule lightens up a bit.
Philadelphia 31, Miami 17
Eagles: A
Philadelphia (6-1) continued to show why it remains one of the NFL's top teams Sunday, taking home perhaps its most impressive win of the season to date over a stout Dolphins squad.
The Eagles never allowed Miami to take the lead and immediately responded to Jalen Hurts throwing a pick-six by scoring a touchdown on their next series, then intercepting a pass and scoring again. Those crunch-time plays made the difference in a Sunday night battle of two heavyweights as Hurts played through some apparent pain to outduel Tua Tagovailoa.
Dolphins: B-
Miami (5-2) put itself in position to have success at multiple points in the game, but its explosive offense ultimately could not deliver more than 10 points against the Eagles.
Tagovailoa was solid, throwing for 216 yards and one touchdown, but a late interception put a dagger in their comeback effort. Maybe the Dolphins' best win yet came in a 36-34 Week 1 triumph over the 2-4 Chargers, which raises some concern about just how high this team can truly rise.