The 2024 NFL Draft inches closer with every week, and this week, we have a new 7-Round 2024 NFL Mock Draft to honor that process. What does the order look like now? How does the board fall? And who — among Drake Maye, Caleb Williams, Marvin Harrison Jr., and others — goes off the board first?
2024 NFL Mock Draft | Round 1
This 2024 NFL Mock Draft uses the updated NFL Draft order from after Week 6 of the NFL season.
Also, as a disclaimer, this particular mock projects both quarterbacks Shedeur Sanders and Quinn Ewers to return to school.
1) Chicago Bears: Drake Maye, QB, North Carolina
Almost every 2024 NFL Draft mock since the summer has had one of two players at the top: Caleb Williams or Drake Maye.
It's always been a coin flip for QB1 between them, but Maye is starting to look more like the optimal mix of physical talent and operational utility.
Let's make one thing clear — Maye is still an exceptional creator, even if he's not quite at Williams' level. Maye is a stellar athlete at 6'4″, 228 pounds, and he's an extremely flexible off-platform thrower with elasticity and easy volatility.
As a QB, however, Maye seems farther along than Williams in structure. Maye is more disciplined in the pocket, more apt to take the short, efficient completions, and he consistently anticipates windows at multiple levels.
If Chicago is picking this high, a regime change — and thus a QB change — is likely.
Maye and Williams are both enticing QB1 candidates, but the risk is inherently higher with Williams, and the upside is still just as great with Maye. Within that lens, it's hard to argue against Maye as the first overall pick.
2) Chicago Bears: Marvin Harrison Jr., WR, Ohio State
The reload for the Bears starts with Maye, but it doesn't end there.
The Bears have a top-flight receiving weapon in DJ Moore, but the team's WR rotation is very much incomplete outside of him. Chase Claypool has been traded, and Darnell Mooney is a pending free agent. Chicago needs to further maximize Maye's window.
If the scenario where the Bears have the first two picks comes to fruition, then Marvin Harrison Jr. simply has to be the choice. He's a generational WR prospect who can dominate DBs in all three phases at 6'4″, 205 pounds.
3) Denver Broncos: Caleb Williams, QB, USC
Russell Wilson has been playing better this year. But if you're the Denver Broncos, you have to think long-term. Are you truly going to win anything with Wilson in the next three years, especially with the way the roster looks?
The answer is most likely no. And that's why, if the Broncos have a chance to pick Caleb Williams, they have to take it and reset the clock, even with the contract cost that comes with that decision.
Williams' issues with his internal clock are very real, but it doesn't change the fact that he has special creation ability and arm talent. And Sean Payton is a terrific mentor to help build up Williams' distribution qualities.
4) Arizona Cardinals: Rome Odunze, WR, Washington
If the Arizona Cardinals can't get Drake Maye or Caleb Williams, what happens? There is an outcome where the Cardinals keep their QB room from 2023 — Kyler Murray, Josh Dobbs, and Clayton Tune. Who do they take in the top 10 then?
If the Cardinals decide to roll with Murray for the first part of Monti Ossenfort's tenure, upgrading Murray's weapons core is paramount. Michael Wilson is a solid complementary threat, but Arizona needs a three-level focal point. Rome Odunze is that.
MORE: Free NFL Mock Draft Simulator With Trades
The 6'3″, 215-pound Odunze has been incredible in 2023, with 40 catches for 736 yards and six touchdowns in six games. He's delivered whenever his team has needed him, all the while showing off elite next-level traits.
At his size, Odunze defies logic with the flexibility and freedom with which he moves. He's a slippery, free-flowing athlete who can weaponize that mobility in all phases, and he's also an extremely natural tracker with uncommon body control and coordination.
5) New York Giants: Malik Nabers, WR, LSU
On the surface, the New York Giants' offense looked intriguing in the 2023 offseason. But it's become clear in 2023 that the group largely lacks difference-makers. Every offense needs a difference-maker to build around, and Malik Nabers can be that for New York.
At 6'0″, 200 pounds, Nabers is the quintessential three-level threat. As a separator, he's absurdly explosive and uncannily controlled with his pace adjustments. He's an extremely instinctive catcher of the football, and after the catch, he's active, agile, and tenacious.
6) New England Patriots: Michael Penix Jr., QB, Washington
The New England Patriots are 1-5. Mac Jones is playing poorly. There are reports that Robert Kraft isn't averse to moving on from Bill Belichick.
No matter how you spin it, it looks like the Patriots are due for big changes. Often, what naturally follows is a QB change. Luckily for them, they'll be in a position to add Michael Penix Jr.
Traditionally, the Patriots' best passers won inside the pocket in ages past, and that's how Penix wins too. He's a rocket-armed lefty with rare combined driving velocity and accuracy, and his game is melded together by his quick processing and elite competitive toughness.
7) Minnesota Vikings: J.J. McCarthy, QB, Michigan
The post-Kirk Cousins era is coming, and with it will come the biggest decision of Kevin O'Connell and Kwesi Adofo-Mensah's tenures. Who will be their first franchise QB?
The 2024 NFL Draft class is not sparse when it comes to potential options, but if they pick seventh, as many as three QBs may already be off the board.
Nevertheless, even in this scenario, the Minnesota Vikings get a viable QB in J.J. McCarthy. McCarthy is young, and it shows at times, but he's also a prolific creator with a hose for an arm, and he's steadily improving his in-structure play and pocket navigation ability.
8) Tennessee Titans: Joe Alt, OT, Notre Dame
No matter who the Tennessee Titans move forward with at QB in the future — Will Levis, Malik Willis, the water boy, etc. — they'll need to shore up the line. They spent the 11th pick on Peter Skoronski in 2023, and now, they pick Joe Alt in this 2024 NFL Mock Draft.
Alt has strengthened his case for OT1 in 2023. He was already an elite athlete at 6'8″, 315 pounds, with logic-defying flexibility, leverage acquisition, and recovery. But this year, he's gotten stronger, he's more precise with his hands, and his feel for depth is unshakable.
9) Green Bay Packers: Olu Fashanu, OT, Penn State
We're not at the first-round QB conversation for the Green Bay Packers — not yet. If Jordan Love continues to struggle, that might change. But right now, the priority is still giving him the proper support.
In this 2024 NFL Mock Draft, Olu Fashanu is still on the board. Thus, he's the easy pick. With his combined athleticism, recovery capacity, strength, power, and technical refinement, Fashanu can be a plug-and-play left tackle in David Bakhtiari's stead.
10) Los Angeles Chargers: Kool-Aid McKinstry, CB, Alabama
At this point, we know the Los Angeles Chargers need to almost completely rework their cornerback room. There's no better way to start that process than by taking the top cornerback prospect in the 2024 NFL Draft: Kool-Aid McKinstry.
At 6'1″, 192 pounds, McKinstry is a technical savant who induces catch-point claustrophobia with his physicality, exhaustive use of space, and swarming ball skills.
McKinstry has a very appealing mix of burst, fluidity, and length — to be clear — but he takes things a step further with his technique and intentional movement.
11) New Orleans Saints: Brock Bowers, TE, Georgia
At the height of Sean Payton and Pete Carmichael's reign in New Orleans, tight end Jimmy Graham was the team's top receiver. It's been a while since Carmichael has relied on that kind of talent, but perhaps it's time to bring mismatch variability back for the Saints.
The Saints will have to up their motion usage if they want to use Brock Bowers effectively, but he has the potential to be the unlocking force for the New Orleans offense.
Derek Carr needs a high-level RAC threat to serve as an outlet in the short range, and he needs a bird of prey at the catch point to convert on contested third-down attempts.
Bowers fits both of those roles to a tee and can move around the front at will to exploit smaller defenders.
12) Atlanta Falcons: Keon Coleman, WR, Florida State
Don't worry, Atlanta Falcons fans. We'll address the quarterback position soon. Desmond Ridder doesn't appear to be the answer, and the Falcons need to make a move.
In this 2024 NFL Mock Draft, however, the Falcons pick a new weapon first, taking Keon Coleman at 12th overall to pair him with Drake London and Kyle Pitts.
At 6'4″, 215 pounds, Coleman mirrors London's size and authority on the boundary, but Coleman is arguably an even more complete three-level threat. He flashes impressive nuance as a separator, and he's an extremely dynamic RAC weapon.
13) Arizona Cardinals (via HOU): Jer'Zhan Newton, DT, Illinois
Jonathan Gannon's scheme integration is still very much in the early stages with the Cardinals. But he can accelerate the development of his defense by adding Jer'Zhan Newton in the 2024 NFL Draft.
At 6'2″, 290 pounds, Newton is the classic disruptor at 3-tech and outside — but with a twist. His hyper-elite flexibility allows him to bend at a level that few defensive tackles can, and that's ultimately a fusing agent for his unstoppable disruptive tendencies.
14) Las Vegas Raiders: Dallas Turner, EDGE, Alabama
I know what you're thinking: The Las Vegas Raiders have Maxx Crosby, and they just selected Tyree Wilson in the top 10. So why are they picking Dallas Turner in this 2024 NFL Mock Draft?
To answer, I offer you one word: Chaos.
Crosby has established himself as a 1-on-1 winner on the edge, but Wilson's projection remains unclear to this point. That said, many evaluators — myself included — believed Wilson could be used as an alignment-versatile battering ram with his power.
That's how you integrate Turner: Indulge in the chaos and versatility. Move Wilson across the front, employ more NASCAR fronts, and let Turner feast off the deep impressions left in the blocking by Wilson's sheer power.
Turner has the elite explosiveness, bend, and length to wreak havoc in that kind of environment. This is how you make a pass-rush unit truly potent.
15) Indianapolis Colts: Emeka Egbuka, WR, Ohio State
Yes, Indianapolis Colts fans will probably prefer the other Ohio State WR — but Emeka Egbuka is a very nice consolation prize, and he's an exceptional fit for Shane Steichen's offense.
At 6'1″, 205 pounds, Egbuka has a strong frame built for run-after-catch yards, but he's also an explosive and fluid long-strider who can snake through zones, exploit DB leverage, and carve through coverage looks with proficiency.
Especially in Steichen's offense, alongside Alec Pierce and Josh Downs, Egbuka's vertical explosiveness is a trait that could be maximized with Anthony Richardson.
16) Washington Commanders: Taliese Fuaga, OT, Oregon State
The 2023 season hasn't been without its rough patches for the Washington Commanders, but the most important takeaway so far is this: Sam Howell looks like he might be the starting quarterback.
Howell is good, and as he gets more experience, the hope is that he'll get even better. But with Howell's main flaw — holding the ball too long and being oblivious to pressure — still lingering, the Commanders need a right tackle who can hold up in pass protection.
In the 2024 NFL Draft, Taliese Fuaga might be the best natural pass-protecting right tackle. At 6'6″, 330 pounds, he's a massive specimen — and yet, he moves with effortless ease, matching rushers with steady feet and corralling them with violent, calculated strikes.
17) New York Jets: JC Latham, OT, Alabama
The New York Jets are contending in 2023, in spite of the situation, and they're maintaining faith in Zach Wilson. But the future for Robert Saleh's squad — particularly the offense — is very uncertain. Mekhi Becton is a free agent in 2023, and right tackle is a need.
MORE: 2024 NFL Draft Big Board
If he falls this far, JC Latham is a very tempting addition. The 6'6″, 330-pound blocker roars off the line with equal quickness and aggression, and he can pile-drive defenders in the run game. Meanwhile, as a pass blocker, his anchor strength is neutralizing at contact.
18) Cincinnati Bengals: Adonai Mitchell, WR, Texas
Tee Higgins and Tyler Boyd are both set to have their contracts expire in 2024, and the Cincinnati Bengals can't pay everyone. In this 2024 NFL Mock Draft, they let those WRs go and add a WR prospect who blends elements of both together.
At 6'4″, 195 pounds, Adonai Mitchell has the long, imposing frame to win on the boundary, but like Boyd, he can win as an independent separator with his superlative flexibility, throttle control, and transition quickness.
Mitchell doesn't always get his due as a Round 1 prospect, but he's a nearly elite size-speed athlete with route running nuance, flexibility, and eye-catching instincts. That's a rare profile.
19) Los Angeles Rams: Amarius Mims, OT, Georgia
The Los Angeles Rams' offensive line has been better than expected this year, with the help of rookie Steve Avila and trade acquisition Kevin Dotson. Alaric Jackson has also been serviceable at left tackle, but at such an important position, the Rams need to shoot for the stars.
Shooting for the stars is exactly what you do when you add Amarius Mims to the lineup. Mims has relatively sparse tape as a 2024 NFL Draft prospect, but he's a rare athlete at 6'7″, 330 pounds, with a physical makeup that only comes around every so often.
Mims is rangy in space, fluid and well-leveraged in recovery, and has the all-encompassing skill set to be a dominant starter at his maximum potential.
20) Tampa Bay Buccaneers: Kamren Kinchens, S, Miami (FL)
The Tampa Bay Buccaneers' signing of Ryan Neal late in free agency made sense when it happened. He was a good complement to Antoine Winfield Jr., who was coming off a career year with the Seattle Seahawks.
So far in 2023, however, Neal has been vulnerable in coverage, leaving the Buccaneers to long for a replacement in the 2024 NFL Draft. At 20th overall in this 2024 NFL Mock Draft, they're well-positioned to take Kamren Kinchens, the top safety off the board.
At around 6'0″, 203 pounds, Kinchens has the frame density to roam in the box. But he can also interchange with Winfield on the back end and play two-high or single-high, covering large swaths of ground with his elite center-field range.
21) Houston Texans (via CLE): Chop Robinson, EDGE, Penn State
That's right. Will Anderson Jr. and Chop Robinson on the same defensive line. In DeMeco Ryans' scheme. Hold onto your butts.
Robinson is one of my favorite EDGE prospects in the 2024 NFL Draft for a lot of the same reasons Anderson was in 2023.
Robinson isn't quite as long or as powerful as Anderson, but Robinson is frighteningly explosive, versatile across alignments and depths, and absolutely unhinged in pursuit — and he arguably has superior bend.
22) Seattle Seahawks: Jeremiah Trotter Jr., LB, Clemson
Right now, it appears to be a toss-up between Clemson teammates Jeremiah Trotter Jr. and Barrett Carter to be the first LB prospect selected in the 2024 NFL Draft.
Carter is arguably the more versatile prospect, but Trotter has closed the gap with his strong 2023 campaign. Trotter brings plenty of appeal in a traditional gap-occupying role, but he's also shown heightened dynamism as a blitzer and pass-rushing threat.
The Seahawks need stability at LB, and Trotter can provide it — as well as extra playmaking ability beyond the three-down utility.
23) Pittsburgh Steelers: Nate Wiggins, CB, Clemson
Joey Porter Jr. has promise. But outside of him, the Pittsburgh Steelers' CB room is very unsettled over the long term. Patrick Peterson is visibly aging, and Levi Wallace is more of a stop-gap.
In the 2024 NFL Draft, there are several cornerbacks who fit Mike Tomlin's profile at CB — but few more than Clemson's Nate Wiggins. In this 2024 NFL Mock Draft, Wiggins lasted to 23rd overall, and as a result, he's the easy choice.
When he's been healthy this year, you can make a case that Wiggins has been the best-performing 2024 NFL Draft CB. At 6'2″ and 185 pounds, he's a lean athlete with great length, but he also has stellar closing speed, fluidity, route recognition, reaction to stimulus, and ball skills.
24) Buffalo Bills: Denzel Burke, CB, Ohio State
Cornerback wasn't supposed to be a need for the Buffalo Bills. But the Kaiir Elam pick hasn't panned out, and Tre'Davious White — who's dealt with injuries before — recently suffered a torn Achilles.
As soon as it went off the needs list, cornerback is back on the menu for the Bills. It's unfortunate, but at the same time, it's an opportune year to need a CB, with Ohio State's Denzel Burke playing the way he is.
Burke is back to form after a down year in 2022, and he has the length, athletic tools, and WR-esque playmaking ability to be one of the best from his class. He can suffocate WRs in man, or pedal in zone and transition effortlessly.
25) Dallas Cowboys: Jordan Morgan, OT, Arizona
Jordan Morgan was viewed as a highly regarded NFL Draft prospect in 2022 before a torn ACL ended his season and delayed his elevation to the professional level. Now, however, Morgan is back in 2023, and he's playing at his highest level yet. He hasn't missed a beat.
The 6'6″, 320-pound blocker profiles as the successor to Tyron Smith at LT in this 2024 NFL Mock Draft. He's a high-energy mover with impressive knee bend and balance at his size, and he also has the mobility and length to plow defenders out of second-level lanes.
26) Jacksonville Jaguars: Byron Murphy II, DT, Texas
The Jacksonville Jaguars are contenders. They've officially reached that level. But now that they've arrived, they need to sustain and elongate their window by keeping the trenches strong. In this 2024 NFL Mock Draft, they pick Byron Murphy II to accomplish that.
At 6'1″, 310 pounds, Murphy is a hyperactive ball of energy from interior alignments, with menacing burst, power drive, and finishing torque. He's the exact kind of player who can take advantage of DaVon Hamilton and Folorunso Fatukasi's encumbering blocks.
27) Baltimore Ravens: Troy Franklin, WR, Oregon
There are few fits in the 2024 NFL Draft that I enjoy pondering more than Troy Franklin to the Baltimore Ravens — for a similar reason that Zay Flowers to the Ravens was so enticing.
Franklin, at around 6'3″, 180 pounds, is a turbocharged long-strider who thrives when he's used in motion, moved across the alignment, and unleashed on intermediate and deep zones.
In Todd Monken's offense, where the theme is scheming touches to playmakers any way possible, Franklin and Flowers could give defenses more than they can handle, as both players stretch space and make the most of the space they have.
28) Detroit Lions: Kalen King, CB, Penn State
Cameron Sutton is on track for a career year and has proven himself as a long-term staple for the Detroit Lions' secondary. Jerry Jacobs is also playing very well, but he's in a contract year and could be out the door in 2024.
Add in Emmanuel Moseley's unfortunate season-ending injury, and cornerback should be at the top of the Lions' list of needs again in 2024. If they choose to invest Round 1 capital, Kalen King is a near-perfect fit, both in terms of scheme and culture.
At 5'11", 191 pounds, King is around average size — but he compensates with biting physicality, fast play pace, and efficient technique in a multitude of coverage looks.
King can man up WRs 1-on-1 with his footwork and feistiness, or he can manage space, watch the QB's eyes, and swoop in front of ill-fated passes.
29) Miami Dolphins: Donovan Jackson, G, Ohio State
The Miami Dolphins have a few decisions to make on the offensive line. Seeing how valuable Connor Williams is to the offense, an extension feels possible for him, but Robert Hunt, Robert Jones, and Isaiah Wynn are all pending free agents too.
The Dolphins could very well have a void at guard in 2024, and the offense doesn't allow for that. But they can fill that void quickly and effectively with Ohio State's Donovan Jackson.
With his combined explosiveness and elite proportional length at 6'4″, 320 pounds, Jackson can drive defenders and seal lanes with suffocating quickness in the run game. With De'Von Achane following his blocks, Jackson himself would be a weapon.
30) San Francisco 49ers: Kingsley Suamataia, OT, BYU
While the San Francisco 49ers' offense has operated with extreme efficiency so far this year, there's room to upgrade at the right tackle spot. In the 2024 NFL Draft, several prospects line up with this vision, but few more so than Kingsley Suamataia.
There'll be a transition period while Suamataia acclimates to the pace of the NFL game and works to regain his feel, but Suamataia is pound-for-pound one of the most explosive linemen in the class, and he mauls defenders in space with his range and force generation.
31) Kansas City Chiefs: Cooper DeJean, CB, Iowa
For the Kansas City Chiefs, it's all about value. That's how they win every time the NFL Draft comes around. They play the board and let the value come to them. That's what happens in this 2024 NFL Mock Draft.
Cooper DeJean isn't a perfect fit for Steve Spagnuolo's scheme, but he does bring several key qualities — especially with L'Jarius Sneed scheduled to enter free agency.
At 6'1″, 209 pounds, DeJean is long and extremely physical. He's also an elite athlete with gliding speed and explosiveness out of transitions. He's a ball hawk who can track the ball and undercut routes, and he also offers coverage and alignment versatility.
32) Philadelphia Eagles: Jared Verse, EDGE, Florida State
Jared Verse is still a Round 1 player, even if his 2023 campaign has been a bit slower than his 2022 outing. And lately, Verse has started to right the ship. He had two sacks against Virginia Tech.
Still, questions persist regarding Verse's lack of elite bend capacity and hip flexibility. He has ankle flexion to go along with his explosiveness and power, but there are too many reps where he's unable to sustain acceleration past the apex and reduce his surface area.
Nevertheless, at this juncture, he's a stellar value deal for the Philadelphia Eagles. He's a tremendous run defender who can slab blockers, hold the edge, and make plays in pursuit, and he's a technically proficient pass rusher with elite burst, twitch, and energy at his disposal.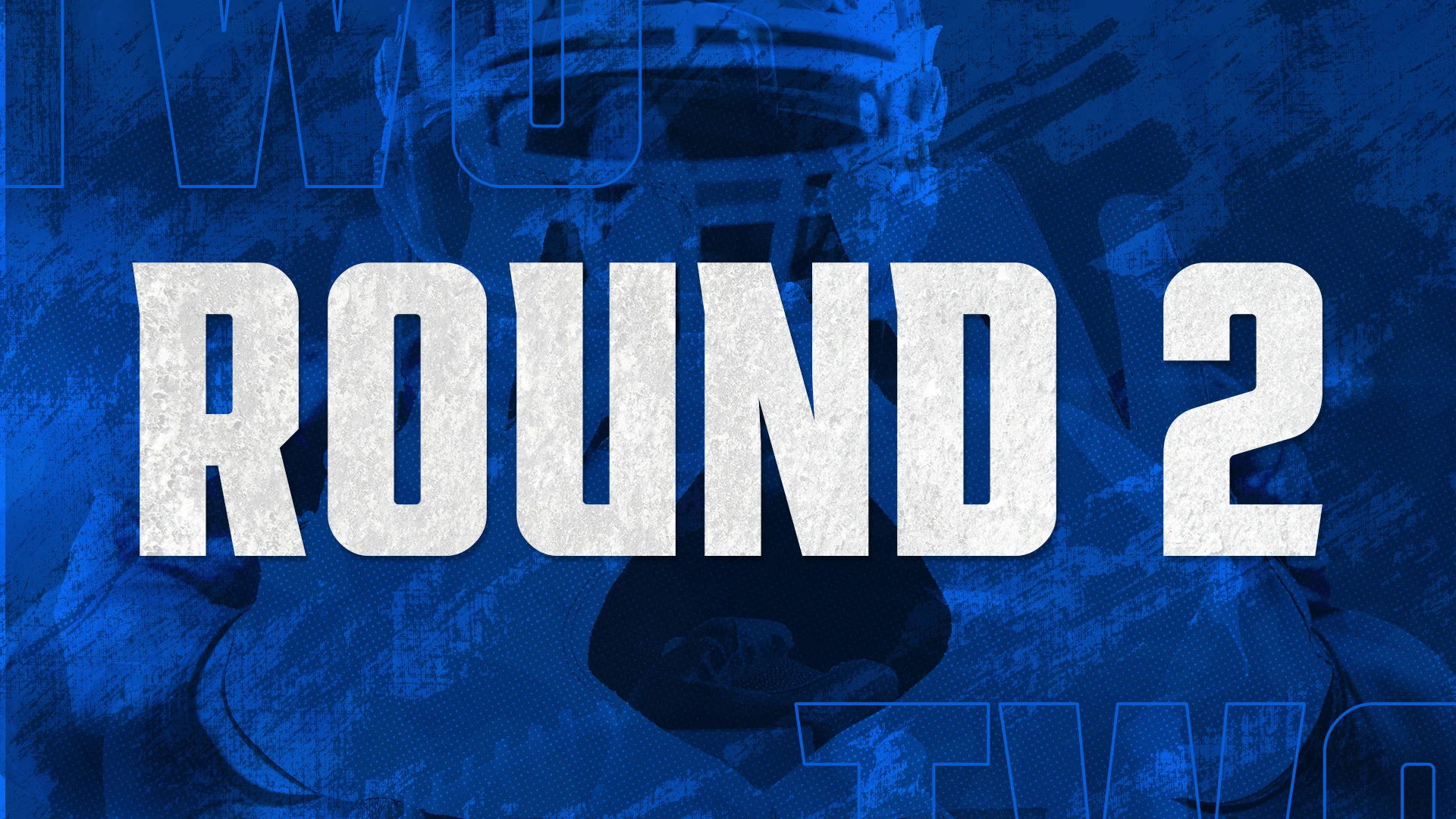 Round 2
33) Carolina Panthers: Laiatu Latu, EDGE, UCLA
Few edge rushers have been more productive than Laiatu Latu in 2023. Latu doesn't quite have elite burst, but at 6'4″, 260 pounds, he's unnaturally fluid and flexible through the apex, and he's already an elite pass-rushing technician with an abundance of counters.
34) New Orleans Saints: Graham Barton, OL, Duke
Trevor Penning hasn't panned out for the Saints. Andrus Peat might need to be replaced soon, and health is an issue all across the line. Graham Barton is a great blend of need and BPA at this point. He can play tackle or guard at a high level with his mobility and hands.
35) Arizona Cardinals: Kris Abrams-Draine, CB, Missouri
Kris Abrams-Draine is a ball hawk. There's no two ways about it. He had 14 pass breakups in 2022, and he has four picks and nine deflections so far in 2023. He's a gnat in coverage — plain and simple — and his rapid feet and lightning-quick reaction will serve him well.
36) New York Giants: Bo Nix, QB, Oregon
Regarding the Giants, the first question on everyone's mind is this: Did they make a mistake hitching themselves to Daniel Jones?
For Jones' poor performance in 2023, there's blame on all sides. The skill position group hasn't helped him out much, and the offensive line has also been poor.
But Jones himself also bears some blame, and at the end of the day, if he can't navigate through this, one has to wonder: Is he the guy? If he's anything less, New York has to consider capitalizing on a strong 2024 NFL Draft QB class.
Here in Round 2, Bo Nix is at the top of the board, and even with Jones' contract, it feels irresponsible to carry on without a high-upside insurance plan — similar to what the Eagles did with Carson Wentz and Jalen Hurts.
Nix's woes early in his career were well-documented, but since arriving at Oregon, he has morphed into a true first-round QB prospect.
At 6'2″, 213 pounds, Nix has some of the best short-area athleticism, creation capacity, and arm elasticity on the circuit. While those tools induce volatility for some passers, Nix is mature, disciplined, and very efficient as a distributor.
His elite creation capacity might help him better withstand adversity in the Giants' offense, and he also has the accuracy to keep the offense on schedule and hit the small, incremental throws that matter most.
37) New England Patriots: Patrick Paul, OT, Houston
On my 2024 NFL Draft board, this is a little rich for Patrick Paul, but the 6'7″, 320-pound blocker has visibly improved his efficiency of motion in 2023. With arms likely reaching 36″, he's the long and powerful puncher the Patriots often prefer on the edge of the line.
38) Chicago Bears: Princely Umanmielen, EDGE, Florida
Princely Umanmielen entered the year as a high-upside Round 1 sleeper, and he's delivered on that upside in spurts, with three sacks and six TFLs through seven games. The 6'4″, 250-pound Umanmielen is a sturdy run defender with all the necessary pass-rush tools.
39) Tennessee Titans: Malachi Corley, WR, Western Kentucky
Run-after-catch is a priority in Tennessee's offensive scheme, and Malachi Corley is the premier RAC threat of the 2024 NFL Draft class with his explosive athleticism, speed, and running back-reminiscent contact balance at 5'11", 210 pounds.
40) Minnesota Vikings: TreVeyon Henderson, RB, Ohio State
Some teams may be concerned about TreVeyon Henderson's medicals, but on the field, he has the burst, balance, physicality, vision, speed, and receiving versatility to field the RB1 mantle.
41) Los Angeles Chargers: Maason Smith, DT, LSU
Maason Smith still needs to improve his leverage maintenance through reps, but the 6'6″, 300-pound defender has the instant explosiveness and versatility to change the game in the trenches.
42) Green Bay Packers: Tyler Nubin, S, Minnesota
This one is simple. The Packers need safety help and a lot of it. At 6'2″, 205 pounds, Tyler Nubin can help in all phases. He's a fluid, instinctive cover man and a proactive support player.
43) Chicago Bears (via ATL): Sedrick Van Pran, C, Georgia
Trade: Atlanta Falcons receive QB Justin Fields, Chicago Bears receive No. 43 pick and a 2025 second-rounder.
Falcons fans were anticipating a pick here, but they get something just as compelling.
Now that the Bears have selected Drake Maye in this 2024 NFL Mock Draft, it's time to get Fields a change of scenery. The Falcons are the ones who present the best offer, and they acquire Fields in exchange for two second-round picks — one in 2024 and one in 2025.
Fields' fit in Arthur Smith's offense — with a weapons core that includes Bijan Robinson, Drake London, Round 1 selection Keon Coleman, and Kyle Pitts — is extremely fun to think about.
A running attack revolving around Fields and Robinson has the potential to break defenses, and if Fields can sustain development as a passer, he has the arm to expand this attack vertically the way Desmond Ridder struggled to do at times.
Meanwhile, the Bears use this pick to shore up the interior offensive line for Maye, upgrading from Cody Whitehair with Georgia center Sedrick Van Pran.
At 6'4″, 310 pounds, Van Pran has ideal frame density, strength, and natural leverage, but his most appealing qualities are his elite explosiveness heading upfield and his bristling tenacity at contact.
Van Pran absolutely mauls defenders in space, and he has the athleticism to reach his landmarks, too — an exciting combination.
44) Houston Texans: Kris Jenkins, DT, Michigan
With turnover scheduled on the interior, DeMeco Ryans can add a potential game-changing force in Michigan's Kris Jenkins. Jenkins has a truly rare combination of explosiveness, twitch, flexibility, and acute power output at 6'3″, 310 pounds.
45) Las Vegas Raiders: Tyler Guyton, OT, Oklahoma
Needing an upgrade at right tackle, the Raiders select Oklahoma's Tyler Guyton in this 2024 NFL Mock Draft. Guyton is a free-flowing athlete at 6'5″, 315 pounds, with stellar age-relative patience, synergy, and discipline in pass protection.
46) Indianapolis Colts: Andrew Mukuba, S, Clemson
Kenny Moore and Julian Blackmon are in contract years. Enter: Andrew Mukuba. Mukuba has the hyper-elite flexibility and corrective mobility to play the slot, and he's also experienced managing space and playing from multiple alignments.
47) Washington Commanders: Barrett Carter, LB, Clemson
Jamin Davis is becoming the player the Commanders envisioned when the selected him in Round 1. Alongside him, Barrett Carter would be the final piece to a nightmare-inducing front seven with his explosiveness, twitch, energy, and all-encompassing versatility.
48) Green Bay Packers: Will Shipley, RB, Clemson
Neither Aaron Jones nor AJ Dillon is long for Green Bay. Will Shipley can replace elements of both. He has the slippery short-area athleticism, vision, and receiving value of Jones and the grating aggression through contact that Dillon has — even if he's not as dense.
49) Cincinnati Bengals: Blake Fisher, OT, Notre Dame
Blake Fisher still isn't perfect technically, but he's visibly improved at varying his hand usage and adjusting his footwork tempo in 2023. He has the athleticism and high-end power capacity to be a quality long-term starting right tackle.
50) Philadelphia Eagles: Xavier Worthy, WR, Texas
In this 2024 NFL Mock Draft, focus drops and weight push Xavier Worthy down the board, but he has the game-breaking speed and route nuance to simultaneously create space for A.J. Brown and DeVonta Smith and create big plays on his own.
51) Los Angeles Rams: Dontay Corleone, DT, Cincinnati
For the time being, Aaron Donald and Kobie Turner give the Rams two very able disruptors on the interior line. The 6'2″, 318-pound Dontay Corleone can be the completing space-eater between them, and his power element on the rush is also very imposing.
52) Cleveland Browns: Jaden Hicks, S, Washington State
This is a bit early for Jaden Hicks, but the 6'3″, 205-pound safety has unique appeal for Cleveland. If Grant Delpit leaves, Hicks fills in perfectly as a multifaceted strong safety. If Delpit stays, Hicks becomes an attacking piece in the box.
53) Seattle Seahawks: Christian Haynes, G, UConn
The Seahawks will need a guard in 2024. At 6'2″, 313 pounds, Christian Haynes fits Seattle's desired mold: a sentient refrigerator who gets angry when defenders enter his general vicinity.
54) Pittsburgh Steelers: Zach Frazier, C, West Virginia
I mocked Zach Frazier to the Steelers last time, too. If Sedrick Van Pran is gone, he's the next best option — an intelligent, athletic center who can make the reach blocks that the Steelers need him to make.
55) Tampa Bay Buccaneers: Cooper Beebe, OL, Kansas State
Cooper Beebe will win over teams with his ability to play four of five spots on the line. But with Luke Goedeke thriving at right tackle, Beebe will play at guard for Tampa Bay, using his high football IQ and strength to provide stability.
56) Buffalo Bills: Ja'Lynn Polk, WR, Washington
If Gabriel Davis leaves in 2024, Ja'Lynn Polk can take his role in stride. At 6'2″, 205 pounds, Polk's explosiveness can create window opportunities and extend RAC plays, and his body control and contortion ability defy logic at times.
57) Jacksonville Jaguars: Rod Moore, DB, Michigan
The Jaguars have a very good secondary, but with Tre Herndon's contract expiring in 2024, a DB with slot capabilities might be a need in the 2024 NFL Draft. Rod Moore has those capabilities with his foot speed, fluidity, leverage IQ, and closing burst.
58) Baltimore Ravens: Michael Hall Jr., DT, Ohio State
The Ravens have their long-term nose tackle in Travis Jones, but they need more security within their rotation of disruptors. At 6'2″, 295 pounds, Michael Hall Jr. fits the Ravens' mold and has the explosive torquing capacity to barrel through one-on-one matchups.
59) Dallas Cowboys: Caelen Carson, CB, Wake Forest
When Trevon Diggs returns from injury in 2024, the Cowboys will need a new running mate for him. At 6'0″, 195 pounds, Caelen Carson has the fast feet, tempo, corrective athleticism, proportional length, and physicality to flourish in Dan Quinn's scheme.
60) Detroit Lions: Bralen Trice, EDGE, Washington
Few of Bralen Trice's pressures have resulted in sacks in 2023, but the Washington EDGE still has the high-energy lateral twitch and power output at 6'4″, 260 pounds to provide utility opposite Aidan Hutchinson.
61) San Francisco 49ers: Jayden Daniels, QB, LSU
The tone of the conversation around Brock Purdy in the 2024 offseason will depend on how far the 49ers get. And as unfair as it may be, if they don't win a Super Bowl, with the momentum and the roster they have, Purdy's ultimate upside will be questioned.
In Purdy, the 49ers have a passer who's clearly confident and efficient within the system. But he's also been relatively lucky on high-variance plays to this point, and his non-elite talent shows up at times when he's forced to elevate his unit.
If Kyle Shanahan has any questions about how far he can go with Purdy, the best choice might be to add a passer like Jayden Daniels in Round 2 and plan for that contingency.
Daniels clears Purdy from a talent perspective. He's an elite athlete and creator with a good arm. But along with that talent, Daniels has displayed all of the requisite operational qualities to thrive in Shanahan's offense in 2023.
Daniels is calm, active, and decisive in the pocket. He's extremely accurate to all levels of the field. He's an anticipatory passer who can operate with efficiency or take calculated risks, and he's a steely competitor.
If Purdy proves he's the guy, then you have a very capable backup in Daniels. If not? Then Daniels is in-house, and he has the raw talent that Purdy lacks with the same in-structure qualities to keep Shanahan's sacred offensive rhythm alive.
62) Miami Dolphins: Xavier Legette, WR, South Carolina
It feels unfair to put Xavier Legette — a 6'3″, 220-pound receiver who's cleared 22 MPH — in Mike McDaniel's offense. But McDaniel doesn't care about fairness. He cares about winning.
63) Kansas City Chiefs: Tyleik Williams, DT, Ohio State
Tyleik Williams is one of the most intriguing 2024 NFL Draft DT prospects, and his fit in Kansas City is just as eye-catching. He can encumber blocks from 0-tech and 1-tech, or move across the front and disrupt with his athleticism and power.
64) Philadelphia Eagles: Bucky Irving, RB, Oregon
Bucky Irving doesn't wow you with his size, but he's an absolute brawler in congested areas with an elite combination of vision, short-area control, change-of-direction ability, and contact balance.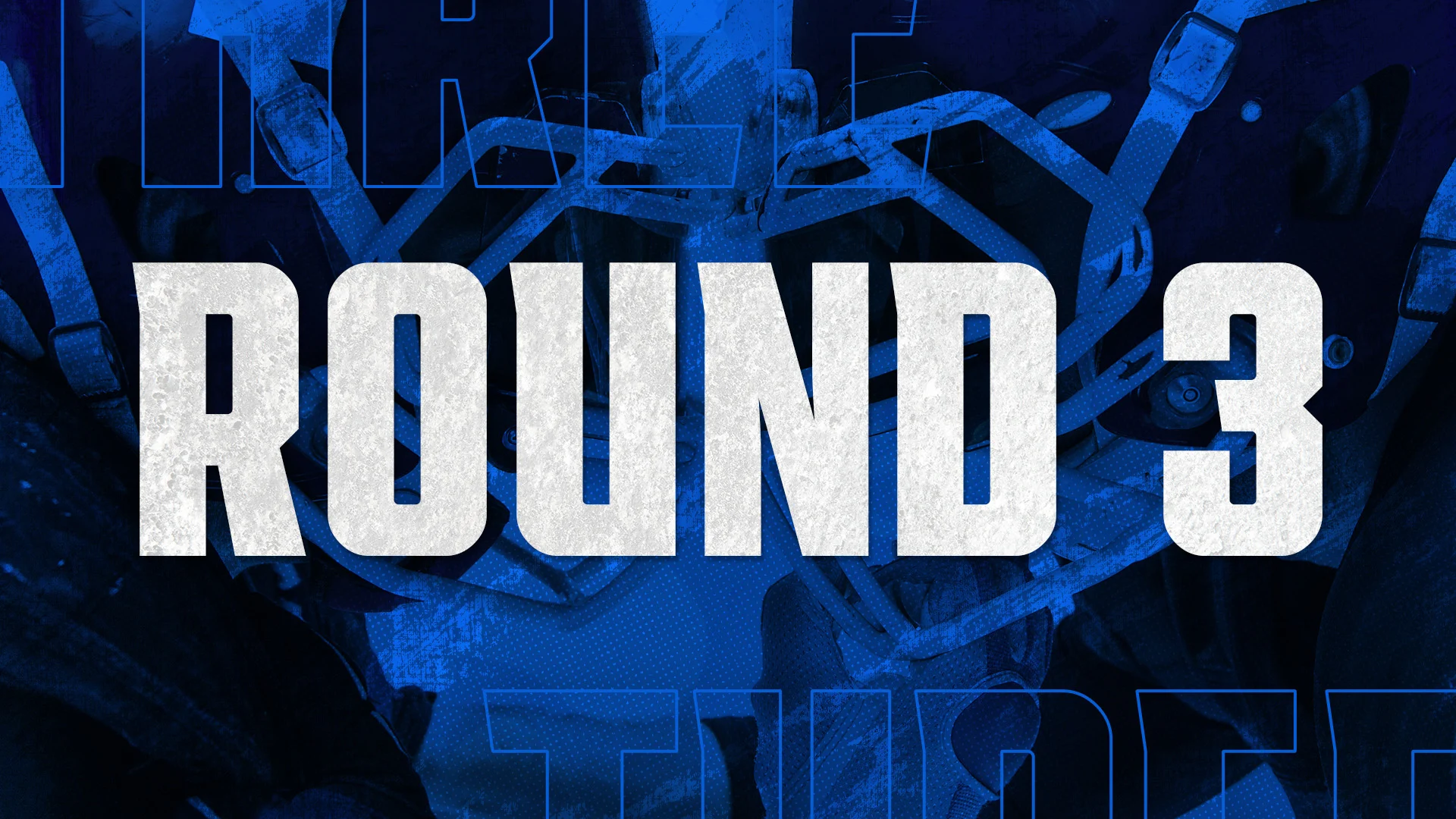 Round 3
65) Carolina Panthers: Roman Wilson, WR, Michigan
Roman Wilson has elite speed and explosiveness, but he's also flexible enough to sustain his acceleration through breaks as a separator. He's a catch-point acrobat, and he'd be an invaluable multi-level target for Bryce Young.
66) Arizona Cardinals: Troy Fautanu, G, Washington
Troy Fautanu's in-built versatility is a nice bonus, but the 6'4″, 320-pound blocker has the combined mobility, hand usage, feel for leverage and physical edge to be a long-term starter at guard.
67) New York Giants: Trey Benson, RB, Florida State
Assuming the Giants let Saquon Barkley walk, Trey Benson gives them another volume back at 6'1″, 223 pounds. His vertical speed helps him dart through interior gaps, and he always finishes runs forward.
68) New England Patriots: Brandon Dorlus, DL, Oregon
If Bill Belichick is still in New England, he feels like a coach who could maximize the 6'3″, 285-pound menace that is Brandon Dorlus and his hyperactive, violent play style.
69) Chicago Bears: Devontez Walker, WR, North Carolina
Joining up with his UNC teammate Drake Maye again, Devontez Walker gives the Bears a deadly size-speed dynamo alongside defensive attention funnel Marvin Harrison Jr.
70) Seattle Seahawks: Cameron Ward, QB, Washington State
After starting the 2023 campaign red-hot, Cameron Ward has cooled off a bit. Once thought to be a potential first-round challenger, old warts are showing up in his game again.
Still, the bedrock of Ward's evaluation remains the same. He's an extremely natural creator with elite arm elasticity and angle freedom — the latter of which can lead to absurd situational placement on tight-window throws.
Ward has all the necessary talent and the risk propensity, but he's still a bit too volatile under pressure, both with his mechanics and his decision-making.
The Seahawks in Round 3 feels like a very good landing spot for Ward if he declares. Geno Smith is still the starter but hasn't been quite as lights-out in 2023 as he was in 2022.
Smith's presence allows Ward to be eased into the NFL game as he continues his development, and Ward gives Seattle a high-upside backup plan if Smith regresses before his contract is up in 2026.
71) Detroit Lions: Will Sheppard, WR, Vanderbilt
Amon-Ra St. Brown and Jameson Williams are central pieces. But the 6'3″, 200-pound Will Sheppard brings something unique with his smooth athleticism, separation ability, RAC, and red-zone value.
72) Arizona Cardinals: Jordan Burch, EDGE, Oregon
At 6'6″, 290 pounds, Jordan Burch is an alignment-versatile, pocket-crushing force whose sheer power output can be devastating for tackles who are too far back on their skis.
73) Green Bay Packers: Zak Zinter, G, Michigan
The Packers might be inclined to replace Michigan product Jon Runyan with another Wolverines standout: Zak Zinter. Zinter's experience has afforded him great vision and hands, and he's also a nimble mover with stifling power.
74) Los Angeles Chargers: McKinnley Jackson, DT, Texas A&M
If the Chargers let Austin Johnson go in free agency, McKinnley Jackson can be a quality successor. He's a high-energy nose tackle at 6'2″, 325 pounds, who can both absorb blocks and win rushes one-on-one.
75) Arizona Cardinals: T'Vondre Sweat, DT, Texas
A truly mountainous figure, T'Vondre Sweat somehow has actionable pass-rush utility at 6'4″, 362 pounds, and he's a block-absorbing, force-multiplying presence against the run.
76) Las Vegas Raiders: Leonard Taylor III, DT, Miami (FL)
Leonard Taylor III hasn't been nearly as productive or as consistent as desired this year, but he still has the lean frame, speed-to-power, and overall athleticism worth banking on.
77) Indianapolis Colts: Yahya Black, DT, Iowa
Yahya Black is a true power plant on the interior with his instant burst and forklift-like frame at 6'5″, 290 pounds. Alongside Grover Stewart and DeForest Buckner, he'd be dangerous.
78) Washington Commanders: Tyler Baron, EDGE, Tennessee
If one of Chase Young or Montez Sweat leaves, Tyler Baron would be a good pick for Washington. He has the same athletic, streamlined frame that Young does at around 6'5″, 260 pounds, and his peak flashes as a pass rusher are bright.
79) New York Jets: Beau Brade, S, Maryland
With several safeties due for new contracts, the Jets could have use for a complete prospect like Beau Brade, who's nimble and adaptable in coverage and physical downhill.
80) Cincinnati Bengals: Joshua Farmer, DT, Florida State
At 6'3″, 310 pounds, Joshua Farmer has one of the most complete physical profiles in the 2024 NFL Draft. Natural leverage, elite proportional length, rapid acceleration, lower-body flexibility, and awe-inspiring power — it's all there.
81) Denver Broncos: Quinyon Mitchell, CB, Toledo
Regardless of whether or not Patrick Surtain Jr. winds up on the move, Denver needs more CB help. At 6'0″, 200 pounds, Quinyon Mitchell has the size, physicality, coverage versatility, elite recovery speed, and ball skills to fill their need.
82) Atlanta Falcons: JT Tuimoloau, EDGE, Ohio State
JT Tuimoloau is starting to catch fire, with three sacks over the past two games. The Penn State game is key — but he has the first-step explosiveness, play strength, power output, and playmaking gene to thrive as a big stand-up EDGE in Atlanta's scheme.
83) Los Angeles Rams: Chris Braswell, EDGE, Alabama
Chris Braswell has been clocked at almost 22 MPH — at 6'4″, 255 pounds. If he stays productive (4.5 sacks, seven TFLs so far), a declaration seems likely for the speed-to-power savant — even if his overall pass-rush arsenal needs more depth.
84) Seattle Seahawks: Cade Stover, TE, Ohio State
Cade Stover has been on a tear as of late. He's a tough chain-mover, a stellar seam threat, a RAC weapon in space, a clutch catcher on money downs, and a gnarly blocker on top of it all.
85) Pittsburgh Steelers: Brian Thomas Jr., WR, LSU
At 6'4″, 205 pounds, Brian Thomas Jr. has the size-explosiveness combo and body control to thrive in the vertical plane, but he's also an able RAC threat closer to the line.
86) Tampa Bay Buccaneers: Audric Estimé, RB, Notre Dame
Audric Estimé is one of the most appealing volume backs in the 2024 NFL Draft. At 5'11", 227 pounds, he has truly elite contact churning ability to go along with vision and speed.
87) Cleveland Browns: Josh Simmons, OT, Ohio State
Transferring over from San Diego State, Josh Simmons has played well at Ohio State with his low-cut frame, length, flexibility, and recovery athleticism. Here, the new Ohio man helps Cleveland hedge for Jedrick Wills Jr.'s regression.
88) Buffalo Bills: James Williams, S, Miami (FL)
The Bills will need to prepare for the future at safety soon, and the future looks like James Williams — a 6'5″, 220-pound banshee in support who's quietly sound in coverage, too.
89) Baltimore Ravens: MarShawn Lloyd, RB, USC
Alongside Lamar Jackson, MarShawn Lloyd can make the Ravens' running attack even more potent with his burst, rare change-of-direction ability, and contact balance at 5'9″, 210 pounds.
90) Dallas Cowboys: Ruke Orhorhoro, DL, Clemson
If the Cowboys want, they could unleash hell on offenses by slimming Ruke Orhorhoro down to 285-290 pounds and employing his explosiveness and power on NASCAR fronts.
91) Jacksonville Jaguars: Jalen McMillan, WR, Washington
A sharp and precise route-running technician with a streamlined build and hands like glue, Jalen McMillan profiles extremely well as a reliable piece in the Jaguars' passing attack.
92) Detroit Lions: Tate Ratledge, G, Georgia
Odds are, one guard spot will need filling for Detroit in 2024. Tate Ratledge has the low-cut athletic frame and the tenacious finisher mentality to earn that spot.
93) San Francisco 49ers: Adisa Isaac, EDGE, Penn State
Adisa Isaac can be more consistent in stringing together moves, but Kris Kocurek is the perfect coach to maximize his burst, agility, length, power capacity, and urgency in pursuit.
94) Kansas City Chiefs: Jaylan Ford, LB, Texas
Few LBs are as complete as Jaylan Ford in the 2024 NFL Draft. At 6'3″, 240 pounds, he's rangy, fluid active in coverage, and very disciplined when patrolling laterally.
95) Houston Texans: Ben Sinnott, TE, Kansas State
Dalton Schultz isn't secured past this year, but Ben Sinnott can bridge the gap. He's a versatile 6'4″, 245-pound TE with exciting separation potential and smooth hands.
96) San Francisco 49ers: Tommy Eichenberg, LB, Ohio State
Tommy Eichenberg files in right away as an explosive downhill-attacking LB, but he has the complete three-down game to become a full-time starter down the road.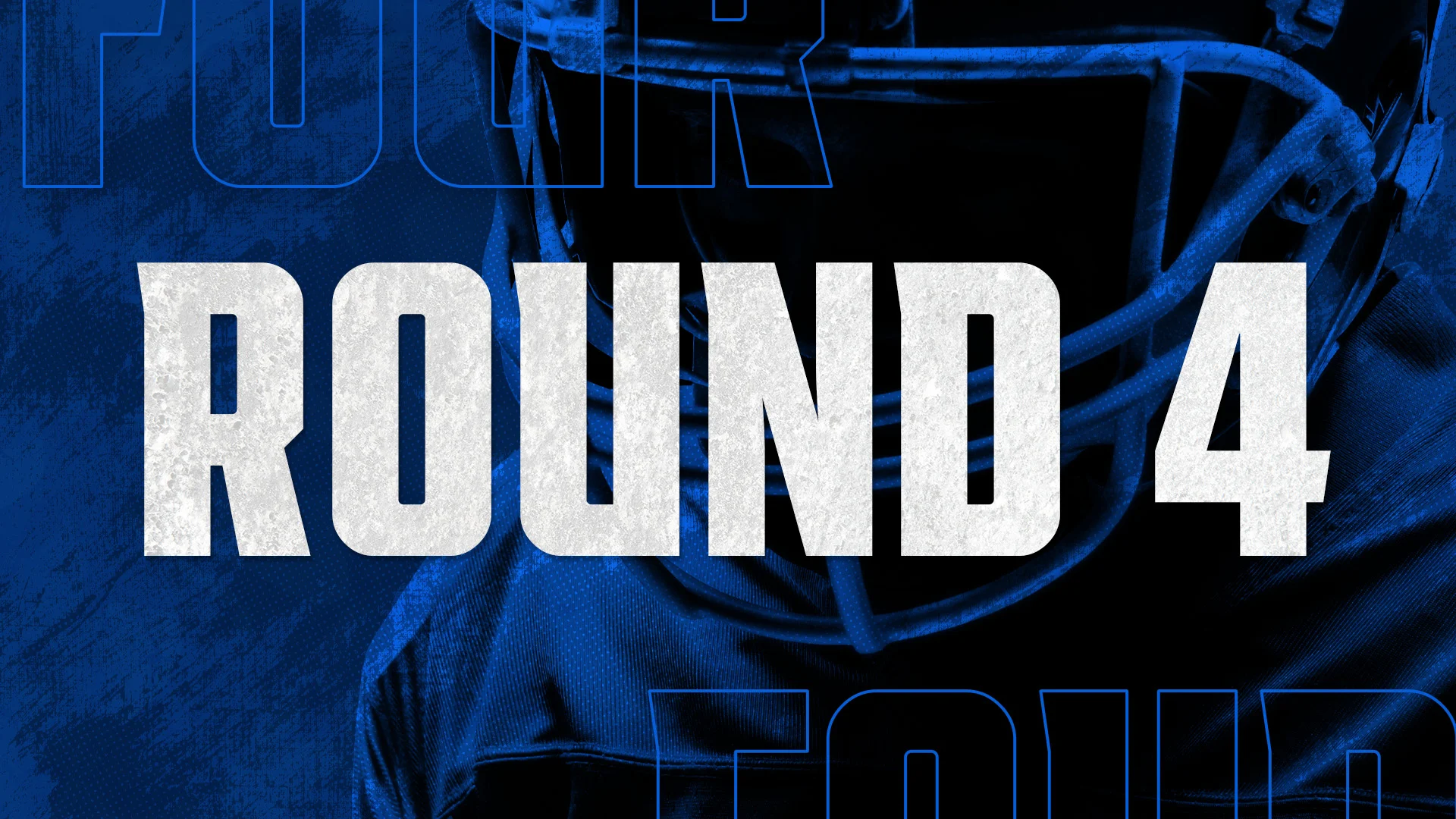 Round 4
97) Carolina Panthers: Ja'Quan Sheppard, CB, Maryland
Ja'Quan Sheppard can be volatile with his close, trailing technique, but there's no disputing his length, speed, fluidity, and conversion ability at the catch point at 6'2″, 200 pounds.
98) New York Giants: Cedric Gray, LB, North Carolina
Cedric Gray could be a steal in a deep 2024 NFL Draft class with his explosiveness and gap-sealing instincts, as well as his coverage ability at 6'2″, 235 pounds.
99) New England Patriots: Jamari Thrash, WR, Louisville
Jamari Thrash is a well-advertised big-play threat with angle-breaking speed at 6'1″, 185 pounds, but he's also a nuanced throttle harnesser and a stellar RAC threat with space.
100) Chicago Bears: Calen Bullock, S, USC
With Eddie Jackson potentially heading toward the sunset, Calen Bullock can be a revitalizing force as a fluid and rangy center-field playmaker over the top.
101) New York Jets: Antwane Wells Jr., WR, South Carolina
At 6'1″, 208 pounds, Antwane Wells Jr. can fulfill a number of roles for the Jets. He's an able separator and vertical threat, but his RAC ability in the open field is top-of-the-line.
102) Arizona Cardinals: Tahveon Nicholson, CB, Illinois
Tahveon Nicholson will be an older rookie, but he offers a diverse skill set with his freedom of motion, and his tenacity as a run defender could win over Jonathan Gannon.
103) Tennessee Titans: Terrion Arnold, CB, Alabama
There are still lapses in reaction and technical discipline from Terrion Arnold, but he has the fluidity, foot quickness, and ball skills to thrive in Mike Vrabel's man-heavy scheme.
104) Minnesota Vikings: Darius Robinson, EDGE, Missouri
Darius Robinson began his career as a DT but has emerged as a venerable force on the edge this year with his explosiveness and overwhelming power output at 6'5″, 290 pounds.
105) Los Angeles Chargers: Braelon Allen, RB, Wisconsin
Every team needs a volume back. 6'2″, 245-pound Braelon Allen offers that size and physicality but also brings burst, speed, corrective IQ, and blossoming receiving skills.
106) Green Bay Packers: Tyler Van Dyke, QB, Miami (FL)
After starting 2023 with two three-touchdown outings, Jordan Love has thrown for two scores and six picks in his last three games.
The Packers will be patient with Love, as they should. But if the 2023 season carries on like it has thus far, then they might not know for sure if he's the guy heading into 2024.
If that's the case, a fourth-round investment in a QB with starting upside like Tyler Van Dyke might make sense.
Van Dyke has found new life as a 2024 NFL Draft prospect this year. He's not as mobile as Love, but he has an impressive blend of arm strength and angle freedom, and his situational placement and anticipation — at his peak — have been a sight to behold.
107) Las Vegas Raiders: Graham Mertz, QB, Florida
Don't look now, but Graham Mertz is playing his best ball yet by far in 2023.
His win versus South Carolina was full of off-platform lasers and smooth throws out of structure, all capped off by a game-winning throw that featured manipulation and stellar placement.
The Raiders have Jimmy Garoppolo under contract for three years, but already, his health is a concern, and Aidan O'Connell doesn't have starter upside.
Mertz has legitimate high-end arm talent, and he might be finally starting to put it together. In Round 4, he could be a very good investment.
108) Indianapolis Colts: Zy Alexander, CB, LSU
LSU's defense has struggled, but Zy Alexander has been a bright spot. The 6'2″ cornerback has a pick and seven deflections and brings an appealing size-athleticism combo.
109) Washington Commanders: D.J. James, CB, Auburn
If the Commanders let Kendall Fuller walk, D.J. James can help fill the void on the boundary. He's proficient in a variety of coverage looks with his foot speed and burst.
110) New York Jets: Jasheen Davis, EDGE, Wake Forest
Reinforcing the EDGE rotation, the Jets add Jasheen Davis — a twitched-up, relentless 6'3″, 255-pound rusher with elements of power and finesse in his game.
111) Cincinnati Bengals: Mekhi Wingo, DT, LSU
In this scenario, the Bengals re-sign D.J. Reader and pair him with a powder keg off the line in Mekhi Wingo. Wingo has the upside to fill the void left long ago by Geno Atkins.
112) Jacksonville Jaguars: Brandon Coleman, G, TCU
At 6'6″, 320 pounds, Brandon Coleman can play tackle or guard. For the Jaguars, however, his boxy frame, heavy hands, and neutralizing strength translate best inside.
113) Atlanta Falcons: Thomas Harper, DB, Notre Dame
Thomas Harper has been superb as a nickel DB in 2023, and that's where he'll project with the Falcons with his burst, corrective athleticism, targeted physicality, and technique.
114) Houston Texans: Josh Newton, CB, TCU
Set to lose Steven Nelson in free agency, the Texans can replace him with Josh Newton — another fleet-footed coverage DB who's built to mirror WRs in man coverage.
115) Pittsburgh Steelers: Roger Rosengarten, OT, Washington
Roger Rosengarten has shown growth in recent weeks. He can get stronger and improve his pad level and balance, but he's very athletic and adept in recovery.
116) Pittsburgh Steelers: Nazir Stackhouse, DT, Georgia
With the monstrous Nazir Stackhouse manning the nose tackle spot, the Steelers can kick Keeanu Benton into a disruptor role, where his violence will be most valuable.
117) Tampa Bay Buccaneers: Hunter Nourzad, C, Penn State
An Ivy League transfer, Hunter Nourzad had admirably filled in for Juice Scruggs this year. Like Scruggs, he's dense, well-leveraged, mobile enough, and disciplined in both phases.
118) Houston Texans: Isaiah Adams, OL, Illinois
At 6'5″, 320 pounds, Isaiah Adams has the versatility to play tackle or guard and the torquing capacity, mauler urge, and short-area mobility to make an impact.
119) Seattle Seahawks: Payton Wilson, LB, NC State
If the medicals check out for Payton Wilson, he can be a steal in the 2024 NFL Draft with his range, instincts, and finishing ability at 6'4″, 238 pounds.
120) Buffalo Bills: Delmar Glaze, OT, Maryland
Quietly, Delmar Glaze has been one of the Big Ten's best tackles. At 6'5″, 328 pounds, he's a synergetic pass protector with length, foot speed, and patient, disciplined hands.
121) San Francisco 49ers: Kiran Amegadjie, OT, Yale
With the 49ers' scheme and coaching, Kiran Amegadjie could grow to become a plus starter with his otherworldly physical tools at 6'5″, 320 pounds.
122) Atlanta Falcons: DeWayne Carter, DT, Duke
Calais Campbell is a short-term rental, but DeWayne Carter has the 6'3″, 300-pound build, speed-to-power combo, and tenacity to take over that versatile 3-tech role.
123) Baltimore Ravens: Ty'Ron Hopper, LB, Missouri
While Roquan Smith serves as the MIKE, Ty'Ron Hopper can be the versatile roaming LB with savvy plays in coverage and when attacking gaps.
124) Minnesota Vikings: Ladd McConkey, WR, Georgia
An effortless accelerator and a natural route technician, Ladd McConkey is an immediate upgrade over K.J. Osborn alongside Justin Jefferson and Jordan Addison.
125) San Francisco 49ers: Cam Hart, CB, Notre Dame
Cam Hart has always had elite explosiveness at 6'2″, 205. But this year, he's more disciplined in coverage and physical against the run.
126) Denver Broncos: Xavier Thomas, EDGE, Clemson
When he's on his game, few 2024 NFL Draft EDGEs have the cornering ability and multitasking capacity that Xavier Thomas has.
127) Kansas City Chiefs: Tory Horton, WR, Colorado State
Tory Horton is an explosive and vertically-oriented receiver who could thrive in the Chiefs' offense with his hands and zone IQ.
128) Chicago Bears: Kamari Lassiter, CB, Georgia
Kamari Lassiter has great proportional length and feel in side-saddle, and he's improved his technique and ball skills this year.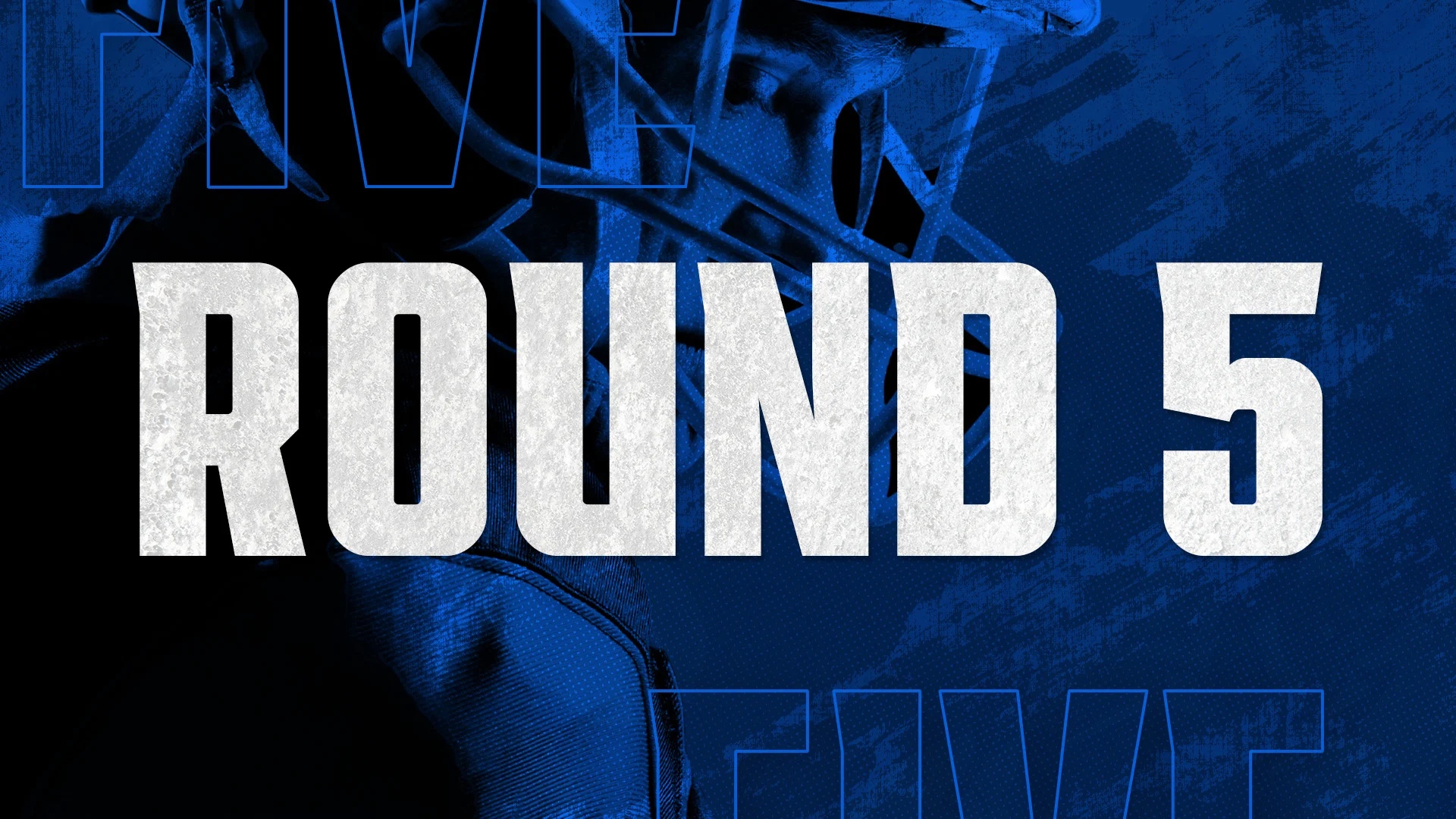 Round 5
129) Cleveland Browns
Ashton Gillotte, EDGE, Louisville
130) New England Patriots
Ja'Tavion Sanders, TE, Texas
131) Chicago Bears
Joshua Gray, OL, Oregon State
132) Denver Broncos
Ricky Pearsall, WR, Florida
133) Arizona Cardinals
Raheim Sanders, RB, Arkansas
134) New York Giants
Xavier Truss, G, Georgia
135) Philadelphia Eagles
Daequan Hardy, CB, Penn State
136) Carolina Panthers
Oronde Gadsden II, WR, Syracuse
137) Green Bay Packers
Cole Bishop, S, Utah
138) Los Angeles Chargers
Omar Speights, LB, LSU
139) Indianapolis Colts
Fadil Diggs, EDGE, Texas A&M
140) Washington Commanders
Luke Lachey, TE, Iowa
141) Denver Broncos
Keith Randolph Jr., DT, Illinois
142) Cincinnati Bengals
Davin Vann, EDGE, NC State
143) New Orleans Saints
T.J. Tampa, CB, Iowa State
144) Atlanta Falcons
Tahj Washington, WR, USC
145) Arizona Cardinals
Collin Oliver, OLB, Oklahoma State
146) Las Vegas Raiders
Tanor Bortolini, C, Wisconsin
147) Los Angeles Rams
Khyree Jackson, CB, Oregon
148) Philadelphia Eagles
Max Melton, CB, Rutgers
149) Minnesota Vikings
Jay Stanley, S, Southern Miss
150) Seattle Seahawks
Kaimon Rucker, EDGE, North Carolina
151) Los Angeles Rams
Beaux Limmer, C, Arkansas
152) Buffalo Bills
Jordan Jefferson, DT, LSU
153) Jacksonville Jaguars
Nelson Ceaser, EDGE, Houston
154) Baltimore Ravens
Anthony Belton, OT, NC State
155) Kansas City Chiefs
Matt Goncalves, OT, Pittsburgh
156) Detroit Lions
Braden Fiske, DT, Florida State
157) Carolina Panthers
Tyreem Powell, LB, Rutgers
158) Miami Dolphins
Justin Eboigbe, DT, Alabama
159) Minnesota Vikings
Thor Griffith, DT, Harvard
160) Cleveland Browns
Johnny Wilson, WR, Florida State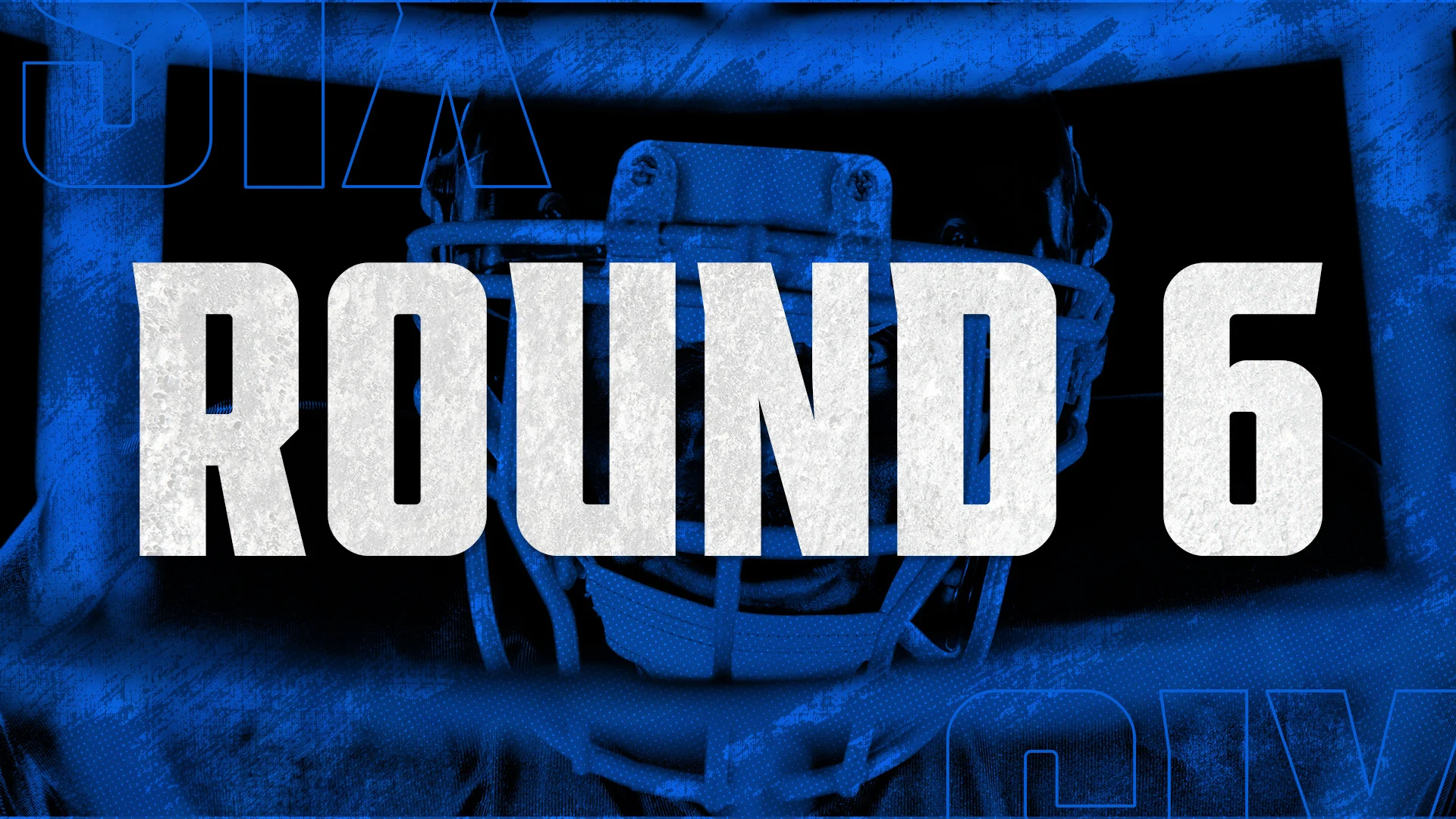 Round 6
161) Jacksonville Jaguars
M.J. Devonshire, CB, Pittsburgh
162) Miami Dolphins
Jack Nelson, OT, Wisconsin
163) Los Angeles Rams
Tavian Coleman, DL, Texas State
164) Carolina Panthers
Seth Coleman, EDGE, Illinois
165) New York Giants
Chris Tyree, WR, Notre Dame
166) New England Patriots
Blake Watson, RB, Memphis
167) Philadelphia Eagles
Josh Proctor, S, Ohio State
168) Minnesota Vikings
Kendall Bohler, DB, Florida A&M
169) Los Angeles Chargers
Tykee Smith, DB, Georgia
170) Green Bay Packers
Shemar Turner, EDGE, Texas A&M
171) Washington Commanders
Hudson Clark, S, Arkansas
172) New York Jets
Jordan Travis, QB, Florida State
173) Cincinnati Bengals
Brevyn Spann-Ford, TE, Minnesota
174) New Orleans Saints
Cornelius Johnson, WR, Michigan
175) Atlanta Falcons
Ajani Cornelius, OT, Oregon
176) Cleveland Browns
Danny Stutsman, LB, Oklahoma
177) New England Patriots
Nate Lynn, EDGE, William & Mary
178) Indianapolis Colts
Curtis Jacobs, LB, Penn State
179) Buffalo Bills
Blake Corum, RB, Michigan
180) Atlanta Falcons
Anthony Goodlow, DL, Oklahoma State
181) Seattle Seahawks
Robert Scott Jr., OT, Florida State
182) Pittsburgh Steelers
Michael Pratt, QB, Tulane
183) Tampa Bay Buccaneers
Spencer Rattler, QB, South Carolina
184) Buffalo Bills
Steve Linton, EDGE, Texas Tech
185) Cleveland Browns
Ty Hamilton, DT, Ohio State
186) Buffalo Bills
Alfred Collins, DT, Texas
187) Jacksonville Jaguars
Jaylin Noel, WR, Iowa State
188) Detroit Lions
Travis Glover, OT, Georgia State
189) Denver Broncos
Jeffrey Bassa, S, Oregon
190) Miami Dolphins
Jack Sawyer, EDGE, Ohio State
191) Las Vegas Raiders
Johnny Dixon, CB, Penn State
192) New Orleans Saints
Brennan Jackson, EDGE, Washington State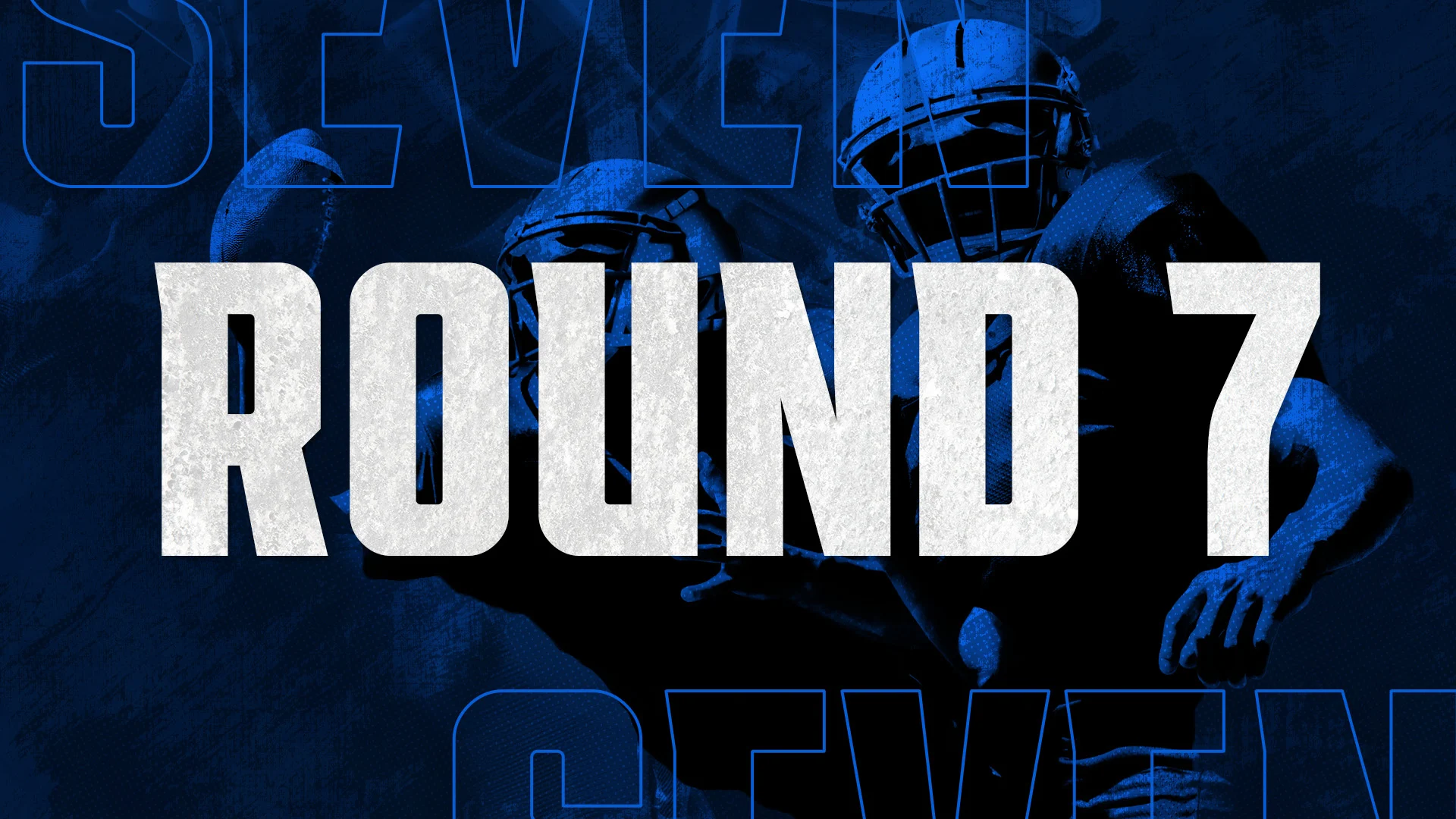 Round 7
193) Tennessee Titans
Devin Neal, RB, Kansas
194) New Orleans Saints
Kitan Oladapo, S, Oregon State
195) Houston Texans
Omari Thomas, DT, Tennessee
196) Arizona Cardinals
KeAndre Lambert-Smith, WR, Penn State
197) Las Vegas Raiders
Willie Roberts, DB, Louisiana Tech
198) New England Patriots
Josiah Ezirim, OT, Eastern Kentucky
199) Las Vegas Raiders
Jacob Cowing, WR, Arizona
200) Tennessee Titans
Marvin Pearson, EDGE, Elon
201) Green Bay Packers
Kaden Prather, WR, Maryland
202) Los Angeles Chargers
Jermaine Burton, WR, Alabama
203) Baltimore Ravens
Myles Harden, CB, South Dakota
204) Cincinnati Bengals
Mike Sainristil, CB, Michigan
205) Houston Texans
Joshua Cephus, WR, UTSA
206) Arizona Cardinals
Sundiata Anderson, EDGE, Grambling State
207) Houston Texans
Deontae Craig, EDGE, Iowa
208) Dallas Cowboys
Leon Lowery, S/LB, Syracuse
209) Indianapolis Colts
Sanoussi Kane, S, Purdue
210) Washington Commanders
LaDarius Henderson, OL, Michigan
211) San Francisco 49ers
Eyabi Okie-Anoma, EDGE, Charlotte
212) Seattle Seahawks
Tyler Davis, DT, Clemson
213) Pittsburgh Steelers
Jaylon Hutchings, DT, Texas Tech
214) Tampa Bay Buccaneers
Micah Abraham, CB, Marshall
215) Cleveland Browns
Carson Steele, RB, UCLA
216) Buffalo Bills
Dillon Gabriel, QB, Oklahoma
217) Dallas Cowboys
Jo'Quavious Marks, RB, Mississippi State
218) Jacksonville Jaguars
Sam Hartman, QB, Notre Dame
219) Baltimore Ravens
Isaiah Williams, WR, Illinois
220) Detroit Lions
Jarvis Brownlee Jr., CB, Louisville
221) San Francisco 49ers
Will Putnam, C, Clemson
222) Miami Dolphins
Jaheim Bell, TE, Florida State
Listen to the PFN Scouting Podcast
List to the PFN Scouting Podcast! Click the embedded player below to listen, or you can find the PFN Scouting Podcast on iTunes, Spotify, and all major podcast platforms.  Be sure to subscribe and leave us a five-star review! Rather watch instead? Check out the PFN Scouting Podcast on our Scouting YouTube channel.