With the league's Oct. 31 deadline fast approaching, it's time to separate fact from fiction regarding the NFL trade rumors.
The deadline once was in early to mid-October, but over the years, members of various front offices said that they needed more time to decide where to go with their rosters based on where they were in the standings in their respective conferences.
So just over 10 years ago, the deadline was moved back to the last week of this month. This year's trade deadline is on the final day of the month at 4 p.m.
While it won't ever be confused with the craziness of the NBA or MLB trade deadlines, there has been much more movement at the late October deadline in recent years than a few decades ago.
Within the final three weeks of last year's deadline, 22 players were moved along with 35 draft picks (some of them were conditional).
Over the next few weeks leading up to this year's NFL trade deadline, we'll take an inside look at the players who could be moved, the reasons, as well as the teams that could be targeting those players and others.
From the current NFL standings to team depth charts to coverage of every game in the 18-week NFL schedule, we have all the news from around the league to keep you up to speed!
NFL Trade Deadline News and Rumors
Hunter Renfrow, WR | Las Vegas Raiders
Once known in NFL personnel circles as one of the better inside players at the wide receiver position, Hunter Renfrow's role started to regress significantly last season after a breakout season in 2021.
Under former head coach Jon Gruden's coaching staff during the 2021 season, the 2019 fifth-round pick posted a career-high 103 receptions, but in his first season with head coach Josh McDaniels in 2022, Renfrow's catch total dipped significantly to just 36.
While he did miss seven games due to injury last season, Renfrow's average receptions per game went from over six per game in 2021 to just 3.6 on average last season. This season, through six games, Renfrow has posted just six receptions.
What's strange about his situation is that the Raiders extended Renfrow's contract through the 2024 season after McDaniels was hired. Yet, his role has been reduced significantly.
It's rather obvious that Renfrow's role is not going to change, which is why sources strongly believe he's very available. However, his salary of $6.5 million this season has been seen as tough to move at this point, though it would be prorated for the remainder of the season should he be traded.
Jerry Jeudy, WR | Denver Broncos
With head coach Sean Payton trying to rebuild the team with a new culture, Jerry Jeudy, a first-round pick out of the 2020 NFL Draft, has an uncertain future.
Jeudy was selected by former general manager/executive VP of football operations John Elway and not current general manager George Paton, so there's no allegiance by the coaching staff or the revised front office to him.
While Jeudy's fifth-year option was picked up by the team last season after a career-high 972 yards on 67 receptions, rumors have persisted around the NFL going back to March's opening of the new league year that Jeudy or veteran WR Courtland Sutton could be moved.
Payton shot down the rumors about Jeudy and Sutton before the season started, but they've started up in recent weeks.
And there's more: Jerry Jeudy started dancing behind Steve Smith Sr. during the next segment. pic.twitter.com/CBlFvwjIkV

— Ari Meirov (@MySportsUpdate) October 12, 2023
What sources said has deterred teams from trading for Jeudy is his near-$13 million fully guaranteed fifth-year option salary for next season.
MORE: Week 7 NFL Power Rankings
As a league source explained to Pro Football Network recently, his salary for this season is very palatable ($2.7 million, which would be prorated for the rest of the season if he's moved). But if a new team wanted to move on from Jeudy after this season by release, they would be on the hook for that big salary increase for next season.
That salary has been a deterrent so far, but that could change as teams looking to make a big push for the playoffs rethink their strategy.
Mecole Hardman, WR | New York Jets
In March, the New York Jets signed Mecole Hardman — the former Kansas City Chiefs second-round pick out of the 2019 NFL Draft — to a one-year deal worth $3.6 million.
A source with knowledge of the situation said the team targeted Hardman for his speed. And while he would not project to catch a lot of passes compared to second-year WR Garrett Wilson and veteran WR Allen Lazard, Hardman's speed would be a good complement to them as well as others at the position.
MORE: Mecole Hardman Landing Spots
However, through six games, the fifth-year pro only has one reception and clearly has no role with the team so far.
Hardman's salary of just $1.1 million is very tradeable (and would be prorated for the rest of the way if he's moved), but so far, there hasn't been much interest elsewhere in his services, sources said.
Carl Lawson, DE/OLB | New York Jets
Thought to be a steal of the Jets' 2021 free agent class based on his solid play previously with the Cincinnati Bengals, Carl Lawson signed a three-year, $45 million deal with his new team. At that time, it was thought to be a very fair deal considering how the market was starting to go up for pass rushers.
Unfortunately, the veteran pass rusher wound up suffering a torn Achilles tendon in training camp that August and missed the entire season.
Lawson came back last season and played in all 17 games, but the club approached him with a pay cut for this season, which he agreed to. New York will still pay him at least $8 million this season, and Lawson was scheduled to earn a non-guaranteed salary of $15 million for 2023, so it made sense for him to at least get just over half of it guaranteed, which both sides agreed to just a few weeks after this year's NFL Draft.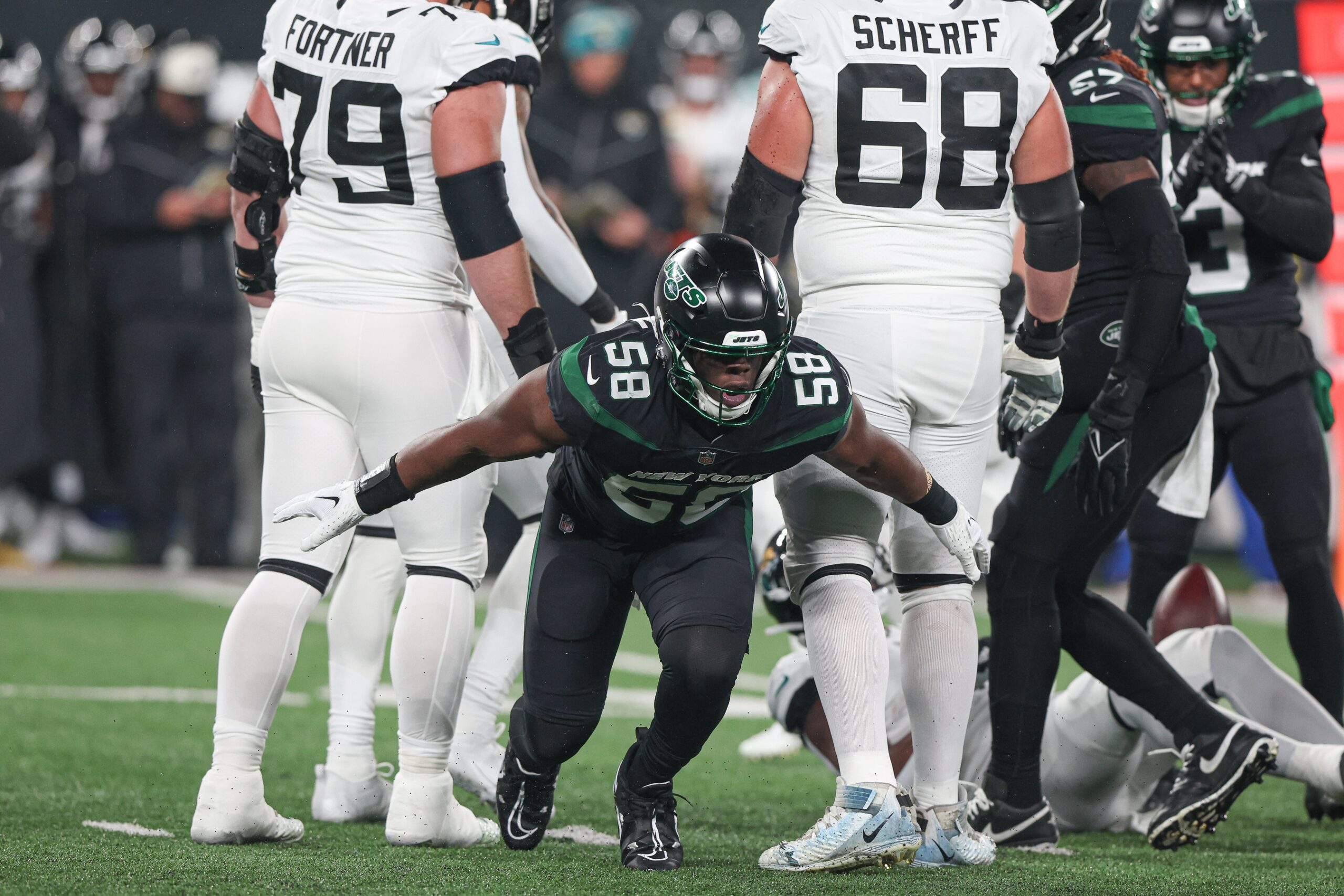 One of the reasons why the Jets approached him with a pay reduction was because they selected DE Will McDonald IV in the first round and they took DE/OLB Jermaine Johnson in last year's draft.
A source said that Johnson, who struggled a bit as a rookie, really started to take off in the Jets' offseason program this year, and the feeling around the team is that he was ready for an increased role, which made Lawson essentially an insurance policy.
Because Lawson has barely played this season — and it's hard to justify keeping him on the bench with a $6 million base salary — it's well-known around the NFL that he's very available. However, the Jets might have to take on a portion of his salary in order to move him.
Danielle Hunter, EDGE | Minnesota Vikings
Long underpaid and somewhat underappreciated, veteran pass rusher Danielle Hunter got a major pay increase early in training camp that will pay him a minimum of $17 million this season with an additional $3 million available with incentives. He was going to earn under $5 million previously until this recent renegotiation.
Hunter, who turns 29 later this month, is off to a career-best start with eight sacks in his first eight games.
MORE: What Does the NFL Playoff Picture Look Like After Week 6?
Known in personnel circles for his size, strength, and speed, the ninth-year edge rusher could really help a team that is looking to make a deep playoff run. And as a league source told us recently, Hunter's ability to play in multiple defensive schemes (has played with 4-3 and 3-4 defensive alignments in his career) should give teams interested in him the belief that he could contribute right away.
While Minnesota is currently just one game out of an NFC Wild Card spot, there's a strong belief in personnel circles that the Vikings don't have a realistic chance to make the playoffs this season, and the reality is that this is a team that's in transition and needs to rebuild in some areas.
Darnay Holmes, CB | New York Giants
Once a promising nickel defender for the team through most of his first three seasons of play, Darnay Holmes, who is in the final year of his rookie deal, has been relegated mostly to special teams so far this season.
Holmes agreed to a pay reduction back in late August for this season and only carries a salary of $1 million, which would be prorated to the new team for the remaining weeks if the Giants wind up trading him.
A league source pointed out the problem with Holmes is his overly physical play, which draws too many penalties, but adds a change of scenery could do him good. His tape is generally very solid, and his inexpensive salary should be attractive to other teams, particularly those looking to make a playoff run.
Instead of using Holmes, the coaches have turned to others, such as veteran CB Adoree' Jackson and second-year CB Cordale Flott, to handle that nickel role.
Jeremy Chinn, S | Carolina Panthers
Earlier in his career, Jeremy Chinn, Carolina's second-round pick in 2020, looked like he was going to be a steal based on his athletic ability and movement skill.
The former Southern Illinois defensive back, who finished second in Rookie Defensive Player of the Year voting that season, showed the ability to cover tight ends and make plays on the ball.
In Year 1, Chinn played linebacker but was moved to free safety in Year 2 by then-defensive coordinator Phil Snow.
For whatever reason, his play started to regress in his third season. And while he started all 11 games he was available for last season, a league source who graded his tape said that the special play that Chinn displayed earlier in his career hasn't been as evident.
This season, the new coaching staff under head coach Frank Reich and defensive coordinator Ejiro Evero began the season using big nickel formations with Chinn as the third safety. And because of injuries at the position, Chinn has been playing more snaps than expected.
Carolina made no attempt to extend Chinn's contract this season, a league source said, and with his future with the team past this season unsettled, he would make an attractive trade candidate for a team that needs a safety who can handle a variety of roles.