There is no question who reigns as the best defensive tackle in the NFL. And until his production and presence on the field dip to a level where his ranking amongst his peers is undeniable, he'll remain at the top. He's earned that right.
It isn't easy for defensive tackles to find consistent success at the NFL level. The position is much harder to assimilate to than many consider. It's a rarity to see them shine immediately, and even if we see flashes early, they rarely stick around for the long haul.
It's a much more cerebral position than we often give it credit for. Even true freaks like Quinnen Williams and Dexter Lawrence struggled early in their careers, and while injury slowed him down, Jordan Davis struggled to get going as an all-around difference-maker.
Check out our other top positional rankings here: QB | RB | WR | TE | OT | G | EDGE | LB | CB | S | K
Who's the Best Defensive Tackle in the NFL?
Aaron Donald is the best defensive tackle in the NFL. The gap isn't as astronomical as it once was. In fact, the gap may have closed completely, but it's not yet time to give up on the vet.
He's a nine-time Pro Bowler, seven-time All-Pro, Hall of Fame 2010s Team, three-time DPOY, and DROY. When we discuss first-ballot Hall of Fame players, Donald is the standard.
The 10-year veteran looks like he's back where he left off a season ago when healthy. Although the Rams defensive front doesn't pose any legitimate threat in name aside from Donald, he has still found ways to win despite being an opposing offense's entire focal point.
Defensive Tackle Rankings 2-11
The younger generation surged in 2022 after slow starts to some of their careers. Four of the top 10 are still on rookie deals. However, the old guard remains, and the battle for the top is closing as Donald flirts with retirement.
2) Chris Jones, Kansas City Chiefs
Chris Jones is coming for the throne. The Chiefs' hybrid pass rusher is a menace in any alignment.
Chris Jones might already be the best in the game, but Doanld's legacy is tough to overcome. The Chiefs pass rusher is a menace in any alignment just like Donald, and that versatility makes Steve Spagnuolo's defense hum. He finished with 14 more pressures than any other primarily interior rusher (77) and posted the highest win rate.
3) Cameron Heyward, Pittsburgh Steelers
After an offseason of self-reflection, it was decided that slighting any Pittsburgh Steeler is not a good decision because they will make you look foolish. Is Heyward still better than the three youngsters behind him? Maybe, maybe not. But their legacy is just beginning, and Heyward is coming to the end of his unbelievable run.
When the list is updated next, there could be enough of a sample size among other defensive tackles in 2023 to drop Heyward down the list until he returns from the groin injury that will sideline him for a significant stretch of the season. But his longstanding excellence has gone overlooked by many across the NFL landscape for too long.
4) Jeffery Simmons, Tennessee Titans
NFL defensive tackles rarely ever come out of the gates firing on all eight cylinders. The game is far more nuanced at the position than many people credit it with. It's not enough to be a freak athlete, a defensive tackle must be able to react to his opponents and know where the next threat is coming from.
Simmons is proving once again why he resides at the top of the list among the younger generation of defensive tackles. The Titans defensive line is a menacing presence, but it all starts on the very interior with Simmons, who is already lighting up the box score early in 2023.
5) Quinnen Williams, New York Jets
Boy, 2022 sure did make all of those Quinnen Williams trade rumors look silly, didn't it? Williams was a young player from Alabama who was exceedingly talented, but took time to get his groove going at the NFL level. Now that he's arrived, he won't go away.
His 12 sacks ranked second at the position, and his 52 pressures were good for eighth. Williams was also a playmaker against the run. His 32 stops snuck him into the top 10.
6) Dexter Lawrence, New York Giants
What makes these rookie contract guys so special is the wholeness of their game. None of them are simply run stuffers or pass-rush specialists. They do it all. While Dexter Lawrence isn't the best among them, he might be the most impressive.
Despite the outrageous size-relative athleticism Lawrence possessed leaving Clemson, he lasted a while in the first round. It took time to become a professional defensive tackle, but he absolutely exploded onto the scene in 2022 after flashing the season before.
Doing all of this at 340 pounds is horrifying for offensive linemen and quarterbacks. It doesn't make sense that someone his size would have the kind of agility and flexibility he has. While he didn't keep up with Jones and Williams in the sack department, the huge defensive tackle was second in the NFL at the position in pressures.
Lawrence is picking up exactly where he left off a season ago. Although his sack total hasn't skyrocketed yet, the consistent pressure he produces has to start leading to finishing with the QB on the ground at some point. But Lawrence has also remained excellent against the run so far.
7) DeForest Buckner, Indianapolis Colts
Nobody is like DeForest Buckner. Nobody in the league has the ability to win high the way he can. It doesn't make sense as a concept, but the practice is undeniable.
DeForest Buckner is a unicorn. Although he possesses a unique style, it's imperative that we don't… miss DeForest for the trees here… There may be more well-rounded defensive tackles in the NFL today, but none have a more dominant go-to move than Buckner's arm-over or "swim" technique.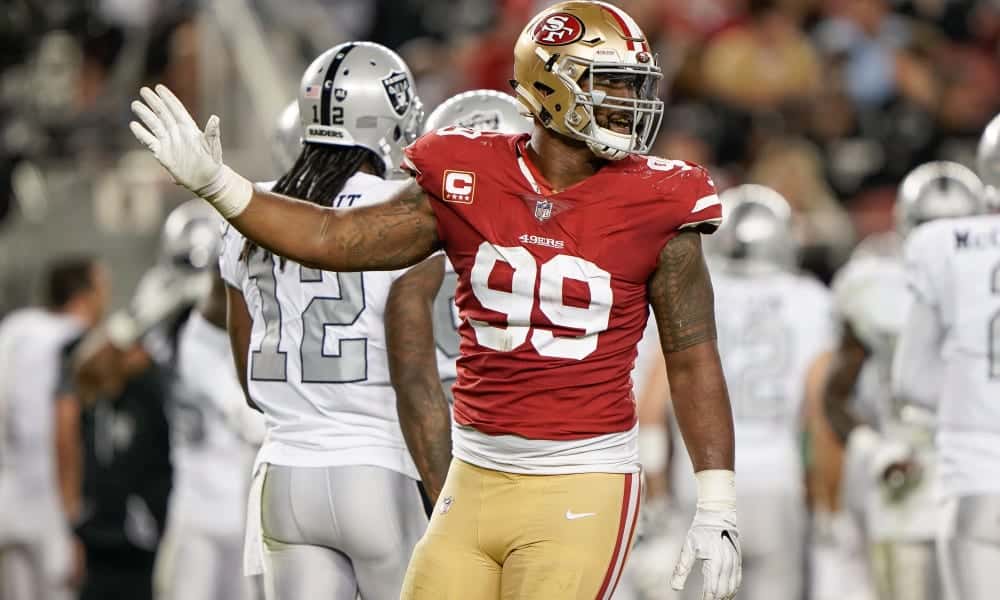 Buckner stands at 6-foot-7, making it practically impossible not to weave in Lil'Wayne lyrics into each blurb about the interior pass rusher. His build and slippery stature make him a tough target to nail down for blockers. Buckner finished fifth in pressures, and his 47 stops ranked second in the entire NFL.
Buckner's strip-sack of Trevor Lawrence directly resulted in a Colts touchdown in Week 1. In fact, he sacked Lawrence, forced the fumble, recovered the fumble, and returned the fumble in one of the wackiest plays you'll see all season.
The holy grail of stats….

The very rare Sack, Forced Fumble, Fumble Recovery, & TD for DeForest Buckner. pic.twitter.com/poAB6HfG0s

— Rich Ohrnberger (@ohrnberger) September 10, 2023
8) Jonathan Allen, Washington Commanders
If Jonathan Allen (and the entire Commanders run defense) was more consistent, he would have an argument amongst the other greats at the position.
His ability to cross a blocker's face off the snap and cross-chop to get through their shoulder is as aesthetically pleasing as a pass rush comes. When it comes to go-to rush moves, maybe only Buckner's is more devastating.
But Allen also deploys the "run through your face" tactic to produce pressure. He converts speed-to-power at an alarming rate, and paired with his outstanding lateral mobility gives him access to all three avenues of approach toward opposing quarterbacks.
Allen has improved against the run, but until he takes the next step in his development, he won't be able to crack that second tier of defensive tackles.
9) Kenny Clark, Green Bay Packers
Kenny Clark was one of the few shining stars on an underwhelming Packers defense in 2022. Although he had more sacks in 2022 than 2021, his overall production as a pass rusher dropped. But he had very little help.
Still, Clark finished just outside of the top 10 with 45 pressures. Injuries along the front seven didn't help relieve pressure off the veteran interior defender. But Joe Barry's defense as a whole struggled in 2022.
10) Christian Wilkins, Miami Dolphins
If you had to choose one NFL player to be buddies with, Christian Wilkins should be in the running. He's a "Mic'd-Up" legend with a mean split and one of the best personalities in the game. But he's also one of the most ferocious competitors in the game. His motor is always well-lubricated, and it never stops running on the redline.
Wilkins led the NFL with 55 defensive stops a season ago. But aside from being a playmaker against the run, he's also an incredibly consistent player on the interior, which is a hard fence to sit on. Despite playing with his pants on fire, he's rarely ever caught out of position.
Wilkins has come into his own at the end of 2022, giving us one of the best individual performances of the season against the Chargers and 49ers in consecutive weeks. His outrageous flexibility is his trump card, but he's the high-end player he is today because he works harder than almost anyone on the field.
11) Vita Vea, Tampa Bay Buccaneers
Vita Vea is probably the most powerful player in the league. If we all agree that Newton's second law of motion is real (which, if you don't, please read a book), then it's hard to argue against Vea.
He is as explosive as we've ever seen for a 350-pound player, and although he doesn't have the same speed as Jordan Davis, he channels energy more violently. Davis plays with more finesse than Vea, who is more brute force. His hump move is absolutely devastating.
Although he never rounded into a technically refined pass rusher, his size and burst allow him to collapse pockets at a high rate.
Top Defensive Tackles Remaining
Some of the names falling outside of the top 10 is crazy. For such an under-discussed position in the NFL, the conglomeration of talent here is absurd.
12) Javon Hargrave, San Francisco 49ers
You know talent at the position is at an all-time high when a quarterback assassin like Javon Hargrave comes in at 12 on the list. He was incredibly productive for the Eagles over the past few seasons, and the same has held true in San Francisco.
Hargrave has been incredibly productive in the 49ers defensive scheme. They rely on their four linemen to win 1v1s, and having Hargrave on the interior has helped Nick Bosa, Arik Armstead, and even Javon Kinlaw!
13) D.J. Reader, Cincinnati Bengals
D.J. Reader may not have the pass-rush upside of other big nose tackles, but he wouldn't be so incredibly high on this list if he was a nonfactor in that area, either. But in the end, Reader is here because of his ability against the run.
The mental trigger necessary to process blocking schemes as you're crashing into opposing 300-pound blockers is an absurd task. But Reader does it, which consistently puts him in the right place at the right time. His athleticism and power also aid in his run-stuffing ability.
14) Grady Jarrett, Atlanta Falcons
The Atlanta Falcons brought in reinforcements at the right time. Grady Jarrett was a lone ranger on the Falcons' defensive front last season. But few in the game have a better combination of pass-rush moves in their repertoire combined with accurate and explosive hands and a great plan.
15) Daron Payne, Washington Commanders
After initially placing the franchise tag on Daron Payne, the Washington Commanders decided they quite like the combination of Allen and Payne and would like to have that for a long time. His four-year, $90 million deal was rich, but Payne is still ascending as a pass rusher.
Having a full season of him, Jonathan Allen, Montez Sweat, and Chase Young is imperative to their overall defensive success, given the massive snap counts the Washington defensive linemen play and the lack of depth the team has.
While Payne is undeniably disruptive as a run defender, he can also hurt their defensive efforts by over-penetrating on the line, which allows for massive rush lanes to plow through.
16) Derrick Brown, Carolina Panthers
Williams, Simmons, and Lawrence were all drafted in 2019. Derrick Brown was the seventh pick a year later. We have seen steady but slow improvement from the former first-round pick over his first three seasons.
A breakout isn't guaranteed but it feels likely. Brown played a ton of snaps for Carolina last season, and he made his presence felt as a pass rusher more than every before. Although he may never be at the same level as the others because he never had that natural feel they did coming out of college, he is still an intimidating presence.
He is a very good run defender already, which is something we all thought he'd be able to do somewhat early on at the professional level. If he continues to craft a pass rush plan, he could explode.
17) Leonard Williams, New York Giants
Lawrence has taken some of the thunder away from Leonard Williams, but the gap-slicing 300-pounder remains one of the most dangerous interior rushers in the game. His overall production dropped a bit this season, but he played over 100 snaps fewer than he'd ever played before.
Williams probably wouldn't be this low on the list most years, but he missed five games in 2022. The gap-slicing 300-pounder is an outstanding asset for Wink Martindale. Although he was used mostly in the B gap a season ago, he has experience and ability up and down the defensive line.
18) Dalvin Tomlinson, Minnesota Vikings
Most of the players in the NFL who can do it all found themselves ranked inside the top 10. However, Dalvin Tomlinson is more of a master of none. He's not one of the five-best run defenders in the league nor is he a top pass rusher, but he's above-average at each, which is something very few of the players this far down the list are able to boast.
19) Grover Stewart, Indianapolis Colts
Allen and Payne are a dynamic duo, but the dichotomy between Stewart and Buckner may make for the best tandem in football on the defensive interior. Stewart is an outrageous run defender. His 38 stops were seventh-most in the NFL, tied with Dexter Lawrence.
But even when he's not actively making the play against the run, Stewart makes everyone's job around him easier by ensuring that it takes multiple blockers to contain him long enough for Indianapolis's playmaking LBs to come screaming forward.
20) Ed Oliver, Buffalo Bills
We see ridiculous player comps all the time. Every year the anime meme with the butterfly floating away shows up, "is name redacted the next Patrick Mahomes?" The same happened to Ed Oliver when during the draft cycle he was endlessly compared to Aaron Donald. It didn't help that Oliver leaned into it, saying he could be Donald and more at the NFL level.
It's great to have confidence, but those expectations were patently ridiculous at the time, and they look downright silly now. Donald is the greatest defensive tackle we've ever seen, and Oliver is a decent player. Oliver may still round into one of the most dangerous interior rushers in the game, but heading into Year 5, he's not lived up to his lofty expectations.
21) David Onyemata, Atlanta Falcons
David Onyemata has long been another defender who isn't outstanding at any one thing on the defensive front, but one who is good at nearly everything. Although his pass-rush productivity remained steady in 2022, he wasn't as dominant against the run as we've seen from him in the past.
MORE: Top 10 Greatest NFL Teams of All Time
Onyemata followed Ryan Nielsen to the Atlanta Falcons, who have assembled an infinity gauntlet of mid-30s veterans on the defensive front. But each one of them is still talented, and the improved secondary should help with the front line's production.
22) Harrison Phillips, Minnesota Vikings
Harrison Phillips is exactly the kind of run-defending wizard that makes sense in the NFL. Every offseason, Harrison Phillips heads back to his high school to train with the team's wrestlers. His wrestling background was a huge talking point throughout the draft process, and it's evident in his game.
Phillips is not a great athlete relative to most other NFL greats. But like Wilkins, he possesses outstanding flexibility and control. That control allows him to consistently remain in good positional leverage.
23) Dre'Mont Jones, Seattle Seahawks
The TITE front revolution at the NFL level is making Dre'Mont Jones one of the more dangerous entities in the league. He was never going to flourish as a true three-technique, but his length and wiggle make him a great option in the 4i or 5-tech role. He's a fantastic fit for what Seattle is trying to accomplish defensively.
24) D.J. Jones, Denver Broncos
Maybe it's difficult to underrate someone making $10 million on average with his new contract, but Jones remains a name that doesn't get brought up enough when discussing the best run defenders in the game.
Few play with better leverage and few have a better understanding of what's going on in front of them than Jones. He flashed as a pass rusher during the 49ers' playoff run in 2021 and then followed it up with what was by far his most productive regular season rushing the passer.
25) Calais Campbell, Atlanta Falcons
Defensive players don't play for 15 years in the NFL. But the NFL's resident beanstalk was already an anomaly, so why wouldn't he double it?
Defensive linemen aren't supposed to be 6'8″. It is a built-in disadvantage unless someone is outrageously long and survives playing lower to the ground than their frame naturally wants to. And that is Calais Campbell.
He's used his 36″ arms to the fullest extent over the years. And his ability to play low has allowed him to play up and down the defensive front and consistently maintain distance from blockers trying to get into his chest.
26) Al Woods, New York Jets
The NFL's most famous farmer is beyond his athletic prime, and he may feel a bit out of place in New Jersey. However, he can provide the New York Jets with some unbelievable run defense for about 400 snaps in 2023 should he remain healthy. And when he is aligned next to Williams, his job shouldn't be too difficult.
27) Christian Barmore, New England Patriots
Christian Barmore should probably be higher on the list, but the second-year player could only manage a tick over 300 defensive snaps in 2022 due to injury.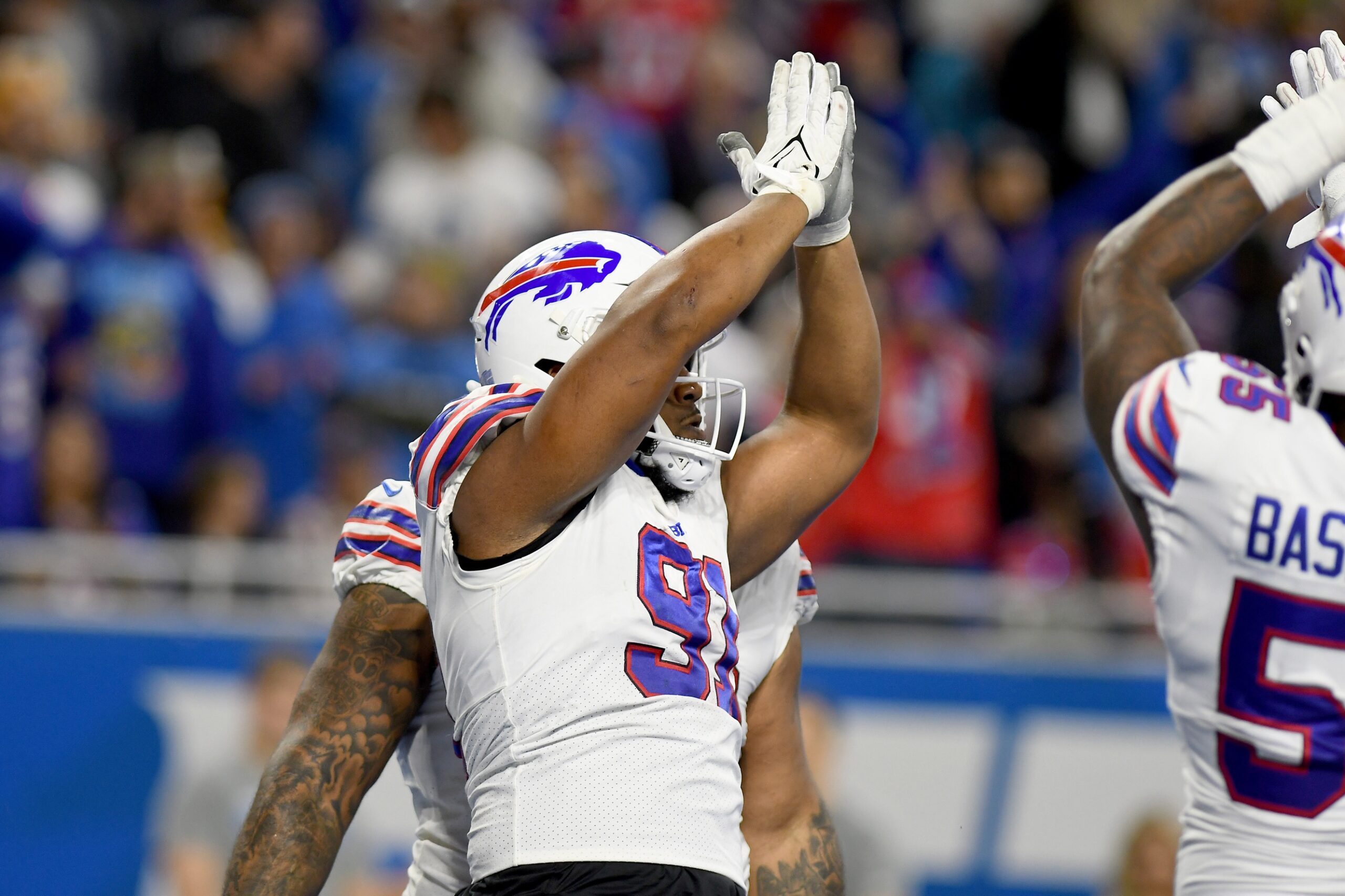 The interior rusher in Bill Belichick's defense amassed nearly 50 pressures as a rookie, proving to be one of the few interior defenders who could play the position at a high level right away, which is interesting considering he was seen as a bit of a raw, inexperienced prospect coming out of Alabama.
28) B.J. Hill, Cincinnati Bengals
The names at the bottom of this list are all really good football players. B.J. Hill is a solid run defender who brings a little juice as a pass rusher. But he also played a ridiculous 815 snaps for the Bengals' defense in 2022.
Big men get tired. It's impossible not to lose a bit of steam throughout the course of a game and season when one is being subjected to that many crashes into opposing 300-pounders. To stay healthy is a feat in and of itself.
29) Jalen Carter, Philadelphia Eagles
Was Jordan Davis underwhelming as a rookie? Yes. Did he show improvement during his time in the preseason? No. Should we give up on all that freakish potential right now? No, but his new teammate is getting the nod over him on the list.
Every once in a while it's fun to throw a dart. Bijan Robinson is rated highly in the RB rankings, but it's easy to expect production from that position, even as a rookie.
Jalen Carter could not have found himself in a better situation. Former college teammates surround him in an environment that will be conducive to his success. Few players over the past few drafts have had the package he brought to the table, and it's reprehensible that the league let him fall to the Eagles.
30) DaQuan Jones, Buffalo Bills
DaQuan Jones is another one of the league's underrated interior defenders. He posted a career-high 30 pressures in 2022 while continuing to contribute his usual high-end run defending. There are few true nose tackles in the NFL these days, but Jones is one of the few. But Jones can align all over the defensive line as a run defender.
31) Folorunso Fatukasi, Jacksonville Jaguars
If your team needs a run-defending player in the B gap on early downs, few are a better option than Folorunso Fatukasi. The former Jet has made a living defending the run. He offers essentially nothing as a pass rusher but is an outstanding, technical run defender.
He was unable to reproduce the backfield production he'd accumulated over the previous two seasons in 2022, but Fatukasi was an integral part in the Jaguars' ascension from AFC South basement-dwellers to division champions.
32) Jordan David, Philadelphia Eagles
Has Jordan Davis turned the corner? It's probably too early to tell. However, the early sample so far from 2023 has provided some excellent theatre. The large human has been an impressive presence as a run defender, just as we all believed he could be right away coming out of Georgia.
However, early on he has also shown quite a bit of juice as a rusher, one of the main sticking points that kept him off the field a season ago in addition to injury issues. If David keeps this up playing alongside Carter, they could be the most dynamic interior duo in the NFL for years to come.