Roster management is the single most crucial in-season task for fantasy football managers. Knowing which players to let go is as important as adding the right guys. Which players find themselves on our Week 7 fantasy football cut list?
Looking to make a trade in your fantasy league? Having trouble deciding who to start and who to sit? Setting DFS lineups? Check out PFN's Free Fantasy Football Trade Analyzer, Start/Sit Optimizer, and DFS Lineup Optimizer to help you make the right decision!
Who Should You Cut in Fantasy Football in Week 7?
We are now firmly in the middle portion of the fantasy season. As a result, we have a much clearer picture of who these players are. This is when the cut list starts to feature names you probably wouldn't have imagined outright cutting when the season started.
Jerick McKinnon, RB, Kansas City Chiefs (44% Rostered)
This is not the same Jerick McKinnon who was an elite RB1 down the stretch of the 2022 season. McKinnon has yet to play more than 33% of the snaps in a single game.
Through six weeks, McKinnon has a total of seven carries. Yes. Seven. He's also on pace for about 25% fewer targets than last season.
McKinnon's role in this offense has all but vanished. He exclusively plays in passing situations and doesn't even have that role all to himself. You're never starting him.
Cam Akers, RB, Minnesota Vikings (66% Rostered)
To be clear, Cam Akers remains the primary handcuff to Alexander Mattison. As a result, you do not need to get rid of him at all costs. Just know that any hope of him earning standalone value is completely gone.
There is no timeshare in the Vikings backfield. Mattison is the guy, and Akers only plays when Mattison is tired.
MORE: PFN Consensus Rankings
After playing 29% of the snaps in each of his first two games with Minnesota, Akers saw his role decrease this past week. He played just nine total snaps, handling two carries and seeing one target.
The only scenario in which Akers has fantasy value is if Mattison goes down. If you need the roster spot, feel free to let him go.
Dalvin Cook, RB, New York Jets (55% Rostered)
The same cannot be said about Dalvin Cook. While he remains the primary backup to Breece Hall, there is no scenario where Cook will be fantasy-relevant. Period. Even if Hall were to go down, Cook would not even be remotely startable.
Cook has nothing left. His NFL career is all but over. The New York Jets are reportedly considering trading him, presumably because they know his value has tanked.
MORE: Buy Low, Sell High Week 7
Cook handled just three carries and saw a single target on a measly three routes run against the Philadelphia Eagles. Michael Carter has a locked-in role as the passing-down back, with Hall as the main guy. Cook is only used on early downs when Hall needs a breather.
Averaging less than three yards per carry while not making any defenders miss, this once elite back's star is just about extinguished. You can similarly extinguish him from your fantasy roster.
Samaje Perine, RB, Denver Broncos (39% Rostered)
I really have nothing positive to say about Samaje Perine. Watching him play this season, I can't figure out how he posted elite RB1 numbers filling in for Joe Mixon last year. Perine is slow, inefficient, and — at least from afar — careless. He's also now injured.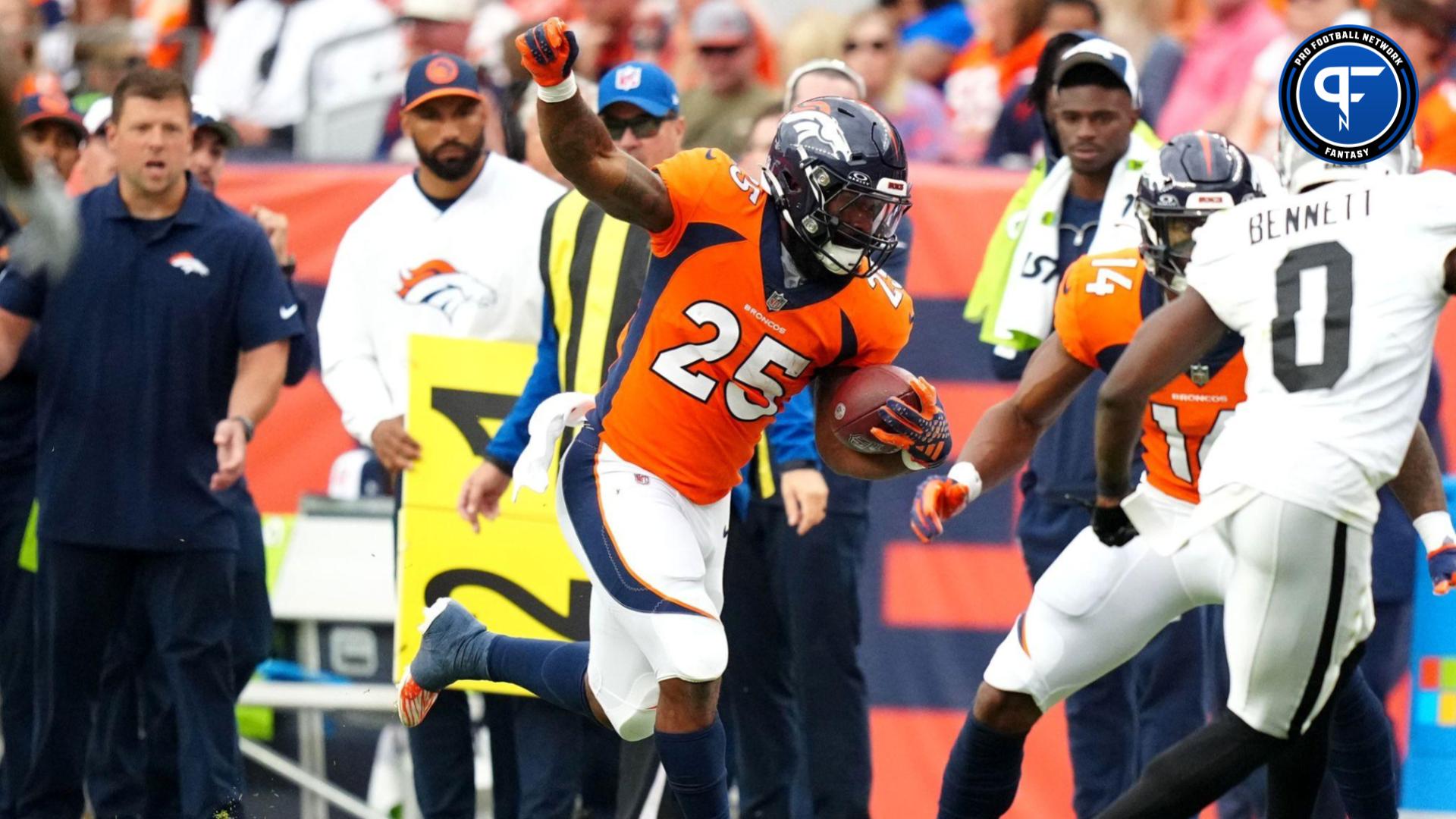 Perine has fallen to a distant third on the Denver Broncos' depth chart behind Javonte Williams and Jaleel McLaughlin. The Broncos want Williams to be the guy, but if he can't figure it out, they've grown very fond of McLaughlin, who looks vastly superior to Perine.
We've seen Perine in a game without Williams. He wasn't startable in fantasy. The following week, with all three backs active, Perine played a season-low nine snaps and didn't see a single carry. He has no fantasy value. Drop him.
Tutu Atwell, WR, Los Angeles Rams (55% Rostered)
When Cooper Kupp returned two weeks ago, I was worried that Tutu Atwell's role would diminish. But after one week, I wasn't ready to put this clearly much-improved receiver on the cut list. After two weeks, it's time.
Atwell is very much a handcuff receiver. If Kupp or Puka Nacua were to go down, Atwell would play in two-receiver sets and be second on the team in targets. But with both healthy, there's nothing left for Atwell.
After seeing at least eight targets in the four games Kupp missed, Atwell's target count dropped to five in Kupp's first game back, and now just one.
If you want to hang onto Atwell just in case Kupp or Nacua gets hurt, by all means, keep him stashed. But if you need the roster spot, don't be afraid to let Atwell go. He has no fantasy value while Kupp and Nacua are on the field.
Tyler Higbee, TE, Los Angeles Rams (69% Rostered)
Everything I said about Atwell applies to Tyler Higbee. He functions best when he's forced into a prominent role due to the lack of alternatives. When the Rams' WRs are healthy, there's no need for Matthew Stafford to throw to Higbee. So he doesn't.
MORE: Fantasy News Tracker
Higbee caught at least three passes in each of his first four games — all without Kupp. He had 49 yards receiving or more in three of them. Since Kupp's return, however, Higbee has posted lines of two receptions for 10 yards and two receptions for 18 yards, with three targets in each game.
Just like Atwell, he is nowhere near startable unless one of Kupp or Nacua gets hurt.
David Njoku, TE, Cleveland Browns (55% Rostered)
Another year, another failure to launch for David Njoku. How many times are we going to do this?
Through five games, Njoku has just a single game with more than 6.8 fantasy points, and he's yet to top 50 receiving yards in a game.
I'm sure there will be a game or two in the future where he makes a nice play or finally finds the end zone. We can also say that about roughly 20 tight ends that aren't fantasy considerations.
The only reason Njoku remains on as many rosters as he does is because of his name. Just look at the numbers. Remember his quarterback is Deshaun Watson (not a good thing), and send him to the waiver wire.
Hunter Henry, TE, New England Patriots (48% Rostered)
It's difficult to advise dropping tight ends, given the state of the position. And yet, this is the third one on the list!
The reason is I want fantasy managers to not be afraid to shuffle through players at the position. Hunter Henry was a nice find for fantasy managers early in the season. But Week 2 was a long time ago.
Since then, Henry has had more zero-point fantasy efforts (one) than double-digit ones. Over the past two weeks, he has one catch for seven yards … total.
Outside of Rhamondre Stevenson — and he just barely makes the cut — there's no one on the New England Patriots worth any consideration for your fantasy lineup. Ezekiel Elliott is the only other Patriot even worth rostering. Drop Henry for a tight end on a better offense.
Listen to the PFN Fantasy Podcast
Listen to the PFN Fantasy Podcast! Click the embedded player below to listen, or you can find the PFN Fantasy Podcast on iTunes, Spotify, and all major podcast platforms.  Be sure to subscribe and leave us a five-star review! Rather watch instead? Check out the PFN Fantasy Podcast on our Fantasy YouTube channel.