Fresh off a Week 6 NFL slate that included a host of old-school clashes, let's take a look at the top rookies from the latest sample of games. Which 2023 NFL Draft picks shined for their teams under the lights in mid-October?
From the current NFL standings to team depth charts to coverage of every game in the 18-week NFL schedule, we have all the news from around the league to keep you up to speed!
NFL Week 6 Rookie Rankings
As a disclaimer, these rankings prioritize the most recent body of work from the latest week of action. It's not a composite ranking of rookies over the course of the season but instead, a list meant to highlight some of the latest standout performances.
1) C.J. Stroud, QB, Houston Texans
C.J. Stroud did throw his first interception on Sunday against the Saints — ending a record 191-pass streak to start his career. But the most resounding mark of a player is how he responds to adversity, and Stroud responded as well as one could in Week 6.
In a gritty, hard-fought battle with New Orleans, Stroud threw for two touchdowns and converted on several clutch throws, leading his team to a 20-13 win. He helped get the Texans back to .500 at 3-3, and for now, they remain in the AFC South race.
MORE: What Does the NFL Playoff Picture Look Like After Week 6?
The Texans are vastly over-achieving this year, and the team's first-round rookies are two of the biggest reasons why. Stroud's Week 6 showing was just as impressive as his hyper-efficient outings in previous weeks. Here, he showed that he won't be rattled easily.
2) Bryce Young, QB, Carolina Panthers
The Panthers are still searching for their first win on the stat sheet, but they can consider this an unofficial, albeit just as important victory: Their No. 1 overall pick — Bryce Young — looks like the real deal. He's giving us bright flashes early in his career.
After a rough debut outing in Week 1, Young has strung together four very solid performances. Against the Dolphins in Week 6, he threw for 217 yards and a score — a tight-window laser to Adam Thielen — and displayed more confidence testing the middle of the field.
Young doesn't have a great supporting cast to work with, and that's an important factor to consider. Already, he's exuding the franchise-defining resilience that made him such an easy QB prospect to like.
3) Will Anderson Jr., EDGE, Houston Texans
On the offensive side of the ball, Stroud is an elite game-manager in the making. On the defensive side, Will Anderson Jr. is an absolute alignment-versatile game-wrecker.
Though he didn't add to his sack total on Sunday, Anderson induced nightmares for the opposing blocking front, bulldozing blockers from outside the tackle and as an inside stunter. When left unblocked, he was a banshee in backfield pursuit.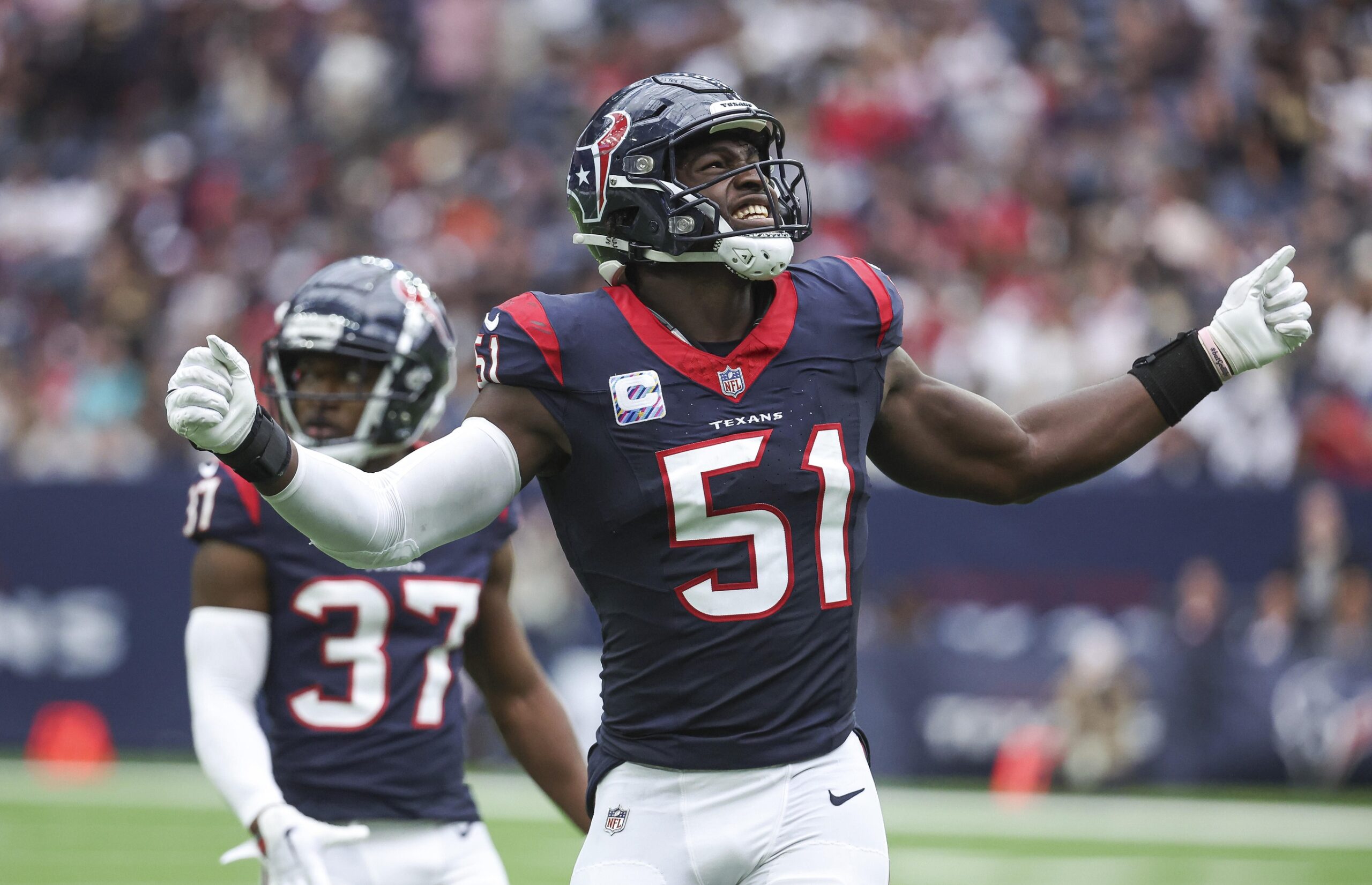 At 6'4″, 250 pounds, Anderson's blend of explosiveness, power, agility, and ruthless energy is hard to match and even more difficult to defend. He's a central force for a DeMeco Ryans defense that's looking more and more formidable each week.
4) Zay Flowers, WR, Baltimore Ravens
Zay Flowers continues to look the part as the Baltimore Ravens' first-round pick. He's given the team needed stability and playmaking ability at wide receiver.
The NFL sometimes forces rookie WRs to grow up too fast, but Flowers has been a natural through the entire process. He was targeted eight times on Sunday, catching six passes for 50 yards and a score — a TD catch on which he used veteran savvy to get open for Lamar Jackson on the scramble drill.
A lot of time bought in the pocket by Lamar Jackson leads to a touchdown by rookie Zay Flowers❕ pic.twitter.com/ZT99utKiZu

— Pro Football Network (@PFN365) October 15, 2023
That touchdown was the first of Flowers' career, but it's the first of many to come. Flowers now has 35 catches for 367 yards through just six games, and he's on pace for 1,000 yards in his rookie campaign.
5) Michael Mayer, TE, Las Vegas Raiders
It took time for Michael Mayer — the Las Vegas Raiders' second-round rookie — to gear up as a consistent offensive threat. But now that he has, he looks like he's here to stay.
Mayer was one of the Raiders' primary weapons in the team's 21-17 victory over the New England Patriots in Week 6. He caught five passes for 75 yards, including several key drive-sustaining receptions.
In that small sample, Mayer displayed all of the hallmark traits that strengthened his profile as a prospect: Route variability and zone feel, sure hands in clutch situations, and tough run-after-catch ability.
6) Devon Witherspoon, CB, Seattle Seahawks
Two weeks ago, Devon Witherspoon announced himself to the world with a pick-six and two sacks. This week, in a slugfest against the Cincinnati Bengals, Witherspoon again had a very strong outing, securing three pass deflections in coverage.
MORE: Week 7 NFL Power Rankings
Everyone knows about Witherspoon's tenacity as a blitzer and an attacking defender, but his coverage shops shined through in Week 6. He swarms the football at the catch point without prejudice and knows how to play the ball through his hands.
For good measure, however, one of Witherspoon's deflections came on a blitz — as a reminder of just how many different ways he can be impactful.
7) Anton Harrison, OT, Jacksonville Jaguars
Yet another first-round rookie graces the latest rookie rankings list with Jacksonville's Anton Harrison. Harrison flashed against the Buffalo Bills a week ago, and his performance against Indianapolis was his best yet.
The Colts can give linemen lots of trouble with their variable group of defensive linemen. DeForest Buckner, Dayo Odeyingbo, and Kwity Paye are just the start of it, but Harrison held strong against them on Sunday.
According to ESPN's Seth Walder, the 6'5″, 315-pound tackle won 93% of his pass-blocking reps and showed off his trademark finishing power, too.
8) Deonte Banks, CB, New York Giants
The performance of New York Giants' first-round rookie CB Deonte Banks is another one that will go overlooked on the stat sheet.
The Bills may have won the game 14-9 against the Giants, but whenever Stefon Diggs was lined up across from Banks, he didn't experience much success. Banks' elite recovery speed at 6'0″, 200 pounds made it very difficult for Diggs to acquire proper positioning, and Banks' physicality also left an impression.
9) O'Cyrus Torrence, G, Buffalo Bills
The guards don't always get the glamor, but they do much of the dirty work for NFL teams. And Buffalo rookie O'Cyrus Torrence has quietly been very steady to start his career at right guard.
On Sunday night, Torrence faced one of his toughest tests yet — the Giants' defensive line. And by and large, he came out on top.
Torrence routinely paved open lanes in the run game and did a nice job reaching the second level. His pass protection was also very solid.
Back in front! Josh Allen continues to buy time and find open options. pic.twitter.com/7C7RNBwWUi

— Pro Football Network (@PFN365) October 16, 2023
On the rep above, you can see Torrence at RG going up against Dexter Lawrence. He's able to absorb Lawrence's power and redirect him, allowing Josh Allen more time to survey the field and pinpoint his touchdown throw.
10) Rashee Rice, WR, Kansas City Chiefs
Rashee Rice is starting to become more of the weapon the Kansas City Chiefs envisioned when they selected him at No. 55 overall in the 2023 NFL Draft.
On Thursday Night Football against the Denver Broncos, Rice caught all four of his targets for a career-high 72 yards — headlined by this big play on third down, where he used his zone awareness to sit in a blind spot and used his explosiveness to generate ample RAC yards.
Rashee Rice has averaged 5.5 yards after the catch this season — 10th-best of 69 qualified NFL WRs; League Avg: 4.1 (via @IE_NFL).pic.twitter.com/oHy1Kx52JJ

— Pro Football Network (@PFN365) October 13, 2023
Travis Kelce's presence dictates a lot of the Chiefs' offensive looks, but if Rice can expedite his growth and become a dependable WR weapon, it could help Kansas City's offense take another leap in 2023.
11) Tyjae Spears, RB, Tennessee Titans
Tyjae Spears only touched the ball five times in Week 6 against the Baltimore Ravens, but he left a lasting impression. Particularly with this 48-yard screen reception that brought back flashbacks of the 2023 Cotton Bowl.
What a run by @tyjae22!

The cutback halfway through 👀 pic.twitter.com/Hjq4BfR4Sh

— Pro Football Network (@PFN365) October 15, 2023
Spears' vision in the open field, combined with his elite change of direction and balance, makes for a devastating combination for opposing defenses.
Right now, the Titans' offense is in flux. But Spears is already proving his worth as an exciting investment for the future.
12) Julius Brents, CB, Indianapolis Colts
For our last spot on our Week 6 rookie rankings, we'll shout out an emergent performance from Indianapolis Colts cornerback Julius Brents.
Brents wasn't perfect in his team's 37-20 loss to the Jacksonville Jaguars, at times playing too conservatively to the sideline on fades and vertical routes. But he also logged an interception and two pass breakups, showing the value of his length in coverage.
Brents, at 6'3″, logged a 41.5″ vertical and a 6.63 three-cone in the 2023 offseason. He's an elite physical talent who could be starting to trend upward on the boundary.