The 2023 fantasy football season is nearing the midpoint. With player values more firmly established, it becomes increasingly difficult to pull off buy lows or sell highs. Nevertheless, fantasy managers should be looking to improve their rosters. Here are a handful of players to explore trades for and buy low or sell high on.
Looking to make a trade in your fantasy league? Having trouble deciding who to start and who to sit? Setting DFS lineups? Check out PFN's Free Fantasy Football Trade Analyzer, Start/Sit Optimizer, and DFS Lineup Optimizer to help you make the right decision!
Fantasy Football Week 7 Buy-Low Trade Targets
Here are a few players fantasy managers should be looking to acquire at a low price, if possible.
Lamar Jackson, QB, Baltimore Ravens
After three consecutive weeks of scoring over 22 fantasy points, Lamar Jackson has now posted consecutive underwhelming efforts.
Anyone who watched Jackson play against the Tennessee Titans has to feel good about the way he is playing. Unfortunately, the Ravens stalled out in the red zone repeatedly, limiting Jackson to just one touchdown pass.
The Ravens have some really favorable games coming up on the schedule. The Detroit Lions and Seattle Seahawks could be shootouts, and their game against the Arizona Cardinals could be one where they run up the score. If Jackson's fantasy manager is feeling a bit uneasy, it's not a bad idea to see if you could pry Jackson away.
Jerome Ford, RB, Cleveland Browns
I'm not sure fantasy managers view Jerome Ford as an every-week starter. But they should. His role is excellent. He just carried the ball 17 times for 84 yards against the San Francisco 49ers while adding two receptions for seven yards.
MORE: Fantasy News Tracker
Here are Ford's touch counts by game: 15, 19, 12, 14, 19. Over the past three weeks, though, he hasn't been particularly useful. He scored 9.5, had a bye, and then scored 11.1. Perhaps his fantasy manager is looking to move on. If so, I still believe Ford is an every-week RB2 rest-of-season. The schedule is about to open up. Get him now if you can.
Bijan Robinson, RB, Atlanta Falcons
For the second consecutive week, Bijan Robinson finds his name on this list as a buy low. It just feels like it has to happen eventually for Robinson. He's too talented.
Even in his down games, Robinson never completely busts. He only totaled 37 yards on 13 carries, but his five receptions for 43 yards through the air salvaged his fantasy day.
Robinson has double-digit fantasy points in every game this season. He just can't seem to have a game where he is efficient and also scores. That has to change. When it does, Robinson will be a top-five running back. Buy now.
Chris Olave, WR, New Orleans Saints
It may not be exactly fair to call Chris Olave a buy-low. He just caught seven passes for 96 yards and has now scored at least 14 fantasy points in four of six games this season.
The reason I am willing to call Olave a buy is because he hasn't really taken off yet. Olave has just one touchdown on the season. He's yet to score 20 fantasy points in a game. The spike weeks are coming. If you can buy Olave at par value, it's worth doing, knowing he should be better going forward.
Puka Nacua, WR, Los Angeles Rams
After five straight weeks of excellent production, Puka Nacua finally put up a dud. He did so in a game where Cooper Kupp reminded everyone just who he is. It's possible Nacua's fantasy managers panic and think the dream is over.
It's not. But don't tell them that. Instead, try and trade for Nacua, who I believe will remain on the WR1/2 border for the remainder of the season.
Mark Andrews, TE, Baltimore Ravens
It hasn't been a disaster for Mark Andrews this season. He's been fine. He just wasn't drafted to be fine. He was drafted to be a top tight end.
Outside of his two-touchdown game in Week 4, Andrews hasn't hit 16 fantasy points in a game.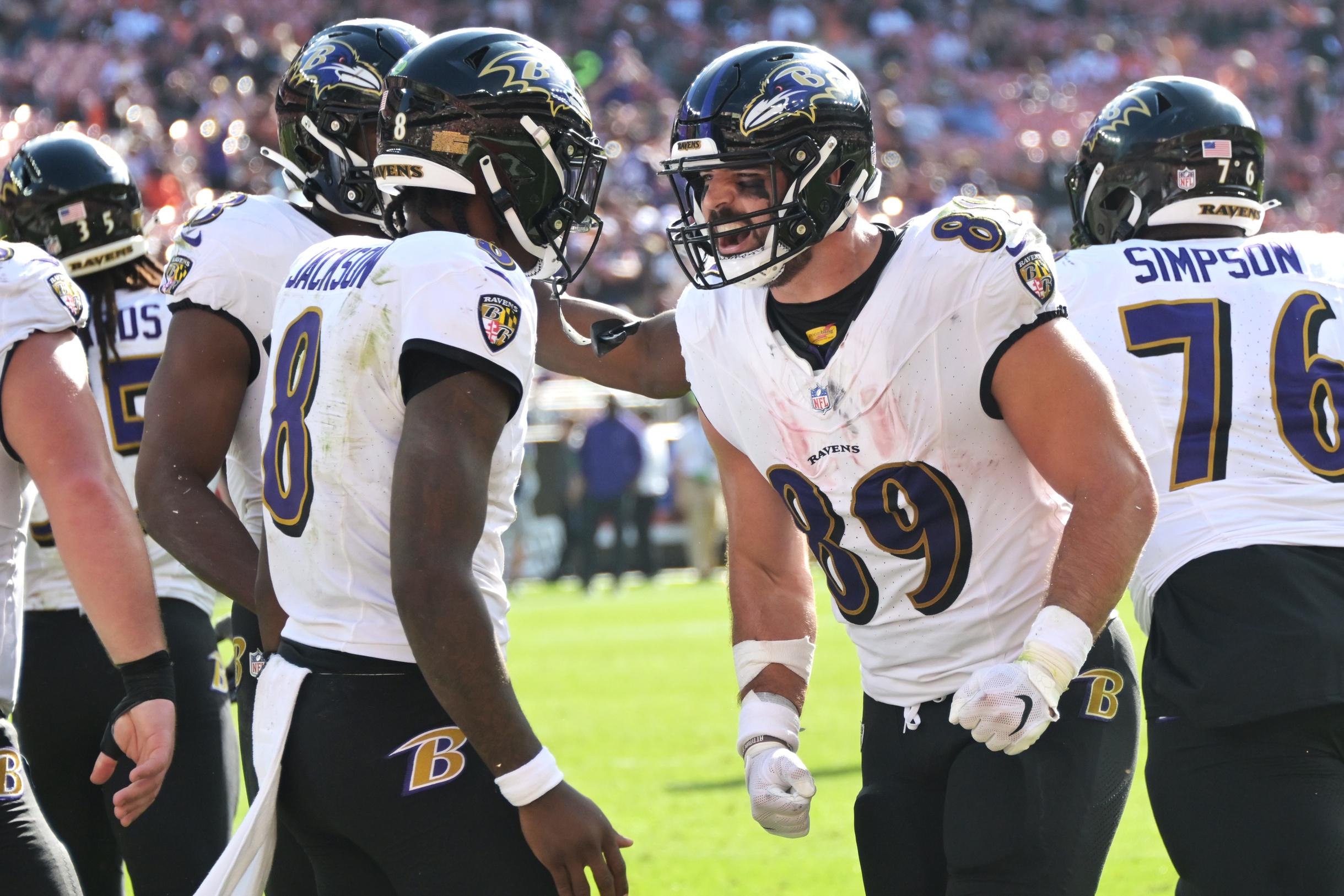 Similar to Jackson above, Andrews' time is coming. The Ravens will be better at scoring touchdowns. They will also be playing in higher-scoring games.
It's difficult to trade for any tight end due to the lack of top options. But if you can pull off a trade for Andrews, now is the time.
Fantasy Football Week 7 Sell-High Trade Options
Here are a few players fantasy managers should be looking to sell at a high price, if possible.
Justin Fields, QB, Chicago Bears
I am putting Justin Fields here for a second consecutive week largely because this was such a down week for QB performances that it's difficult to call anyone a sell-high. Hopefully, you were able to move Fields after last week. If not, his value has obviously decreased, as his Weeks 4 and 5 are looking more and more like flukes (which they were).
MORE: PFN Consensus Rankings
Even though you will undoubtedly get a weaker return now than you would've last week, Fields is still worth moving if you have a viable alternative.
The guy we saw in Weeks 1-3 is the real Fields — not the one who smashed in Weeks 4 and 5. Fields averaged 14.6 ppg over that span. He should be treated like a borderline QB1, not an every-week starter. Sell him if you can.
Derrick Henry, RB, Tennessee Titans
Let me preface this by saying you should not be going out of your way to just give away Derrick Henry. The purpose of Henry being included on this list is to sell him high.
Henry just put on a nice performance in a standalone game against a good defense. He totaled 113 yards and a touchdown.
That looks great. And it is great. But Henry only had 12 carries. His entire game came down to one 63-yard run.
Henry isn't done, but he's definitely not the same guy he's been over the past four years. If someone is willing to pay that price for him, you are getting more than he's worth. That is the condition on which it is worthwhile to sell Henry.
Rhamondre Stevenson, RB, New England Patriots
Despite missing a chunk of the game, Rhamondre Stevenson managed 15 touches and 18 fantasy points. Perhaps fantasy managers think he is trending upward. I don't think so.
The New England Patriots offense is arguably the worst in football. It just appears as though the Las Vegas Raiders are the cure-all for inefficient running backs. It happened with AJ Dillon last week, and now it happened again with Stevenson.
The Patriots' next few games are against the Buffalo Bills, Miami Dolphins, Washington Commanders, and Indianapolis Colts. None of those opponents are exciting for running backs, and I don't think the Patriots win any of them. Even if you need to sell Stevenson low, he remains a sell at any cost.
Courtland Sutton, WR, Denver Broncos
I don't know if you can sell Courtland Sutton high. People have seen Russell Wilson play football. They likely don't want to invest in this offense. But maybe someone looks at Sutton's game log, sees double-digit fantasy points in all but one game, and views him as a solid WR2. He is not.
MORE: Early Week 7 Waiver Wire Pickups
Sutton has survived exclusively on touchdowns. He's scored four this season. Touchdowns can skew the perception of a player. If someone out there thinks Sutton is a weekly WR3 because of his touchdowns, perhaps you can sell him for a player who is actually startable on a weekly basis.
Amari Cooper, WR, Cleveland Browns
I was fading Amari Cooper hard against the 49ers with PJ Walker starting. It turned out to be a good call with a bad result. Cooper only caught four passes, but he amassed 108 yards.
I am not optimistic about this offense when Deshaun Watson returns. Cooper is not a screaming sell. This is more if someone values him as a mid-to-high WR2. I see him more as a WR3.
Kyle Pitts, TE, Atlanta Falcons
That's back-to-back TE1 weeks for Kyle Pitts. He's back! Every-week TE1, right? Right! Wrong!
Pitts is still in an even split with Jonnu Smith. He played just one more snap and ran one more route this week. They had nearly identical stat lines, too.
Don't mistake this for me saying Pitts is useless. He is still a viable weekly starter in fantasy. He's just not the guy we all thought he would be. If anyone is willing to buy him as if he is, feel free to sell high.
Fantasy Start/Sit: Every Game, Every Player
Looking to get more advice for this week's action? PFN Fantasy Analyst Kyle Soppe has analyzed every fantasy-relevant player in every game this week. Use the table below to find the matchup you're looking for.
Prefer to read every matchup all at once? Check out our Week 6 Fantasy Football Cheat Sheet.