The Cincinnati Bengals can ensure themselves an enjoyable bye week by beating the Seattle Seahawks on Sunday at Paycor Stadium.
A win not only would get the Bengals (2-3) back to .500, it would give them three wins in their last four games and their first victory against a team with a winning record as the Seahawks come to town at 3-1 and on a three-game win streak.
From the current NFL standings to team depth charts to coverage of every game in the 18-week NFL schedule, we have all the news from around the league to keep you up to speed!
Cincinnati Bengals vs. Seattle Seahawks Game Preview
The Bengals have two starters listed as questionable in wide receiver Tee Higgins (ribs) and cornerback Chidobe Awuzie (back). Higgins' chances of playing appear to be greater than Awuzie's, but head coach Zac Taylor said he felt positive about both of them.
Rookie second-round pick DJ Turner II played well last week in Arizona in his starting debut with Awuzie on the sideline. And Trenton Irwin stepped up and had a career game while starting for Higgins.
"About as good as it gets"

Trenton Irwin's career-high stats were only part of what made Sunday so special for the #Bengals receiver: pic.twitter.com/GGAMdhn7hK

— Jay Morrison (@ByJayMorrison) October 10, 2023
Quarterback Joe Burrow said earlier in the week he's as close to 100 percent as he's been since the start of training camp, and that showed last week with the way he moved around inside and outside the pocket. He will need that mobility again Sunday against a Seattle defense that ranks second in sacks per game.
Despite all the sacks, including 11 in their most recent game, the Seahawks only rank 16th in pressure percentage. And they are 19th in defensive blitz percentage.
It will be interesting to see if Seattle defensive coordinator Clint Hurtt tries to bring more pressure against Burrow as most teams have done through the first five games or if he trusts his front four to have enough time to get home with one of the league's best secondaries marking Ja'Marr Chase and the rest of the Cincinnati receivers.
While Seattle's starters in the secondary are strong, the team will be without its top two backup corners in Coby Bryant and Artie Burns.
MORE: Cincinnati Bengals Depth Chart
The Seahawks could be down two starting linemen as well, as left guard Damien Lewis (ankle) is doubtful, and right guard Phil Haynes (calf) is questionable.
Leading receiver DK Metcalf missed the first two practices this week with a rib injury, but he was a full participant Friday and does not have an injury designation heading into the game.
7 Bengals-Seahawks Stats From Inside Edge
Bengals wide receiver Ja'Marr Chase, the reigning AFC Player of the Week, has 44 receptions in five games this season (8.8 per game) — tied with Keenan Allen for the second most among qualified players.
The Seahawks have allowed 18.5 receptions per game to wide receivers this season — worst in the NFL.
Analysis: Coming off his franchise-record 15 receptions last week, Chase was asked if he knew what the single-game NFL record was. He didn't. When informed it was 21, he said he didn't think he could get that. But the record for most catches in back-to-back games is more attainable, and Chase said he thought he could get that one.
New York Jets running back Clark Gaines owns it with 29 catches in 1981, grabbing 12 passes in Week 2 against the Bills and 17 in Week 3 against the 49ers. The Bengals record is 22, which Chase already has a share of with last week's haul coupled with his seven catches at Tennessee. T.J. Houshmandzadeh had a pair of performances with 22 catches in back-to-back games in 2004 and 2007.
Only Rams rookie Puka Nacua has more receptions per game than Chase this year, with 9.2. In his NFL debut against the Seahawks in Week 1, Nacua had 10 catches for 119 yards.
Chase also ranks second to Nacua (12.6) in targets per game with 12.0, which is a notable jump from the 9.0 he averaged in his first two seasons in the league.
Seahawks running backs have rushed for 10 or more yards on 13.3% of 90 carries this season — third-best in the NFL.
The Bengals have allowed 10+ yards on 15.9% of carries by running backs this season — worst in the NFL.
Analysis: The poor run defense probably has been the most surprising part of the team's 2-3 start. The Bengals have been one of the best tackling teams in the league the last few years and ranked seventh in rush yards allowed per game last year and fifth in 2021.
Seattle running back Kenneth Walker III has eight rushes of the team's 12 rushes for 10+ yards, which is tied for the 10th-most in the league (Cincinnati running back Joe Mixon is among those also with eight).
MORE: Week 6 NFL Power Rankings
Since the start of 2021, the Bengals are 13-4 when holding opponents to 3.9 yards per carry or less. But that's a number they have yet to hit in 2023, allowing 5.2 to the Browns, 4.8 to the Ravens, 5.5 to the Rams, 5.2 to the Titans, and a season-high 6.5 last week against the Cardinals.
If the Seahawks are able to run the ball that well Sunday, Geno Smith could have a big day throwing to DK Metcalf and Tyler Lockett off play action.
The Seahawks have thrown the ball 10 yards or less on 73.4 of pass attempts since Week 16 last year — fifth-highest in the league.
The Bengals have allowed just 5.3 yards per dropback on pass attempts between 1-10 yards since Week 16 last year — tied for third-best in the NFL.
Analysis: This one is surprising, given the struggles the team has had with tackling through the first five weeks. One missed tackle can turn those short passes into big gainers. It just illustrates how poor the Bengals have been in the box as opposed to out on the edge.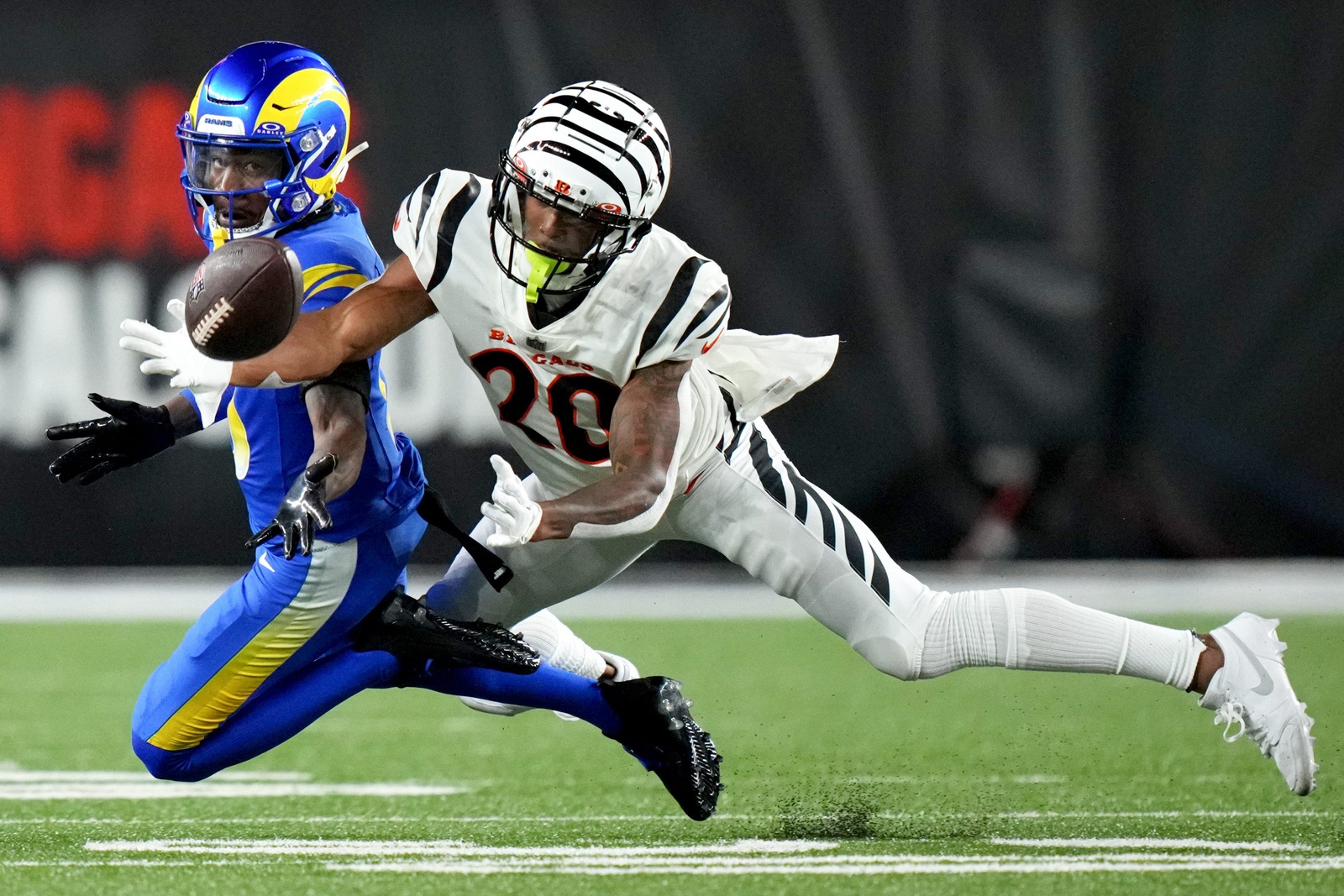 Cincinnati rookie second-round pick DJ Turner II's 12.5% missed-tackle rate ranks 37th among 76 cornerbacks with at least 170 snaps this season. Awuzie is 43rd (13.3%), Cam Taylor-Britt, thought to be the most physical of the group, is 65th (21.4%), and Mike Hilton, also a sure tackler historically, is tied for last (33.3%).
As a group, Bengals defensive backs have a missed-tackle rate of 11%, which ranks 20th. The Seahawks are next to last 14.5%.
Seattle is 15-1 in games played at 1 p.m. in the Eastern Time Zone — best among the five teams that call the Pacific Time Zone home.
Analysis: The 15th win in that stretch came earlier this season when the Seahawks went into Ford Field in Week 2 and beat a good Detroit Lions team in overtime. The only loss in the 16-game stretch was a 44-34 loss at Buffalo in 2020.
Regardless of site or time, Seattle has been one of the best road times in the league for the last decade, going 50-32-1 since 2013. The .608 road winning percentage ranks third behind Kansas City (.702) and New England (.614) and includes a 2-0 start to this season.
This game doesn't have the same sense of urgency as last week's tilt at Arizona did, but a loss to the Seahawks would send the Bengals into the bye at 2-4 overall, 0-2 in the division and 1-2 at home. So, this still has a sizable must-win bent to it.
The Bengals are 9-1 overall and 8-2 against the spread after a road win since the start of the 2021 season — with the .800 ATS percentage being tied for the best in the NFL.
Analysis: The average league winning percentage against the spread following a road win is .498, which illustrates just how strong the Bengals have been when returning home after a road win.
Cincinnati is favored by three points Sunday. The team's average margin of victory in home games after a road win during this stretch is 13.3.
Bengals vs. Seahawks Predictions
David Bearman: Seahawks
Adam Beasley: Seahawks
Dalton Miller: Seahawks
Jay Morrison: Bengals
Dallas Robinson: Bengals
For all of PFN's Week 6 NFL predictions, we have you covered.
Listen to the PFN Bengals Podcast
Listen to the PFN Bengals Podcast! Click the embedded player below to listen, or you can find the PFN Bengals Podcast on iTunes, Spotify, and all major podcast platforms.  Be sure to subscribe and leave us a five-star review! Rather watch instead? Check out the PFN Bengals Podcast on our NFL YouTube channel.